The annual Sundance Film Festival is underway in Park City, Utah, and the 2014 lineup includes major Russian players in short, documentary and feature premieres.
"It's the biggest thing I've been a part of," said Sandhya Daisy Sundaram, a graduate film student from India whose documentary short, "Love. Love. Love." debuts at Sundance on Jan. 18.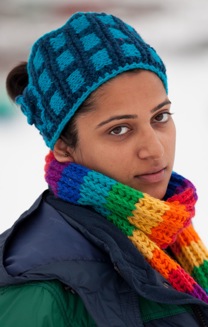 Sandhya Daisy Sundaram. Source: Courtesy of Sundance Institute
The film was the result of her participation in 2013's Cinetrain, a Russian cinema project in which filmmakers from around the world travel by train across Siberia for one month, completing a film on a given topic.
Her prompt? Women.
"All I had known about Russia was from books and movies. There seems to be a whole lot of talk about vanity in Russian women, but for me, it seemed like such a small part of them," said Sundaram.
Set against a frigid Russian winter, "Love. Love. Love." instead seeks warmth from its subjects, searching to unfold how love is shaped in Russia through the singular voice of its women. From ballerinas to babushkas, Sundaram invites women to share tales of sacrifice, and moments of vulnerability and intimacy, to unveil the universality of love.
"The idea of the film is to not categorize people," said Sundaram. "I wanted a snapshot of women in Russia, women who really work hard in their daily lives for family and love."
Love. Love. Love. Official trailer. Souce: Sandhya Sundaram / YouTube
Also premiering at Sundance is Anton Corbijn's A Most Wanted Man ­ — the first English-language major motion picture for 27-year-old Russian actor Grigory Dobrygin.
As Issa Karpov, a Russian-Chechen immigrant to Hamburg who raises investigators' eyebrows as he tries to retrieve a questionable inheritance from his late father, Dobrygin shares the screen with Rachel McAdams, Robin Wright, Daniel Brühl, Phillip Seymour Hoffman, and Willem Dafoe.
While Sundance will prove a new adventure for Sundaram and Dobrygin, for documentary filmmaker Maxim Pozdorovkin, it's quickly becoming old hat.
In his feature follow-up to the much-buzzed documentary Pussy Riot: A Punk Prayer (co-directed by Mike Lerner), which earned a Special Jury Prize at Sundance in 2013, Pozdorovkin debuts The Notorious Mr. Bout.
The feature documentary, co-directed by Tony Gerber, follows convicted Russian arms smuggler Viktor Bout, as primarily told through Bout's own home movies.
"What's so interesting about The Notorious Mr. Bout is that it is very much about the film Viktor was making of his own life," said Pozdorovkin, who completed his dissertation at Harvard on found footage, and dedicates about two-thirds of the feature to Bout's home videos.
"I love documentary film. Especially with these found footage documentaries, you're essentially reinventing the form of film in response to the material that you have. I think it's the golden age of documentary right now. I think for many, many years, the best, most exciting films are documentaries. That being said, my next film is a fiction film," said Pozdorovkin, who next writes and directs an interracial sex comedy aboutan Internet marriage between a Russian woman and black man in New York City, currently under the working title, Milk and Honey.
"I don't look for things that are controversial, but I am drawn to these interesting stories and the way that they've been represented, and I'm interested in engaging with that, but it's not like I'm just like, oh, because it's controversial, I want do it," said Pozdorovkin, whose film Pussy Riot was formally banned in Russia by an official from the city's culture ministry.
"I was captivated by Viktor Bout for many years before he was indicted, and I had done a lot of research on the arms trade and had a lot of opinions, and he seemed like a perfect vehicle for exploring that issue and exploring a lot of misconceptions about the arms trade that people have."
Similar to last year's Sundance premiere, during which recently released Pussy Riot member Yekaterina Samutsevich spoke via Skype, Pozdorovkin once again finds his subjects unable to attend.
"I'm in a trap. I keep on doing films about people who are in prison, so it's really hard to premiere them. Unfortunately, Viktor [Bout] doesn't have Skype capacity. We may do a Skype interview with Alla, his wife, who is very prominent in the film. Not at the premiere, but maybe at a future screening."
As for newcomer Sundaram, Sundance is less about the details, and more about the whole.
"It has been a very overwhelming and humbling experience," said Sundaram.
But for the film student working on completing her thesis film back home, her journey into cinema has just rolled its opening credits. "I return home to finish post-production on my thesis film, and then, let's see from there!"
The Sundance Film Festival, founded in part by actor Robert Redford to support independent cinema and theater, runs Jan. 16-26.
All rights reserved by Rossiyskaya Gazeta.