Sochi Arts Festival to coincide with Olympics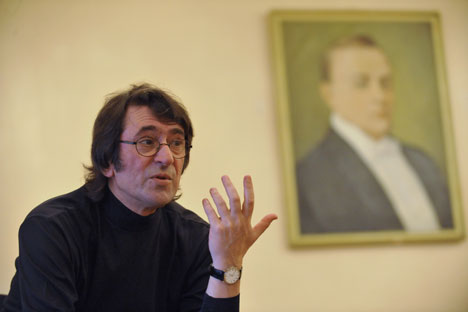 Yuri Bashmet: At the Olympics we showcase all that we are capable of — first of all in sport, and then what's around it, too. Source: Ria Novosti / Sergey Piatakov
Sports fans heading to watch the Winter Olympics also have an opportunity to get a taste of Russian art and music. The festival's artistic director and noted violinist Yuri Bashmet talks about the cultural events in store.
On February 6, the day before the Winter Olympics open in Sochi, the city also sees the start of the international arts festival under the artistic directorship of Yuri Bashmet. The country's most prominent violist talks about the Sochi Arts Festival.
Q:This year the Sochi Arts Festival will be held at the same time as the Olympic Games.
Yuri Bashmet: At the Olympics we showcase all that we are capable of — first of all in sport, and then what's around it, too. Any major event attracts attention, emotions, and resources just like a magnet. To say nothing of the country's prestige: it wants to show all that it is capable of. In that sense, our annual festival will provide an exciting part of the Olympics' cultural program. We shall present a reworked production of "Eugene Onegin," combining Tchaikovsky's opera and Pushkin's original with a cast that includes not only singers but theater actors, too. The festival program features Denis Matsuev and Nino Katamadze. Actors Evgeni Mironov and Chulpan Khamatova will bring their wonderful play "Shukshin Stories." We wanted to show the best that the Russian cultural scene has to offer.
In addition, there will be performances by outstanding foreign musicians: Barbara Frittoli, Ian Bostridge, Fazil Say, Olli Mustonen, world-famous American jazz musician Brian Lynch. Erwin Schrott will give a concert. Every single concert will be a major cultural event. There will be not-to-forget performances by Royal Korean Drummers, the Alexandrov Ensemble, Igor Butman, as well as chamber music events.
This year the festival will be held at three venues. In addition to the Winter Palace and the Organ Concert Hall, there will be concerts in the newly opened Galaxy hall in Krasnaya Polyana. We are growing; we are expanding.
Q: Several years ago you began to hold auditions for the All-Russia Youth Orchestra, which is to perform at the Sochi Olympics.
Bashmet: Indeed, it will take part in some Olympics events. Since we are showing our best, we must show not only established maestros but our talented youth too, who are our future. We held auditions all over Russia and selected children from 32 regions, covering practically the whole of the country. They are very talented kids, with a lot of energy and enthusiasm.
Q: In the autumn you launched another youth project, that of education centers.
Bashmet: Not long ago, I had a meeting with the head of the Kazan Conservatoire, Rubin Abdullin. He told me what a success our center had become in Kazan. Also recently I was in Yekaterinburg, where 16 young flute players prepared a concert under the guidance of a professor from the UK. There was not a single empty seat in the hall.
Throughout the year we arrange a series of master classes at specialized music schools in Yekaterinburg, Novosibirsk, Rostov-on-Don and Kazan. Teachers (including foreign ones) and leading soloists come to work with young Russian musicians.
The program also involves local teachers, and officials from local municipal and regional administrations. It is wonderful that the Ministry of Culture has decided to support us. It would have been practically impossible to carry out this project without it as all the lessons for the kids are absolutely free.
Q: Are we returning to the Soviet system then?
Bashmet: We knew how to train outstanding musicians, who then went on to win various contests all over the world. After a victory in an all-USSR contest, musicians were allowed to take part in the Tchaikovsky Competition. During preparations for it, they moved to accommodation in Moscow's Serebryany Bor with meals and everything else provided, so that they could spend their time practicing. It was very much similar to how athletes train for an important event. Also they were given Stradivari or Guarneri instruments from the State Collection.
For a contest to be of a high level, preparation is very important. The same is true of sporting events. Athletes should feel not the burden of responsibility but an internal spiritual need to do their best. They must feel people's love, as it gives them wings. We cannot foresee the result, but we can do our best.
First published in Russian in Izvestia.
All rights reserved by Rossiyskaya Gazeta.