Ziferblat pay-per-minute cafe opens in London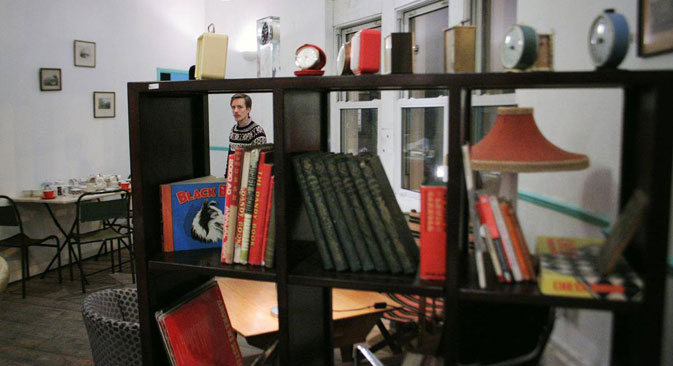 The Russian café network of Ziferblat (Clockface Cafe), where patrons are charged only for the time they spend inside, has opened a branch in London and soon will launch its business in New York.
After opening a branch in London, Ivan Mitin, the founder of Ziferblat, the pay-per-minute café chain from Russia, talks about the operational principles behind the cafe and how the clientele differs from one branch to another:
We have a certain principle for opening new branches: our future staff take an active part in the process, because the uniqueness of each Ziferblat cafe depends on them.
We have no strict protocols or uniforms for personnel. The main thing is for the person who wants to work with us to be congenial with us. As a result, each of our cafes impersonates is founder. A lot depends on the atmosphere of the venue. You can have a single large and noisy room, where everyone can see everybody else, or you can have а two-storied apartment with numerous rooms each holding a company.
What is pleasant about this project is that you have a lot of very different types of clients. All our cafes are visited by students, clerks, and schoolchildren, and we like it immensely. You can't say that students form our predominant clientele in Moscow, or pensioners in Kiev, or sports fans in Nizhny Novgorod. There is of course a certain creative, open-minded component. From my personal experience, our Kiev cafe is more often visited by freelancers and young entrepreneurs. In Moscow's Pushkinskaya Street, the Ziferblat's predominant clientele comprises students, arts graduates, and hipsters. This is because the cafe is run by a young, female fine art critic.
Our London clients are older and more mature. We had our first schoolgirls the day before yesterday; no schoolchildren had visited us before. In the morning, a lot of people with laptops come to work, companies arrive towards the evening. The average visitor is older than that in Moscow. Senior citizens also come, but they don't look out of place because people in Russia and the United Kingdom age differently. In London, you can have a 60-year-old who used to rave at Beatles concerts alongside a boring 20-year-old white collar. It is hard to say how profitable our London Ziferblat will prove. Because of the holiday season we continue to work under the free donations principle.
Editor's note: Mitin told to RBTH after his story appeared in The Village that the chain is planning now to open a branch in New York City. "It's the place where I personally would like to move to as the next step. But on the other hand, if cool people from Ust-Urupinsk (a fictional city, "back of beyond") approach us and say that they would like to open Ziferblat in Ust-Urupinsk, I'll vote for this location, because I know how difficult it is to find associates."
All rights reserved by Rossiyskaya Gazeta.