Kandinsky: Scorned by both the Soviet and Nazi regimes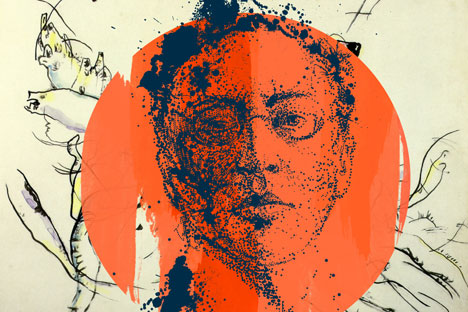 Mention abstract art, and Kandinsky's compositions featuring brightly colored spots and geometric shapes are likely to be what comes to mind first.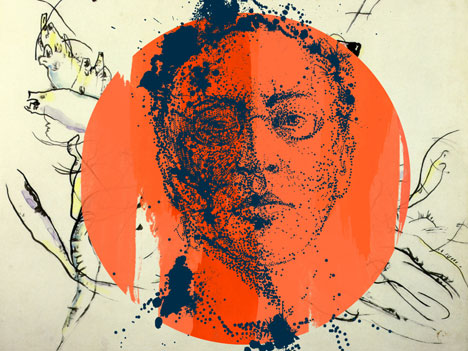 Click to enlarge the image of Vasily Kandinsky. Drawing by Natalia Mikhaylenko
Wassily Kandinsky (1866–1944) is one of Russia's most famous artists and the founder of abstract art. His compositions have become iconic abstract art pieces around the world.
Kandinsky took up painting by chance and rather late in life, when he was already 30 years old. Before that time, he was a lawyer, and a successful one at that. He was invited to the most prestigious universities to give lectures on law.
Then suddenly, he changed his life overnight. There were two reasons for this: First, he went to an exhibition of the impressionists, where he was awestruck by Monet's "Haystack." The second revelation came from Wagner's opera "Lohengrin," which was playing at that time at the Bolshoi Theater. These two events were enough to alter Kandinsky's fate. He abruptly abandoned his legal work and went to Munich to study painting.
Kandinsky's story recalls that of Paul Gauguin. Gauguin also at first did not engage in painting in any way; he was a successful stockbroker. Then suddenly he stopped going to work, left his family and began to paint. Evidently, painting is such a magnetic art that it can drive people to make great sacrifices for its sake — career, comfortable life, and family happiness.
Source: Photoaisa/Legion Media; Fine Art/Legion Media
It is hard to say to what extent Kandinsky knew how to paint. He even depicted landscapes in such a way that it is difficult to grasp exactly what is portrayed. Colored spots merge and overflow. At first the image seems to be a tree, but then it turns out to be a lamppost. Sometimes it appears that even a child could draw such a picture.
Of course, this is not completely representative art — it does not represent anything. The colored chaos captivates and evokes a mass of associations and feelings. The effect produced by a Kandinsky painting is like music. His paintings are highly musical. Not coincidentally, he was a violinist, and allegedly a talented one. He even performed concerts at one time.
However, Kandinsky did not gain fame through his paintings, but through the fact that he invented abstract art and became its theoretician. This happened by chance. While returning home one evening, he caught sight of something that astonished him with its surprising combination of colors.
It turned out to be one of his own works. It had fallen on its side, and the light from the lamppost was hitting it through the window. The outlines had disappeared and blurred. All that remained was an overall impression of something bright and unusual. From that moment Kandinsky stopped painting concrete images and turned to abstractions.
No one bought his creations. Most critics said that they were merely examples of senseless poor painting. Kandinsky had nothing to live for, so he decided to return to Russia. He tried to cooperate with the Bolsheviks.
He worked in the People's Commissar of Education and taught. But this did not last long. The Bolsheviks rather quickly deemed abstract art decadent and labeled Kandinsky a "henchman of the bourgeois." His paintings were removed from all the Soviet museums. This is strange because it is difficult to find anything bourgeois or antibourgeois in them. How can a colored spot be bourgeois?
Understanding that he was not needed in his homeland, Kandinsky again left for Germany. However, he also clashed with politics there. The school where he taught was closed under Nazi pressure. When Hitler took power, Kandinsky's paintings were proclaimed to be degenerate art. Some were even destroyed.
From Germany Kandinsky went to France, where he lived for the rest of his life. There he was also poor — so destitute, in fact, that he could not buy large canvases. Hence most of his works from the French period are small.
He did not even always have oils. Sometimes he simply painted gouache on cardboard — not because this was an artistic intention, but merely because he did not have money for canvas and paints.
Overall, it is clear why totalitarian governments so scorned his painting. It gives too large of a landscape to the imagination and too much freedom. And no dictatorship, neither proletariat nor Nazi, liked this.
All rights reserved by Rossiyskaya Gazeta.