Goa set for Russian rock and roll extravaganza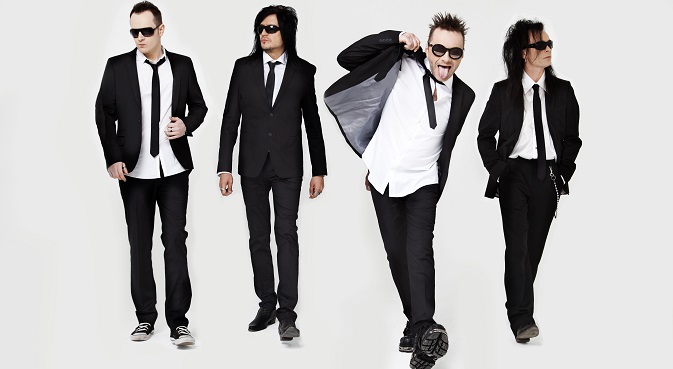 Gleb Samoylov and The Matrixx are among the top bands. Source: Svetlana Zabelina / Gleb Samoylov & the Matrixx
The second edition of the Great Live Music International Festival will be held in the Indian state on January 31 and February 1. Some of Russia's most popular rock bands are set to perform by the sands of Goa.
About a year ago, people started talking about a festival with Russian music that was going to be held in Goa. Initially, the idea was to have a jazz festival with Russian musicians. Who was the brain behind this festival in Goa? God only knows, but soon the idea morphed beyond recognition.
Last year's festival at least featured new age musician Prem Joshua, but in 2014 there will just be pure and simple rock and roll, at least from the Russians.
The Great Live Music International Festival will present a snapshot of the Russian rock scene and the groups Russians are listening to: Gleb Samoylov and The Matrixx, Dolphin, and the Latvian group Prata Vetra.
Prata Vetra or Brainstorm is one of the most popular European bands in Russia. Ten years ago, they took Russia by storm with the ballad 'Maybe' and since then they have had hit after hit, even some in Russian.
Brainstorm - A Day Before Tomorrow. Source: YouTube
Gleb Samoylov and The Matrixx are also among the top bands. They could be considered a super-group, since The Matrixx is made up of musicians who have already played in successful bands. Its drummer, nicknamed Snake, has played in many famous alternative bands. And frontman Gleb Samoylov is something of a cult figure. Back in the 1980s in the city of Yekaterinburg (then called Sverdlovsk), Gleb and his brother Vadim founded Agata Kristi. Agata, which was justly compared with The Cure, Joy Division, and other pushers of gloom, proved to be one of the most unusual rock groups in Russia. They survived the late Soviet and early Russian eras. In 1990, they released very expensive music videos, and radio stations, regardless of their musical style, played their songs. Several years ago, Agata disbanded and Gleb Samoylov started to work on a solo project that proved successful. Now their discography includes two full albums, plus they are regularly on tour across Russia. Their style has gone beyond the despair and sarcasm of Agata. It seemed impossible to outdo Agata, but Gleb Samoylov's new band has managed. They always go to extremes... Last year the band performed at the Indian festival.
Gleb Samoylov and The Matrixx - We are under fire. Source: YouTube
Samoylov recalls that the audience was mostly "Russians and people from the CIS. The main age group was people from 20 to 30 with some 13 to 14-year-olds." Samoylov, doesn't seem to be a fan of India, unlike many Russians, but he admitted that the Goan atmosphere had a positive influence on him.
Another major performer is Andrei Lysikov, who is known as 'Dolphin.' He is also a unique personality in Russian mass culture and underground. Lysikov started out as a rapper. In the early '90s when he was part of Malchishnik, he wrote verses about sex that made him famous. Then suddenly he began making music in a completely unique style – indie, post-rock, abstract hip-hop, noise – all packed into great songs that were sad and deep. He really matured as a poet. Lysikov manages to express deep thoughts with simple words. Of course, in order to listen to Dolphin, it helps to know Russian. On the other hand, his strange plaintive music and conversational intonation convey a lot.
Dolphin - Spring. Source: YouTube
Lysikov is well-acquainted with India and greatly admires the country. At his concerts, people in the audience burn incense sticks. He travels to India quite often. "I think that even if a person spends a lifetime in India, he will still not fully understand what is around him," says Dolphin. "When people arrive in India, they feel like their shackles have disappeared. You take a scooter, go wherever you want, the ocean is all around, and no one tells you what to do. When I came to India for the first time, I was amazed by what I saw. Now that euphoria is gone, but that first impression is still accurate. There is a feeling of light, easily accessible beauty and complete tranquility – and since you know from the first moment that you will have to leave, you appreciate every day.
"In Moscow, it is hard to look at the people around me. It's as if everyone any enemy. But there you just look around. You even stand straighter!"
And then we have the dark horse of the program: Shiva is a relatively new band from St. Petersburg. Their credo is "meditation on the ruins of a dead city," and in their songs they attempt to reflect "loneliness" and "the desire to escape from a vicious circle (rebirth, perhaps)." The band's leader, vocalist Sergei Matveyev, must have learned to sing listening to Matthew Bellamy and Gleb Samoylov. The band continues in the dark vein of Agata Kristi.
The Great Live Music International Festival is being organized by Ksenia Goryayeva, who heads the Russian House in Delhi, along with Elliot and Denvas Services Pvt Ltd. It was the brainchild of Ekaterina Belyakova, who is in charge of the Russian Information Centre in Goa and the organiser of the first two editions of the festival.
All rights reserved by Rossiyskaya Gazeta.