RIR provides a rundown of some of the less well-known, but no less deserving, storylines set to unfold over the next few weeks, each with the potential for high drama.
The build-up's been going on for seven years, and with the Sochi Olympics now just days away, newspapers around the world are bursting with previews and risk assessments on a few select topics.
With men's hockey and terrorism threats dominating the coverage, here's a rundown of some of the less well-known, but no less deserving, storylines set to unfold over the next few weeks, each with the potential for high drama.
Who gets the Russian flag?
Carrying your country's flag at the opening ceremony is a huge honor for any athlete, all the more so when that country is hosting its first Winter Olympics. Picking the Russian flagbearer is no easy decision, and there's one extra hitch - the big names aren't available.
Russia's two NHL superstars, Alex Ovechkin and Evgeni Malkin, are unlikely to be at the opening ceremony because of the league's player release agreement. Figure skater Evgeni Plushenko is another famous face, but he'll be competing the next day, so can't attend. Without them, the honor could go to a star little known outside Russia, perhaps speedskater Ivan Skobrev or one of the feared cross-country ski team.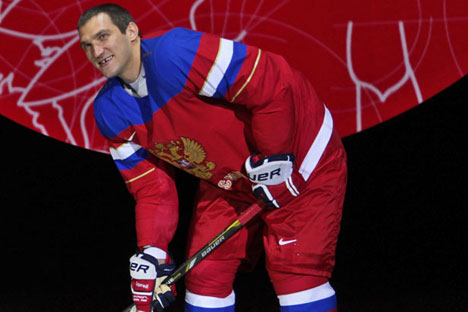 Picking the Russian flagbearer is no easy decision. Alex Ovechkin is Russian hockey superstar. Source: Victor Vasenin / RG
Watch for yellow snow
While security makes all the headlines, there are 1,001 things that can go wrong with an event as big as the Olympics. Sochi has had a few teething problems over the years - power failures, travel delays and, more embarrassingly, an experimental eco-friendly storage system that disgorged yellow snow over the ski jump during a test event. Keeping these kind of issues under control can make all the difference in ensuring Sochi is remembered as a triumph, not a punch line.
The Jamaican bobsled team
The ultimate underdogs, immortalized in the film "Cool Runnings," Jamaica's bobsled team is back at the Olympics after a 12-year absence. This time the story has a few extra movie-friendly twists. Driver Winston Watts has come out of retirement for one last push, and the team only made it to Sochi with the help of an online fundraiser.
Will the women's hockey hegemony end?
Women's hockey officials are desperate for the sort of publicity that women's soccer gets at every Olympics, but are faced with one problem. Quite simply, Canada and the U.S. are too good.
18-0 against Slovakia, 10-1 against Switzerland, 13-1 against Sweden - Canada's group games at Vancouver 2010 were so one-sided as to be unwatchable. The only real contest came in the final when the Canadians met the similarly dominant U.S., taking the gold with a rather more restrained 2-0 win. Some shock results in Sochi could do women's hockey a world of good.
Surprises in the snow
In any English-speaking country, Olympic skiing means carving down a mountainside at top speed, in races that last two minutes max. This could be the year Brits and Americans learn to appreciate another sort of ski action, cross-country. Kikkan Randall is perhaps the best women's sprint skier in the world, and looks set to win the United States its first Olympic cross-country medal in 36 years. Meanwhile, Scotland's Andrew Musgrave has emerged as a surprise force after beating the favored Norwegians at their own national championships.
Women leap into the history books
It's taken 90 years since men's ski jumping made its Olympic debut, but a women's event is finally on the schedule. It's not total parity - female ski jumpers compete for one gold medal, while the men have three - but it's a start. Japan's Sara Takanashi has dominated the season and is the favorite to win but could yet fall prey to world champion Sarah Hendrickson of the U.S., who just made it to Sochi after sustaining a serious injury in August.
Ice storm
It's not quite the Tonya Harding-Nancy Kerrigan rivalry of 20 years ago, and no one's been clubbed with a baton, but there's bad blood again in U.S. women's figure skating. Traditionally, the top three at U.S. Nationals go to the Olympics, but that hasn't happened this year.
Instead, third-placed Mirai Nagasu lost out to Ashley Wagner, who fell twice but was preferred by officials on the strength of her previous achievements, sparking claims of favoritism and even racism. In a sport that places huge psychological strain on its athletes at the best of times, the increased scrutiny means Wagner is under even greater pressure in Sochi.
Doping
A perennially unpleasant Olympic topic, doping controversies have been somewhat buried ahead of Sochi amid the focus on security. Reports this week of a failed test for a Russian medal contender in the biathlon, Irina Starykh, are a reminder that some Sochi medals could end up being decided by drug test results.
All rights reserved by Rossiyskaya Gazeta.