Ulyana Sergeenko: The history of an unconventional brand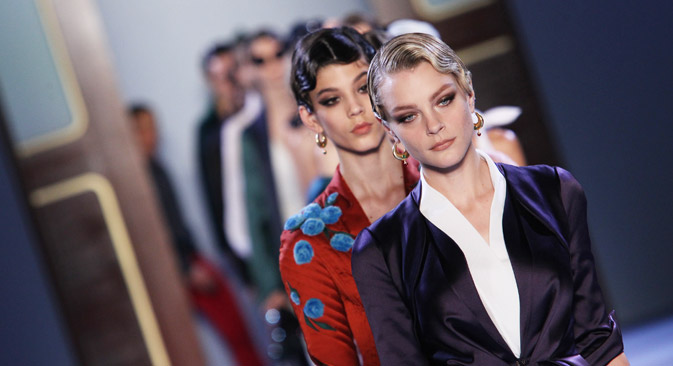 Ulyana's fanciful productions are very different from conventional fashions. Source: Getty Images / Fotobank
The Russian brand Ulyana Sergeenko was well received by many fashion critics as the recent Haute Couture Week in Paris.
Ulyana Sergeenko is a recent brand that held its debut show in 2011 and is already sharing the catwalk with Chanel and Balenciaga. Ulyana is known as the Russian lady, a Russian matryoshka and a style icon à la russe.
As the wife of millionaire Daniil Khachaturov, the ambitious young woman from Ust-Kamenogorsk in Kazakhstan began to lead a busy social schedule, attending every fashion event she could. She flourished there. Her fanciful productions are very different from conventional fashions, and her elaborate, harmonious designs and personal street style have the whole fashion world talking about "that Sergeenko."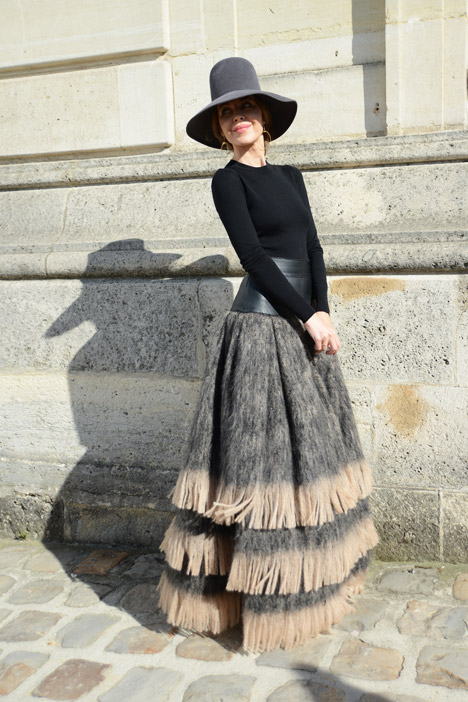 Source: Getty Images / Fotobank
Her trademark looks of full ankle-length skirts, chaste, high-necked blouses, scarlet lips and headscarves knotted at the back have become fixtures of fashion reports and reviews with their unusual combination of modesty and sexuality. The upsurge of interest in the West in à la russe style and Russian retro can be, to a great extent, attributed to Sergeenko.
Most of her clothes have been made-to-order or given clever makeovers with decorative details. This is where the story of the Ulyana Sergeenko brand, which is now gaining worldwide popularity, began. Its clients today include Lady Gaga, Sarah Jessica Parker, Anna Dello Russo, Carine Roitfeld, Natalia Vodianova, Miroslava Duma and other celebrities.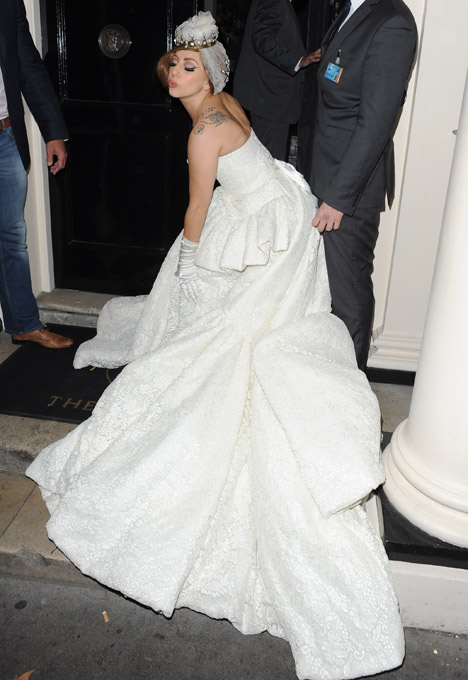 Source: Getty Images / Fotobank
Sergeenko has always sought to surround herself with the very best. "I have been interested in fashion for ages. I always dreamed, even as a child, of wearing couture. I never thought couture would somehow end up being associated with to my own name, that my wishes would come true. It's so amazing," she said.
Attitudes toward Sergeenko in Russia are complex. Some admire the fact that she's won recognition, others think she's a typical trophy wife. Still others regard her as a talented and unusual designer.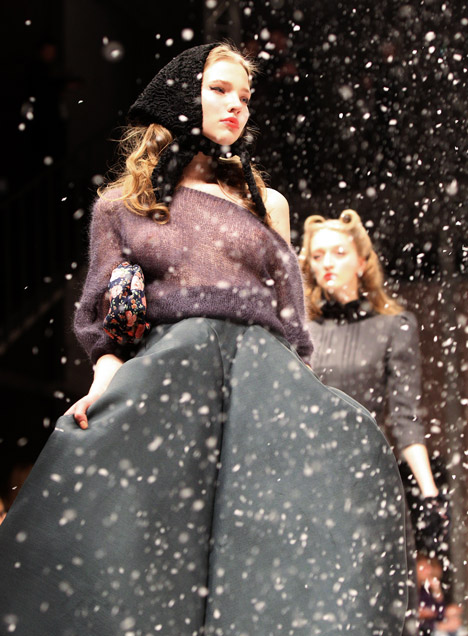 Source: Iliya Pitaev / RIA Novosti
There is no one opinion among experts abroad either, although they often analyze her professional qualities. Some say the brand's shows are too theatrical and the clothes themselves tacky and over-the-top. Others are utterly delighted by the unique Ulyana Sergeenko collections and Sergeenko's own skill in coherently reinterpreting her country's history.
The brand's first collection consisted, according to Sergeenko, of "illustrations for 1950s Soviet Vogue" (had such a thing existed). The retro-silhouettes of long, narrow dresses, fur coats, sweaters and clutches made a favorable impression on everyone who saw the debut show, from bloggers to buyers.
The second collection was even bolder. The anticipated Soviet aesthetic was complemented by long, full peasant skirts, straw hats and sexy bodysuits with chiffon features. Since then, the brand's calling card has been full-length dresses, kerchiefs, muted secondary colors and the inevitable "Russian color."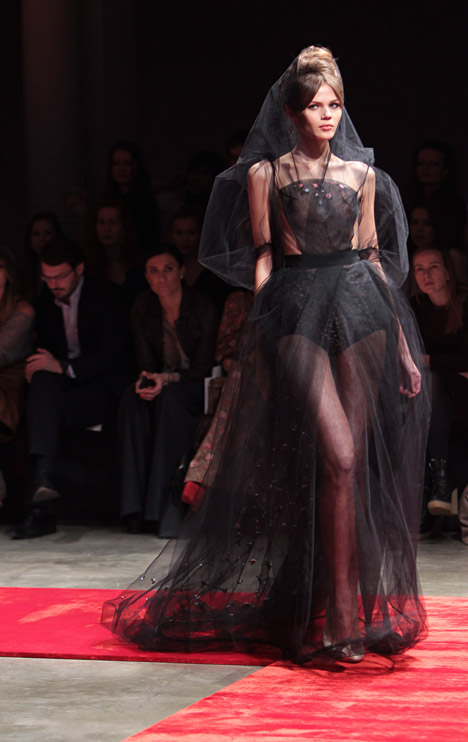 Source: Ekaterina Chesnokova / RIA Novosti
It's not only Russian stars who are wearing Ulyana Sergeenko lines these days either, but Western celebrities, too, such as Dita Von Teese. Singer Beyoncé recently appeared in her new "Haunted" video wearing a velvet bodysuit with a white frill from Sergeenko's autumn-winter collection. Previously, in her video for "Jealous," Beyoncé had already showcased an Ulyana Sergeenko lace cape, worked on by 15 Vologda lace-makers. The mysterious "Russian matryoshka" has achieved real success in just a couple of years. Sergeenko herself continues to delight the fashion world with her original fashion and remains, in many people's opinions, the very best advertisement for her brand.
Beyoncé videos:
"Haunted"
Source: YouTube
The singer's stylists spotted this striking black velvet bodysuit and starch-white frill by Ulyana Sergeenko at the Paris show of the 2013-2014 autumn-winter collection.
"Jealous"
Source: YouTube
Beyoncé's black lace pelerine was created especially for the video, by 15 people over two months, using an ancient technique unique to Vologda (individual finished pieces were put together at the final stage).
All rights reserved by Rossiyskaya Gazeta.