A new journey for the "Hedgehog in the Fog"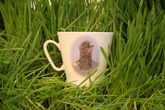 The characters of Yury Norshteyn's animated classic "Hedgehog in the Fog" feature in new a collection by the Imperial Porcelain Factory.
Source : Tatiana Shramchenko
Animator Yury Norshteyn is wandering between display cases filled with exquisite saucers, teapots and sugar bowls in the Imperial Porcelain Factory's Gallery of Contemporary Porcelain Art. He is dressed in dark jeans, a denim shirt and a jacket, and has a drawstring bag slung over one shoulder.
"Is that him? The creator of the Hedgehog?" another visitor to the gallery whispers to his companion, pointing at Norshteyn. Clearly, the creation has become more famous than its creator.
The renowned director, the man behind the classic of Soviet animation "Hedgehog in the Fog",has come here to this Moscow gallery to present the latest collection of the St. Petersburg-based Imperial Porcelain Factory. It features characters from his film, which in 2003 was voted by critics and fellow animated cartoon artists at a festival in Tokyo as "the best animated film of all time."
"I am always difficult"
The idea to put the much-loved cartoon characters on porcelain was first suggested in 2012. Norshteyn, an admitted perfectionist, doubted the feasibility of the project and expected problems from the very start. "I am always difficult," he warned the project team. However, after visiting the factory's workshops and watching the artists at work, Norshteyn said he was amazed by "the magical art of porcelain," and began to take a more active role in creating the collection.
According to Norshteyn, the most difficult part of the project was to find the right shades to reflect the "foggy" sensibity of the film on porcelain. "Still, we managed to find our way out of that fog," Norshteyn said, jokingly. "I even became proud that 'Hedgehog in the Fog' will set out on another journey, this time on teacups and saucers."
The Hedgehog's other life
The collection consists of tea and coffee sets for two as well as several large dishes and an octagonal box.
Each item has a scene from the film drawn on it and so the items together tell the story of the film: on one piece, a pensive Hedgehog is looking at the sky; on another, an owl suddenly appears from the trees; on a third, a white horse's head is barely visible in the fog; and finally, there is the Hedgehog's small bundle, left in the grass. There is special packaging for each saucer and dish, presented like a book.
The Imperial Porcelain Factory is confident that the collection will be popular not only in Russia but in other countries where the film and its characters are known and loved. Mikhail Trenikhin, the head of the Gallery of Contemporary Porcelain Art, said that image of the Hedgehog in the Fog could be a kind of ambassador for Russia, helping to improve Russia's image abroad.
All rights reserved by Rossiyskaya Gazeta.