UK-Russia Year of Culture unveiled in London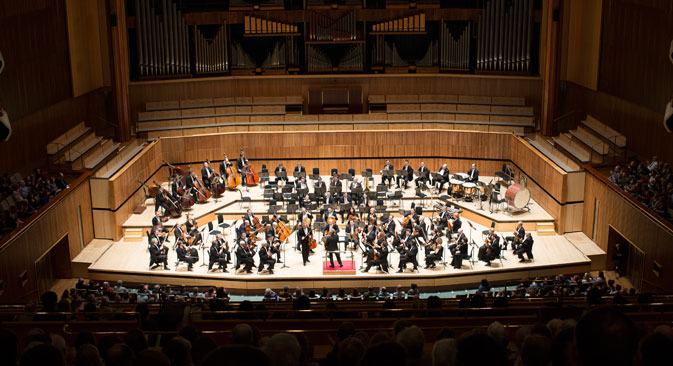 Performance of the Tchaikovsky Symphony Orchestra at Royal Festival Hall. Source: Dylan Thomas
The Year of British Culture in Russia and the Year of Russian Culture in Britain have coincided with the national Year of Culture in Russia. This is symbolic: both countries are bound by the threads of history, philosophy, and literature as well as by many other bonds.
Just as Moliere's Jourdain was unaware that he actually spoke in prose, English terms are unconsciously woven into Russian speech. Russians croon the Beatles and quote Shakespeare as their own. "To be or not to be?" – This is the dilemma uniting all moral concern for the self and the whole world. The answer depends on intangibles as well as a substance that is not amenable to precise measurement, namely, culture.
Shakespeare, Dickens, Wells, Burns and Wilde entered the Russian cultural code on a par with Pushkin, Tolstoy and Chekhov. Briton Adam Smith read Eugene Onegin, Pushkin's textbook hero.
At the genetic level we understand each other: Russia's revolutionaries and romantics were inspired by the illusions of Thomas More. Who would have guessed that Orwell, a Briton, and Platonov, a Russian, would both feel that a historic trap for humanity would lurk in the experiment of a Communist Utopia? And earlier, Swift and Gogol, those two prophets, put a mirror in front of us, a mirror into which civilisation would gaze for centuries, convulsed with laughter and horror. No, we are certainly "one blood, you and I " as Kipling said on another occasion, yet another British author that Russians have absorbed almost with their mothers' milk.
The stars of Russian ballet came into their own in Covent Garden – from Anna Pavlova and Vaslav Nijinsky to Rudolf Nureyev, Sergei Polunin and Vyacheslav Samodurov. The combination of the Russian romantic tradition of virtuoso dance with the English school of psychological ballet was an explosive cocktail, a battle of opposites that bore startling fruit and enriched both sides through new experience.
"London taught me courtesy," recognises Samodurov, a former Principal Dancer at Covent Garden and now head of the Yekaterinburg Ballet. He brought his British experience to the Urals and under his tutelage the company has become one of the most interesting in Russia.
The famous British sense of humour has worked its way into Russian anecdotes: the postwar generation got to know British humour through Jerome K. Jerome (author of Three Men in a Boat) and the films of Norman Wisdom. The Perestroika generation was introduced to it by Benny Hill cassettes smuggled into the Soviet Union and passed from hand to hand. Thereafter, the fall of the USSR made way for Rowan Atkinson's hit TV shows Blackadder and Mr. Bean.
British cinema penetrated the Soviet Union bit by bit. We fell in love, immediately and irrevocably, with Vivien Leigh in Anna Karenina and Laurence Olivier in Hamlet, and both in That Hamilton Woman. The echo of social protest came from "angry young men" in the cult films of directors Jack Clayton, Lindsay Anderson, and Tony Richardson… Then came rumours of a new superhero in James Bond, but 007 appeared openly on Russian screens only after the collapse of the Soviet Union. Alongside these film legends was director Peter Greenaway, a favourite of Russian intellectuals.
British Parliament hosted the official opening of the Year of Culture. Pictured: Russia's Deputy Prime Minister Olga Golodets (R), Russia's Ambassador to the UK Alexander Yakovenko (C). Source: Dylan Thomas
The adaptations of Chekhov, filmed with such love in Great Britain, remained unknown in Russia. But in 2012, Joe Wright's Anna Karenina took Russian audiences by storm. The film seemed to reveal secrets of the Russian characters unknown even to Russians themselves. The film denied the proverb When in Rome, do as the Romans do: once again, we're not strangers to each other. Doesn't the success of the Russian Hamlet in brilliant actor Innokenty Smoktunovsky's performance demonstrate our people's kinship? Or the Russian Sherlock Holmes as portrayed by Vasily Livanov? The normal blood circulation between the two cultures is gradually improving, but it's still far from ideal.
We still don't know that much about each other. Enormous Russia has powerful cultural centres scattered across the country, but artistic talent is represented in Britain by Moscow and, in part, St. Petersburg. I'm afraid England has no idea of the wonderful illustrations of Irish sagas and Shakespeare by the Ural artist Vitaly Volovich. And what of the unique interpretation of the "barbaric Hamlet" by the Kolyada Theatre, lauded in Paris and yet unknown in London?
However, Vasily Sigarev, a student of playwright and director Nikolai Kolyada, is the only foreign writer to have won the Charles Wintour Award for Most Promising Playwright in London. England knows Moscow's famed Bolshoi Theatre, but few know the Bolshoi of Siberia – the Novosibirsk Opera House.
For an educated English person, Russian culture is the same Chekhov and Tolstoy, Tchaikovsky and the Bolshoi Ballet. For the typical young Muscovite, British culture is Ian Fleming, Tolkien, J.K. Rowling and perhaps George Bernard Shaw (but only through the American musical My Fair Lady). This year of cultural exchange is only one window opening between the two great cultures. Its mission is to remind us that the world is much larger and more exciting than we think.
Mikhail Shvydkoy, Special Representative of the President of the Russian Federation for International Cultural Cooperation
"The Year of Russian Culture in the UK opening on 24 February, just like the Year of British Culture in Russia starting in April, has a special meaning for our two countries. The main goal of this mass-scale bilateral initiative is to build bridges between our countries not only pragmatically and rationally, but on a spiritual level. Over the centuries, the paths of Russia and Britain were so closely interconnected that, as it happens, contradictions could arise whenever people did not listen to each other. The year of cross-cultural exchange gives the opportunity to both parties to get to know each other better and increase mutual trust between our governments and people. If the quality of trust improves as a result of this Year of Culture, I think that Shakespeare and Chekhov have fully accomplished their mission."
For more information about UK-Russia Year of Culture visit The Kompass, special RBTH section for all UK-Russian cultural events

All rights reserved by Rossiyskaya Gazeta.