What foreigners find surprising about Russians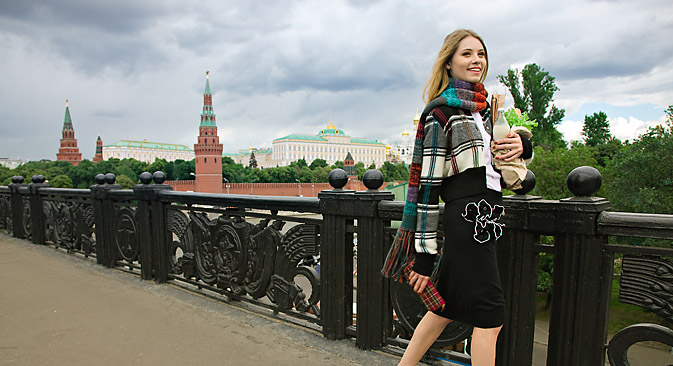 Russian women tend to be well groomed. Source: Fotoimedia
Those who come to live for any length of time to another country inevitably find some local habits baffling. RIR asked some expats in Russia about what they find most surprising about their hosts.
Well-groomed women and high heels
The first thing that draws many people's attention in Russia is the country's women. Everyone says that women in Russia are always dressed as if they are going to a theatre or a posh restaurant. Foreigners find this very unusual. I come from Ukraine, and when I first visited Russia after traveling around the world for a while, this immediately caught my attention. Russian women wear heavy makeup and high heels even for a trip to a grocery store.
During my travels around Europe I noticed that female airport staff in Moscow airports always wear high heels. In neighboring Ukraine, the heels are a bit shorter. They grow shorter still as one travels farther westwards. In Prague, you see comfy trainers instead of high heels. Of course, some women are always dressed to the nines in France and Italy too, but in Russia this is a mass phenomenon.
Another distinctly Russian thing is that generally, people don't smile at strangers. Europeans and Americans smile to everyone as a matter of course. In Russia, however, people will smile to you only if they genuinely like you. At first, that made me feel a bit uncomfortable, as though I was being singled out for a particularly surly treatment. But as soon as I got used to it, I actually started to see it in a totally different light. People don't often smile to you in Russia, but when they do, you know that they are genuinely glad to see you, as opposed to merely following some social convention.
"How are things?"
In the West, when people say "How are you?" it's almost always a polite question to which nobody expects a real answer. In Russia, however, foreigners often get more than they bargained for when they ask someone, Kak dela? There is a story about a Russian writer who was so fed up with the question that he started grabbing people by the shoulders and not letting them go until he has given them a full answer - detailing at great length everything that has happened to him in the past few days. After a short while, the annoying questions ceased. So the Russian question of "How are things?" is a bit like the Russian smile: people really do mean it.
Mayonnaise
Another thing that often takes foreigners aback is the Russian love of mayonnaise. In addition to using it in dozens of varieties of salad, Russians even smother big chunks of meat in mayo before roasting them. They don't seem to care that mayonnaise is supposed to be served cold because it is completely ruined by heating.
How some expats see things
Sovon Das, a software developer from India who lives in Russia, says he is surprised by how few Russians speak decent English. He also says he did not expect that it would be so difficult for a foreigner to get a job in Russia. Another thing that took him aback was how expensive everything is.
Amy, an American who works at a daycare centre, says the weirdest thing about Russians is their passion for mushroom picking. "People in Russia like to pick wild mushrooms, unlike the majority of Americans. At first I thought it was strange and somewhat dangerous that average people go out into the forest to collect mushrooms."
Martin Cooke, a Briton who organizes theatre workshopss in Russia, probably had the most hilarious story to tell us about funny Russian habits. "My wife, Natasha was waiting for her mum to arrive and help us with our first baby, Arturchik. The train was due from Bashkiria at 4 am. Unfortunately Natasha went into labour at about 2 am. 'Cripes,' I gasped, 'call the midwife, I'll go and collect your mum in a taxi.' 'No dear, I have to come with you,' said Natasha, in between spasms, 'I have to come with you.' 'Errr, why darling? Shouldn't you stay here and boil water and tear sheets or something?' I pleaded. (We were having a homebirth.) 'No dear, I have to come – mother is bringing potatoes form Bashkiria and I have to help her to carry them."
RIR would like to thank the Moscow discussion club Ru-En Games for Expats (engam.ru) for its help with this article.
All rights reserved by Rossiyskaya Gazeta.