Source: Courtesy Hillwood Estate, Museum and Gardens.
Catherine the Great, empress of Russia, renowned patron and boisterous lover, bestowed tender but opulent gifts to her men, relatives, royalty and loyal friends. Some of the most iconic of these gifts are an intriguing part of the Hillwood Museum exhibit "Passion of the Empress" (Feb. 15 through June 8).
The intimate showcase offers a rare glimpse into the things and people that Catherine held dear more than two centuries ago.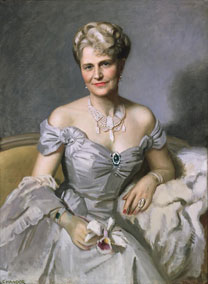 Imperial art patron Marjorie Merriweather Post. Source: Courtesy Hillwood Estate, Museum and Gardens.

These 27 pieces, the lion's share of which come from Hillwood's own collection, are emblematic of the larger trove of decorative arts and paintings collected by Marjorie Merriweather Post and on display at the estate.
The Post cereal heiress – her father created Grape Nuts cereal and founded General Foods – was married to Joseph E. Davies when he was named U.S. Ambassador to the Soviet Union.
The couple moved to Moscow in 1936. It was a tumultuous time, yet it was there and then that her collection of imperial art, including artifacts from the Romanov family, began.

During her tenure as the ambassador's wife, Post acquired the core (about 20 percent) of her collection. The rest, which includes French 18th century art, she found while traveling throughout Western and Eastern Europe.
The resulting collection is the largest major holding of imperial art outside of Russia, according to Hillwood curator Scott Ruby. At a time when "only 20 percent of Americans have passports," he said, "I think it's really important to have this outpost of decorative arts and paintings from Russia. It's not something that people collected, and not in other museums overall."
Mikhail Piotrovsky, the director of the State Hermitage Museum in St. Petersburg, appears to agree. He has said that Hillwood and the Hermitage enjoy a great friendship.
"One may sometimes regret that such remarkable pieces, once the product of Russia, are now lost to their country of origin," Piotrovsky wrote in an essay for the book "A Taste of Splendor: Russian Imperial and European Treasures from The Hillwood Museum."
"We must remember, however, that many of these objects might have been dispersed or destroyed had they not fallen into the kindly possession of Marjorie Merriweather Post," Piotrovsky wrote.
"Thanks to her, there is now a small oasis of Russian culture in Washington, a distant echo of the mighty artistic symphony that was once the imperial palaces of Russia."
Catherine the Giver
Catherine gave her own gemstones for the creation of the magnificent Buch chalice, which is the centerpiece of the current Hillwood show. She gave this work, which includes a 13th-century Byzantine cameo of the Archangel Michael, to the Trinity Cathedral at the Alexander Nevskii Monastery.
"Catherine the Great was known for her intensely passionate interest in carved gemstones, cameos and intaglios," exhibit curator Scott Ruby wrote in his essay for the cata­logue. She even referred to her preoccupation as "gluttony" and "cameo fever." She was in possession of at least 10,000 cameos when she died, Ruby told RBTH.
A stunning glass cameo on exhibit, "Catherine II in the Guise of Minerva," depicted Catherine as the goddess Minerva – wearing a winged sphinx crown and laurel wreath. The cameo was then reproduced on porcelain, plaster and prints, including mass-produced Wedgwood.
Another popular artifact in the show is a gravy-boast sized drinking cup or "kovsh." It is significant in part because it was a gift from Catherine to the head of her winter garrison for his mead. The inscription reads: "By the grace of God, We Catherine the second, Empress and Autocrat of all Russia… awarded this kovsh to the starshina (head) of the winter garrison of the Urals troop, Afanasii Donskoi, for his demonstrated and true service, Saint Petersburg, March 1793."
It seems a tad ironic that this palatial art is shown in Hillwood's whimsical and rustic log dacha outside of the main estate. At the front of the dacha is a marble bust of Catherine sculpted by Fedot Shubin.
Curator Scott Ruby said that Shubin inspired the empress. The son of a peasant, he was "inspired by Mikhail Lomonosov, and "walked all the way to St. Petersburg from his village when he was 18. Lomonosov was impressed by his talent in walrus carving, and helped him join the Academy of Arts."
Both the permanent collection and this emblematic show exude a dynastic air. The heiress of one of America's most eccentric turn-of-the-century dreamers discovered the tossed-out imperial art of an empress and saved it scrupulously.
One gets the feeling that Empress Catherine would have approved of Merriweather Post — for her intelligent aesthetic, many lovers, great fortune, and wonderful parties, but most of all, for her patronage of enduring beauty.
All rights reserved by Rossiyskaya Gazeta.