A Urals vision of the American dream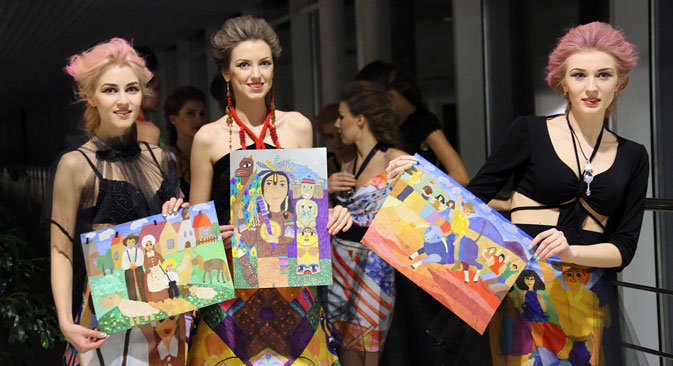 The monumental painting Montana is on display in Yekaterinburg with the help of the American consulate.
Source: Tatyana Andreyeva
In 1989, Yekaterinburg artist Anatoly Kalashnikov began painting a place he had never been.
"Once my father watched a television program about a cattle drive in Montana, and this sight impressed him so much, with its attractive way of life and distinctive spirit of American culture, that he was inspired to portray the whole history of America," said Kalashnikov's daughter, Alexandra.
"He worked on the painting every day, from morning till night, collected and studied a lot of material on American history, and made many sketches."
After 10 years, the massive 59-foot-long painting, called Montana was done. The work, which is done in comic-book style, reflects reimagines moments and figures in American history.
Its themes include the automotive industry, cowboy showdowns, Marilyn Monroe, Elvis Presley, U.S. presidents and the Oscars.
Kalashnikov had a successful career as an artist, but he considered Montana to be his pivotal work. He died in 2012 at the age of 65.
"He traveled to the U.S. twice, in 1992 and 2002. There he lived with the famous sculptor Ernst Neizvestny, who is also from Sverdlovsk [as Yekaterinburg was known in the Soviet era]. He met with a senator from Montana, who was so deeply moved when he saw his sketches that he told my father he could visit him anytime and gave him a cowboy's horse," said Alexandra Kalashnikov, who is also an artist.
Kalashnikov also hoped the work could be displayed in the U.S. Although Montana hasn't crossed the ocean yet, it has come to the attention of American officials.
On March 1, a reception was held to honor the painting, jointly sponsored by the city of Yekaterinburg and the American consulate in the city.
Veronica Pidzhakova, the organizer of the exhibition, said that Montana will be on display until April 15 at the Ekaterinburg-Expo international exhibition center.
Pidzhakova hopes that after that, the painting can be released for international display. However, considering that the work weighs 396 pounds – 660 with supporting structures – transportation could prove challenging.
Alexandra Kalashnikov is hopeful that someday her father's painting can be displayed in its namesake state and that this innovator from the Urals could play some role in improving relations between the United States and Russia.
All rights reserved by Rossiyskaya Gazeta.