Exhibition dedicated to women's beauty being held in Delhi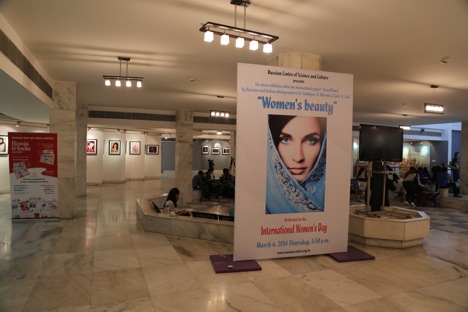 'Women's beauty' exhibition is going to be on display until March 13. Source: Alessandro Belli
The Russian Centre in Delhi celebrates the beauty of Indian and Russian women with an exhibition of photos taken from both countries.
In honour of International Women's Day, an exhibition of famous photographers from Russia and India titled 'Women's beauty' opened at the Russian Centre of Science and Culture (RCSC) in New Delhi this week.
"This day is special – today we are celebrating beauty, felicitating the life bringers – women," said Anastasia Khokhlova, Deputy Director for Culture and Information, RCSC. She described women as being "strong in their fragility, always understanding and forgiving, soothing all the pain, calming down all the storms."
Source: Alessandro Belli
Photographers Alexey Sukhopar, Olga Milentis and Jaf Jafry worked on creating over 100 images at different times. Photos were taken both in Russia and India.
"At first we wanted to divide the exhibition into a few parts – gloss, wedding photos, children and folklore, but failed to do so," Sukhopar said. "We didn't succeed. We realized that beauty cannot be divided – it is unified."
Source: Alessandro Belli
Dalbir Singh, National Secretary of the All India Congress Committee said it is important to hold such exhibitions in India, "where women are fighting for their rights and the authorities are trying to do everything possible in order for the fairer sex to become an equal part of the society." He added that the exhibition is not only about beauty. "On the photos, in women's eyes you can see a mother's hidden love, the sincerity of a child, the strength of character and will that women possess."
Source: Alessandro Belli
The RCSC is also organising professional photo sessions free of charge for members of the public.
The exhibition is going to be on display until March 13, daily, from 10 am to 7 pm, excluding Sundays.
All rights reserved by Rossiyskaya Gazeta.