Valentin Yudashkin: opening new frontiers in Russian fashion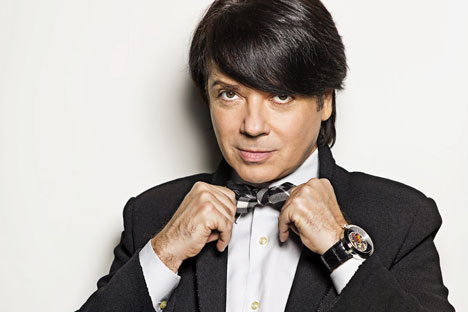 Designer Valentin Yudashkin. Source: Ufficio Stampa
For over two decades couturier Valentin Yudashkin has been at the forefront of Russia's fashion movement. His versatility, style and use of motifs inspired by his country's history and culture have won him recognition far beyond Russia's borders.
Designer Valentin Yudashkin is the only Russian couturier who has managed to remain at the cutting edge for more than 20 years, surprising the fashion world with each and every new collection. It appears Yudashkin can handle everything: working on the couture line and prêt-à-porter, releasing jeans, jewelry, and furniture lines, tableware and linens. He regularly presents his collections in Paris and at Moscow Fashion Week, and his boutiques are found all over the world: from France to Hong Kong, America to Moscow. Yudashkin's couture creations are housed in the Fashion Institute and Design Museum in Los Angeles, the State Historical Museum in Moscow and the Metropolitan Museum in New York. His services in the sphere of fashion earned him the Order of Arts and Letters of the French Republic. And recently, the tireless Yudashkin has taken on the training of novice designers.
Foto: Ufficio Stampa
You founded your fashion house in the late 1980s and presented your first couture collection in 1991. However, you chose Paris as your first platform, not Moscow.
Not exactly, my first display of my first collection with 150 models took place in Moscow in 1987. Then there were a few haute couture collections: "Petrine Ball," "Primordial Rus," and "Ecology." After that, I went to Paris on the invitation of representatives of the company Faberge, who were interested in my work and collection dedicated to the famous Faberge Egg.
Pierre Cardin himself attended your first show. Not many can boast of such a debut.
Yes, it was a wonderful feeling – excitement, elation, joy, pride. After the show, Cardin came backstage to congratulate me. After that he became my teacher, friend, and mentor. He gave me advice and helped me organize the Paris show. I am indebted to him for the support and our friendship has continued to this day.
Your first collection was called "Faberge". Other collections that have followed it also refer to Russian history and culture. Does Russian folklore still inspire you today?
Sources of inspiration can be various. For instance, an impression got while traveling, like in the "Africa" collection; a book I read, such as in the "Anna Karenina" collection; or paintings, as in the collections "Rothko" or "Russian Avant-Garde". I often turn to elements of Russian folk costume and Russian history and traditions. So, the bright decoration of Dymkovo toys became the basis for the creation of the forms of the "Russian Heat" collections, Bazhov's fairy tales gave me the idea for the prints in the collection "Russian Gems," and the beauty of the Russian winter determined the silhouettes and decorative details for the collection "Northern Expanses".
There is such a riot of color and luxury in your collections that you have been compared to Versace more than once. Where does this love for wealth and eclectic luxury come from?
I think it is connected to the fact that there was an acute shortage of color and brightness in fabrics in our fashion for such a long time. Now it is possible to find any kind of material in order to embody even the bravest idea. But I still enjoy working on the decorative details of the collections. They bring a unique accent to any model.
Foto: Ufficio Stampa
Who among the foreign stars inspires you? With whom would you like to work?
I work with many foreign stars, both those who are already famous and those who are just starting out. I provide attires for the red carpet and new videos of Celine Dion and Beyoncé. I have done dresses for Milla Jovovich for her filming of "Freaks," and for Natalia Vodianova for the filming of her charity project White Fairy Tales, and many others.
Which of the modern Russian designers deserve mention?
Perhaps Alena Akhmadullina and Denis Simachev, they have such distinctiveness and originality and such a special way of looking at the world that they distinguish themselves from the majority of modern Russian designers.
What is the uniqueness of Russian fashion?
I think it is its "youth". Russian fashion has come into being relatively recently. Only 20 years ago there was no fashion industry in Russia. Today it is going through a dynamic development; new designer names and labels are appearing. Russian fashion is gradually ceasing to be an imitation of Western models and acquiring its own face.
You are one of the most successful Russian designers: Your showrooms are found around the world and your dresses are kept in the most prestigious and authoritative fashion museums. Whatislefttoaspireto?
As a designer I always live a few seasons ahead. Spring is just starting but I am already presenting the fall-winter 2014/15 collection in Paris. Of course, I dream of new, yet uncreated collections. The most interesting and beloved collections are the ones you are just starting to work on.
All rights reserved by Rossiyskaya Gazeta.