Familiar words lost in chaos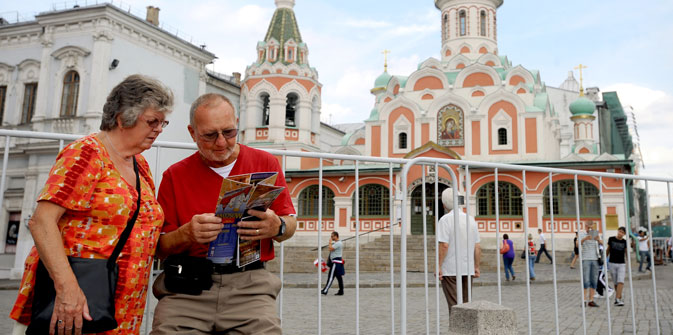 'A vy gavarite pa russki?' (And what bout you, do you speak Russian?) Source: ITAR-TASS
Foreigners describe what Russian sounds like to someone who doesn't speak the language.
Russian language is the sounds that would be made by a cat put in a box full of marble balls: squeaking, squealing and a complete mess.
/WILLEM-JAN, DESIGNER, THE NETHERLANDS/
I have always thought that the Russian language is a mixture of Spanish with a rounded "r", French with a "zh" sound added and rough German sounds.
/JEREMY, TEACHER, UNITED STATES/
To me, Russian sounds exactly like Polish. The same intonation and the same pronunciation, especially in comparison with Czech.
/YAKUB, FINANCIAL ANALYST, CZECH REPUBLIC/
For me, the Russian language is something between a walrus' growl and a Brahms' melody.
/ABE, ACCOUNTANT, UK/
Before I started learning Russian, and for some time after the beginning of my lessons in Slavonic Studies, the more I listened to Russian, the more it seemed to me like a recording of any other world language that was being played backwards.
/GETHIN, INTELLIGENCE OFFICER, IRELAND /
As if someone had not properly cleared one's throat, accumulated a full mouth of saliva and is trying to talk.
/DEAN, PENSIONER, NEW ZEALAND/
The most amazing thing is that Russian may sound quite varied: it all depends on the speaker and what he or she says. In principle, you can achieve an angelic sound from Russian language, if you want to. This is true! Russian is a kind of clay from which any master can shape anything he wants.
/BATYR, PHOTOGRAPHER, MONGOLIA/
It's like an invitation to a reckless flirt. And especially when Russian girls, with their incredibly sweet voices, utter "PACHIMU?" ("WHY?").
/ALESSIO, JOURNALIST, ITALY/
This is an extremely emotional language – Russians put a lot of feeling and passion into their intonation. Example: "Vot eto da!!!" (Wow!!!)
/CHRIS, CONSULTANT, CORSICA/
Russian is a pair of familiar words lost in the full linguistic chaos of unpleasant sounds.
ALBERTINA, INFECTIOUS DISEASES SPECIALIST, GERMANY
It's like the sound of sandpaper scrubbing on a rough surface coated with a thin layer of varnish. And if we talk about people from the regions, their Russian is the scraping of sandpaper on a rough surface without any varnish at all.
/MARK, TEACHER, UK/
It's like the roar of a bus stuck in a traffic jam. "Da-da-daaaaaaaa." And so on – at an increasing speed.
/HAIM, ARTIST, ISRAEL/
Russian language is like a very badly adjusted radio: it is full of extra rustles, crackling and squeaking.
/MARIA, TRANSLATOR, FRANCE/
Originally published in Esquire
All rights reserved by Rossiyskaya Gazeta.