Russian T20 team to play in Goa cricket league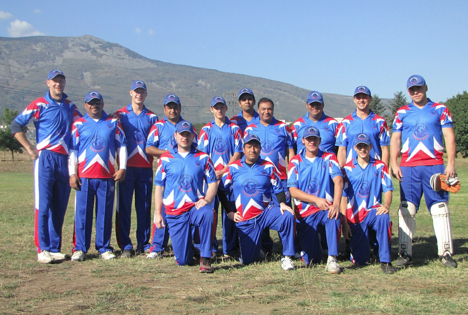 The team comprises of eight Russians, with the remaining players being of Indian origin. Source: 2012 Cricket Russia
A team comprising of both Indian-origin players as well as Russians will take part in the Goa Premier League tournament, according to a report in an Indian daily.
A Russian cricket team will participate in a 20-overs (T20) cricket tournament in the Indian state of Goa, the Times of India reported on its website.
"The objective is to promote cricket in Russia," Ashwani Chopra, president of Cricket Russia told the paper. "Goa is a hot destination for Russians to rest during the winter (back home) and a Russian cricket team participating in a major tournament will create some curiosity." A Russian squad will take part in the tournament, which will start today and be inaugurated by international cricket legend Kapil Dev.
"All across Europe, you will see that native Indians and Pakistanis play cricket and it's not promoted among the locals," Chopra told the paper. "Russia along with Bulgaria have bucked the trend and ensured that locals will be in the forefront, whatever the outcome," said Chopra, who launched the United Cricket League of Russia in 2004."
The team, which is part of the International Cricket Council (ICC)-affiliated Cricket Russia squad, comprises of eight Russians, with the remaining players being of Indian origin, the paper said, adding that four Pakistani-origin players were denied an Indian visa for the tournament. "This is the national team of Russia and we hope to make an impact here," Chopra who is now a Russian citizen told the paper.
Cricket in Russia
While Chopra is with Cricket Russia, there is a rival organisation for the sport in the country. Indian cricket lovers in Moscow are split into two groups not connected with each other: Cricket Russia and a larger unofficial cricket organisation "BCCR."
The sport was played in the country by members of the nobility before the Bolshevik Revolution in St Petersburg.
Moscow is believed to have 8 functioning cricket clubs, and regions as far away as Sakhalin in the Russian Far East had an active club for many years.
All rights reserved by Rossiyskaya Gazeta.