Olympic champions look to cash in on Sochi fame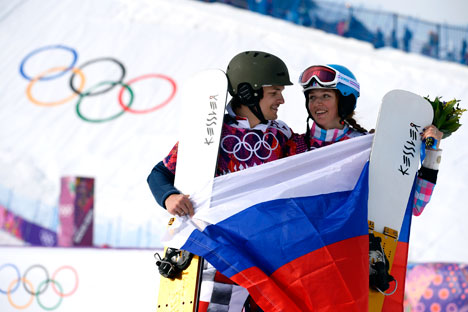 Alena Zavarzina and Vic Wilde, who brought three medals to the Russian team, signed a contract with the Raketa Watch Factory. Source: Reuters
Russian athletes are queuing up for lucrative brand endorsement contracts, inspired by Evgeni Plushenko, Alexander Ovechkin and Maria Sharapova.
Winning a gold medal at the Sochi Olympic Games has meant the chance for additional fame and fortune for a few Russian athletes with the potential to turn their names into a brand.
Married snowboarders Alena Zavarzina and Vic Wild have signed a contract with the Raketa Watch Factory. Zavarzina has become the face of the company's advertising campaign and a member of the board of directors while her husband was appointed a strategic director of the factory.
"Cooperation with Raketa is a way to support the brand," said Zavarzina "It is a simple friendly gratuitous partnership." Zavarzina and Wild are not paid for their contribution to Raketa.
Women's Olympic figure skating champion Adelina Sotnikova will draw the attention of future athletes to a new sports school, called simply "Adelina." The name will be a registered trademark.
Sotnikova may be just starting out in the world of endorsements, but fellow figure skater Evgeni Plushenko has managed to maintain many of his deals despite pulling out of the men's single's event at the Sochi Games.
Plushenko's most lucrative deal is with cosmetics brand Oriflame. Signed in 2009, it is estimated to be worth as much as €1 million.
Plushenko shenko also advertises Mercedes cars, Ulysse Nardin watches, Bingo Boom Lottery, Odri clothing and the Sun City Residential Complex in Sochi.
Hockey star Alexander Ovechkin has already achieved considerable success as a brand. One of the first contracts was signed with the manufacturer of Energizer Batteries in 2009.
The same year, Ovechkin was name one of the NHL's top 10 hockey players of the last decade. Today Ovechkin has his own clothing line with Reebok and cooperates with the largest U.S. network of hairdressers, Hair Cuttery. He is also the face of gaming simulators NHL 2K10 and EA Sports NHL 07. He has other deals with Nike, Procter & Gamble, Verizon and Coca-Cola.
Whatever resounding success the Olympic champions may have in advertising, they fall far short of the marketing success of tennis player Maria Sharapova. The sum of her advertising contracts in the last five years increased 1.5 times, and has reached $24 million.
Sharapova signed her first contract with the NEC Corporation in 2003, after winning a tournament in Tokyo. After her victory at Wimbledon the following year, Sharapova signed 10 additional advertising contracts worth more than $15 million.
Today, Sharapova's advertising portfolio consists of contracts with 5 major companies, from auto manufacturers to deodorants firms, totaling $23 million.
Additionally, in 2011, Sharapova has created her own company, Sugarpova, which makes candy and chewing gum.
Signing a famous athlete as a sponsor can work both for and against a company and its product. According to Kristina Tancher, a director in the Moscow office of advertising firm BBDO, sports stars increase brand awareness and add "closeness and clarity" to a company's image.
However, Mikhail Yelagin, executive creative director of the TWIGA Communication Group, said that signing a star athlete poses problems. "The athlete's identity can be so bright that it may overshadow the advertised brand. The athlete will be remembered, not the brand," Yelagin said.
Yelagin also pointed out that athletes are often signed to attract attention before big competitions, but in sports, no outcome is guaranteed.
"In case of this athlete's failure, the viewer will watch pretentious, victorious clips with a completely different mood. Rejection and negativity can be transferred to the brand itself," Yelagin said.
All rights reserved by Rossiyskaya Gazeta.