Russian athletes set medals record at Paralympics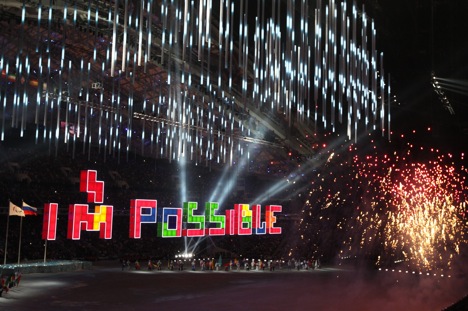 Russia set a new record for medals won by host nations. Source: Viktor Vasenin / RG
With 80 medals, including 30 gold, Team Russia took top honours at the Winter Paralympic Games in Sochi.
The Sochi Winter Paralympic Games were attended by a record 597 athletes from 45 countries. Over nine days, 72 sets of medals were awarded in five sports. According to the head of the Sochi 2014 Organizing Committee Dmitry Chernyshenko, over 325,000 tickets were sold for Paralympics events, and the closing ceremony was watched by more than 2 billion people all over the world.
With 80 medals, including 30 gold, Team Russia took top honours at the Winter Paralympic Games in Sochi. This total set a new record for medals won by host nations. The previous record of 70 medals was set by Austria at its home Winter Paralympic Games in 1984.
Pavel Rozhkov, first vice president of the Russian Paralympic Committee and a member of the executive committee of the International Wheelchair and Amputee Sports Federation (IWAS), said: "This is a fantastic result for our team. We very much hoped to be at the top of the medal table, but did not expect to get quite so many medals. At world championships, we do indeed lead in many events, but Paralympics is an event on a different scale altogether. There was a danger that the athletes could have burned themselves out. I think that a huge part of this success is down to our coaches, who managed to prepare the athletes to be on top form exactly at the time of the Sochi games."
The second place in the overall medal count went to Germany, who took the most medals at the previous Winter Paralympic Games in Vancouver. This time around, German athletes won 15 medals (nine gold, five silver and one bronze). The third place went to Canada, with 16 medals (seven gold, two silver and seven bronze).
Team Ukraine gave a very strong performance too, winning 25 medals (five gold, nine silver, and 11 bronze). "Before the start of the Paralympics, the Ukrainian team considered withdrawing from the Games but in the end decided against it. That was a great victory in itself, since athletes had spent four years waiting for the Paralympic Games. There was a certain tension, but it did not affect our contacts. We lived close to each other, talked to each other, shared impressions, supported each other," Rozhkov said.
Heroes of the Paralympics
The biggest number of medals were awarded in alpine skiing. Russia and Germany won six medals each in the discipline. Germany's Anna Schaffelhuber, 21, who won five skiing medals, became one of the main heroines of the Sochi Games. "This is an incredible success for me," Schaffelhuber said. "I felt great here. I really liked it in Sochi: the opening and closing ceremonies, the ski slopes. Conditions for Paralympians were simply great here. We had no problems with moving between facilities or at the Olympic Village. I would also like to thank volunteers for their support."
Russia's Roman Petushkov beat Schaffelhuber by one medal, becoming the first-ever athlete to win six gold medals at the same Paralympics. He won three gold medals in biathlon and three in cross-country skiing. "It is very difficult to put my emotions into words. I won Russia's first gold in Sochi and it helped me to build on that success. The games were conducted at a very high level. Sochi has become a place where disabled people can feel as equal and fully-fledged members of society. This is more precious than any victories," Petushkov said.
On the last day of the Games, fans were treated to a gripping sledge hockey final, in which the hosts lost to the U.S. team 0:1. The Russian sledge hockey squad is an example of how a strong team can be created in just a few years. A mere three years ago, this team simply did not exist, and at its first official tournament it was beaten 0:60. Now, this team exceeded expectations – and performed better than Russia's Olympic hockey team.
Just a start
Rozhkov is confident that the Russian team's success in the Paralympics will lead to more interest in the development of sports for the disabled.
"We hope that our team's success and the wide media coverage the Games have received would attract more children with disabilities to sports and that our team will keep expanding," Rozhkov said. "There was a time when we admitted anybody who could barely move, whereas now we have healthy competition. After the Winter Paralympics in Turin, we launched special programs to assist disabled people. I am confident that Paralympic sport in Russia will continue to develop."
All rights reserved by Rossiyskaya Gazeta.