Sports minister alarmed with slow preparations for 2018 FIFA World Cup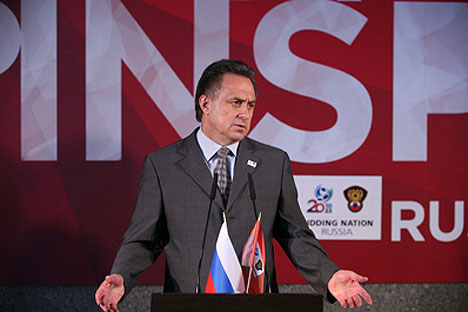 Russian Sports Minister Vitaly Mutko demanded in January that construction for all arenas start by the end of 2014. Source: ITAR-TASS
Seven of the 12 arenas for the world's most important football tournament remained at the design stage as of January.
Preparations for the 2018 FIFA World Cup are not going at a quick enough pace and this has led to Russian Sports Minister Vitaly Mutkothreatening to make heads roll if the situation is not rectified.
All but one of the 12 arenas needed for the tournament are being entirely or practically built from scratch in a project costing $20 billion, a figure that includes private sector contributions and the associated infrastructure. Seven remained at the design stage as of January.
If construction is yet to begin, the arenas should at least be well into the design phase, Mutko said. But the reality appears somewhat different.
"The pace of designing the stadiums gives cause for alarm," Mutko said at a meeting with regional leaders. "Deadlines are being broken, there are problems in every region," he added.
Each of the 11 regions building stadiums is being given a 3.6-billion-rouble ($98-million) subsidy to choose a location and finalize a stadium design, Mutko said.
"Whoever is unable to do this, let's replace them at this early stage and everything will fall into place," he said. "Our task is that the (stadium) concepts conform to FIFA standards."
Three stadiums for the tournament are all but finished: the Kazan Arena, the Fisht Olympic Stadium in Sochi, and Spartak Moscow's new home, the Otkritie Arena in the capital.
There have been high-profile problems with at least two others.
Zenit St. Petersburg's new arena has suffered several delays and spiraling costs to $1.1 billion in a case labelled "disgraceful" by Russian Prime Minister Dmitry Medvedev. A tentative opening is set for 2017, the same year the arena is slated to host the FIFA Confederations Cup.
Yekaterinburg's stadium, meanwhile, became embroiled in a political tussle in December after the city mayor, an opposition figure, demanded a completely new building rather than a revamp of its existing stadium.
Evgeny Roizman told RIA Novosti that building a new arena elsewhere would be considerably cheaper than a $380 million plan to renovate the Central Stadium.
The venue for the opening game, a semifinal and the final, Moscow's Luzhniki Stadium, is undergoing a complete refurbishment.
Mutko in January demanded that construction for all arenas start by the end of 2014.
First published in The Moscow News.
All rights reserved by Rossiyskaya Gazeta.