Tributes paid to K.A. Abbas at the RCSC in New Delhi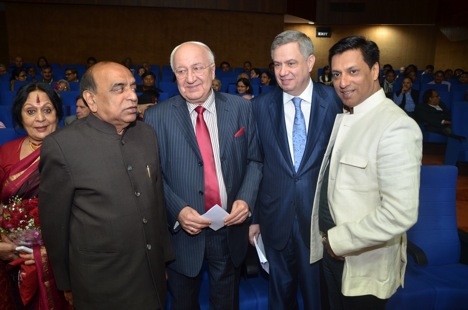 Ambassador of the Russian Federation in India Alexander Kadakin (c) with the guests of the function. Source: RCSC
Politicians, academics, writers and diplomat pay tribute to legendary Indian film director and screen-writer.
The Russian Centre of Science and Culture (RCSC) in New Delhi paid a special tribute to Khwaja Ahmad Abbas, who wrote and directed films such as Saat Hindustani and Shehar aur Sapna.
The programme, jointly organised by the Khwaja Ahmad Abbas Memorial Trust, the Embassy of the Russian Federation in India and the RCSC in New Delhi, was held on March 15 was attended by writers, parliamentarians, diplomats, educationists.
Aziz Qureshi, Governor of Uttarakhand pointed out that "Abbas was not just an individual, but a movement himself. One will find him whenever and wherever there is injustice or inequality, fighting against those evils."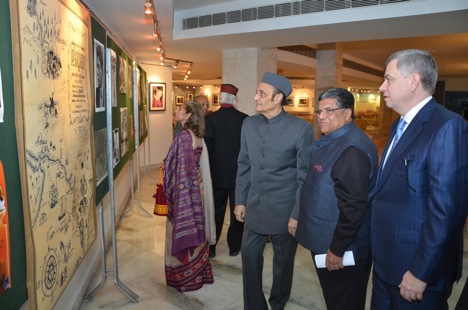 Guests looking at the exhibition of posters and photos on K.A. Abbas' life and work. Source: RCSC
Alexander Kadakin, Russian Ambassador to India, called Khwaja Ahmad Abbas a true symbol and herald of Russian-Indian cultural affinity, who would forever remain one of the brightest stars in the galaxy of Indian writers. Kadakin also underlined that for Abbas "humanism and kindness are the principles of paramount importance."
Fedor Rozovskiy, Director of the RCSC, said that the birth centenary celebration of K.A. Abbas assumed special dimension in the context of Russia declaring 2014 as the Year of Culture. He further noted that Abbas is held in high esteem by the people of Russia for more than half a century now. "The epoch-making Indo-Soviet film co-production Pardesi, based on the story of Afanasy Nikitin, a 15th century Russian trader who travelled to India during 1466-1472, was written and directed by K.A. Abbas. It is a most popular film made in 1957 in two versions (Hindi and Russian) which is now considered a Russian literary magnum opus," Rozovskiy said.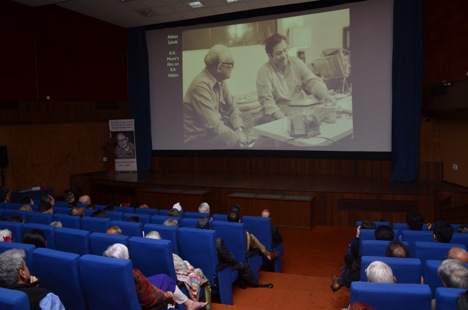 The multimedia presentation on K.A. Abbas' life and work. Source: RCSC
The programme also consisted of a multi-media presentation and the screening of excerpts from Pardesi and Sree 420. The RCSC also displayed a collection of posters and photos on the acclaimed writer's life and career. June 7, 2014 is Abbas' 100th birth anniversary.
All rights reserved by Rossiyskaya Gazeta.