Twin sisters to represent Russia at Eurovision 2014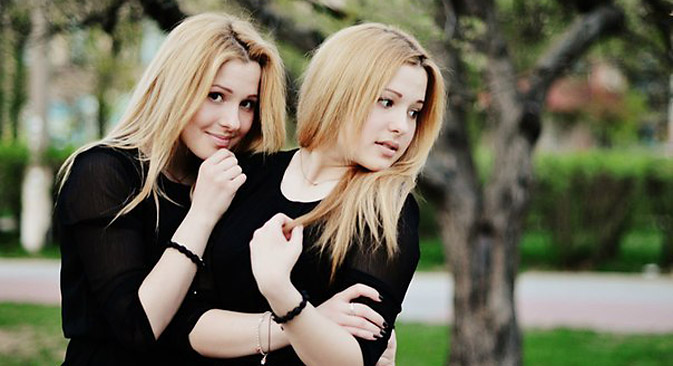 The sisters hope that their previous Eurovision experience will serve them well in this year's competition. Source: Press Photo
Russia's entries in the annual song contest, held this year in Copenhagen, were the 2006 winners of Junior Eurovision.
Masha and Nastia Tolmachev, the twin sisters who won the Junior Eurovision contest in 2006, will represent Russia at the Eurovision Song Contest, which will be held May 6-10 in Copenhagen.
The announcement was made by the Rossiya 1 TV channel, Russia's official Eurovision broadcaster, which for the first time decided not to hold a national selection round.
The sisters hope that their previous Eurovision experience will serve them well in this year's competition. They were the first Russian participants to win Junior Eurovision and at the time said that they hoped to someday perform at Eurovision.
The Tolmachev sisters. Shine. Source: YouTube
Despite their youth – the sisters are 17 – they have an impressive resume as musicians. They began their training at a music studio in Kursk and then at a local musical theater. They won several contests for children in Russia before winning Junior Eurovision with their own composition, "Spring Jazz."
The Tolmachev sisters. Spring Jazz, 2006. Source: YouTube
Since then, the Tolmachev sisters have recorded an album (Two Halves, released in 2007), debuted as TV presenters and filmed a New Year's TV special.
According to a source at the Russian Eurovision organizing committee, The sisters have been "studying, singing and attending classes." They still have one more year of school.
This time, they will not be performing their own competition, according to the source. "It will be a song by a professional composer. We hope to select it from the shortlist before the end of this week."
In January, the European Broadcasting Union, which organizes the Eurovision Song Contest, divided the contestants into two semifinal groups.
The Tolmachev sisters will be performing in the first part of the first semifinal, which will be held on May 6. Overall, 37 countries will be competing in this year's Eurovision Song Contest: in addition to the six countries that are granted automatic places in the final, there will be 16 participants in the first semifinal, and 15 in the second semifinal.
This year's Eurovision Song Contest will be held in Copenhagen on May 6-10 May. Last year, Russia's Dina Garipova finished fifth with the song "What If."
This story was combined from reporting by RIA Novosti, Newsru, Rossiyskaya Gazeta and Kommersant.
All rights reserved by Rossiyskaya Gazeta.