The 15-year old sensation and Olympic champion in the figure skating team event in Sochi talks about her training regimen, her feelings about being a celebrity, and her craving for a holiday.
Yulia, this year you have two lyrical programs. Do you feel like doing something different next season, something more carefree?
No, I don't. Of course, I'll perform fun programs too, if I'm told to, but I won't be able to fill them with the same emotional energy.
Besides, I'll inevitably be compared with other skaters who have had programs like that and they'll be found to be more expressive than me. The program that I had this year, 'Schindler's List,' was exactly right for me, for my personality type. I also had a program for the 'Sabre Dance' from Aram Khachaturian's ballet Gayane, it was slightly different, but still not very cheerful either. Programs like these suit me better; they suit my personality, the emotions that I can express.
It's now almost a month since the Olympics. Tell us what you did on the first days after the Games. Have you had a chance to get some rest before the World Championships?
I had a week free from training but it wasn't much of a rest. We were busy all the time. Every day there were receptions, meetings, various events. We were very tired after the Olympics, so had there been training sessions on those days too, I don't know how I'd have survived.
How do you feel about the news that Adelina Sotnikova will miss the World Championships? Should an Olympic champion defend their title?
It was the decision of her coaches, she's currently taking part in shows. We decided straight away that we'd go.
After your performance at the Olympics, everybody is expecting only the best possible results from you. Do you feel the pressure?
Of course I do, but still I have my own targets for this world championship. I just need to try and give a clean performance.
The 2014 World Figure Skating Championships will be held on March 24-30 in Saitama, Japan. Sochi champion Adelina Sotnikova will not be taking part. According to Head of the Russian Figure Skating Federation, Alexander Gorshkov, "it has been decided to give Adelina an opportunity to recover and then to start preparing for the next season, given that she has successfully coped with the most important task." In addition to Yulia Lipnitskaya, the Russian team at the ladies' figure skating event will include Anna Pogorilaya, who has made it to the finals of this year's Grand Prix.
How do you cope with the jitters before a performance? What is your recipe?
The nervousness is always there. You just have to be well-prepared and do your job. If you're well-prepared and know that, no matter what, you'll be able to do what you have been practicing all this time, it becomes easier. When you're not ready, then you have to think of how to cope with the nerves, to get in the right mood, to talk to your coaches.
Like all athletes, you have to deny yourself many things. Is there anything that you particularly miss?
It's a very difficult question. Because there is a certain regimen. I have to deny myself practically everything. Before the Olympics, we had training and nothing else. Now there's a world championship ahead. At the moment, I have just one wish – to go on holiday somewhere, just to forget the regimen and the training schedule.
Do you have any plans? Where will you go on holiday after the championships?
I don't even know yet when exactly we are having a holiday, so I haven't thought about it yet. We have many plans for after the World Championships too. Training won't be as intensive, but there's a lot of work still. We'll probably go on holiday in June. I'd like to see many places actually. Now one of my dreams will come true, I'll be going to Japan. It's cherry blossom time there, I think it will be very beautiful.
Do you have a role model in figure skating?
At the moment my role model is Carolina Kostner. She has this inner something, it's as if she's radiating magic. I want to derive as much enjoyment from skating as she does.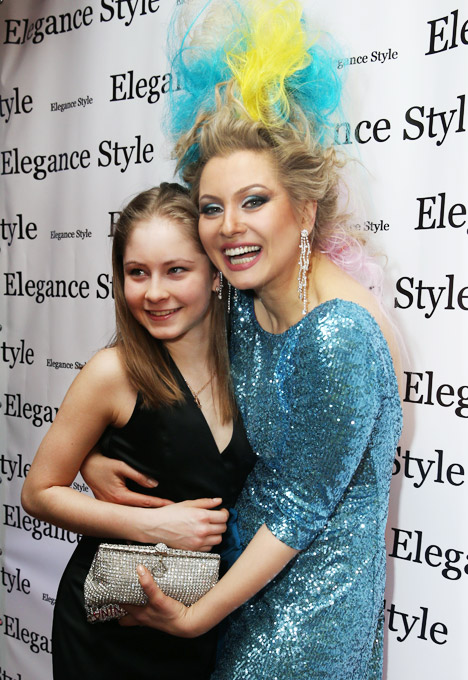 Yulya Lipnitskaya (Left) appeared at a celebrity party in the first time. Source: ITAR-TASS
Recently video footage from a celebrity party that you attended appeared on the internet. Did you have a good time there?
Something is telling me it was my first and last such experience. I was told that it would be a ceremony where celebrities would be presenting awards to athletes. We weren't told exactly what it would be like, so everything came as a bit of a surprise. People there were very much removed from the world of sport. There were some episodes there that I found completely incomprehensible; I felt uncomfortable.
Are you tired of all the attention from the media and fans?
Yes, I am a bit. But I should get used to it.
First published in Russian at RBC Daily.
All rights reserved by Rossiyskaya Gazeta.