Baked since pagan times, the pryanik, a traditional Russian spice cake, is as widely known a symbol of Russia as the balalaika or samovar. RBTH investigates the pryanik's historical connections with Tula, tsars, wedding rituals, and ballot boxes.
Spice cakes are still made these days, especially in the cities of Tula and Gorodets. And although they are different from those made a century ago, they still have their particular taste, making them stand out among other kinds of cakes and pastries.
The oldest of Russian sweets
Predecessors of the contemporary spice cake (which takes its name from the Russian word pryany, meaning spicy), which, according to some sources, date back as far as the 9th century, contained no spices but only honey, and were known as "honey cakes", with their round shape based on the symbol of the Slavic pagan god of the sun, Khors.
Spices like clove and cardamom were first imported to Russia only in the 12th and 13th centuries, and locals began adding them to honey cakes. Spices gave them a taste that was so exquisite that in the 17th century pryaniki became a staple menu item even for the tsars.
By the 19th century, spice cakes were an indispensable part of celebrations, from births to weddings. Newlywed couples were supposed to bring a festive spice cake as a gift for the bride's parents several days after the wedding.
Making pryaniki became a respected craft. Pryanishniki – spice cake makers – stood out among other bakers as an elite group.
The best known kind of spice cakes is pechatniye (pressed). Pressed spice cakes are made with the use of wooden presses, which give them an elaborately decorated surface, featuring various pictures and letterings.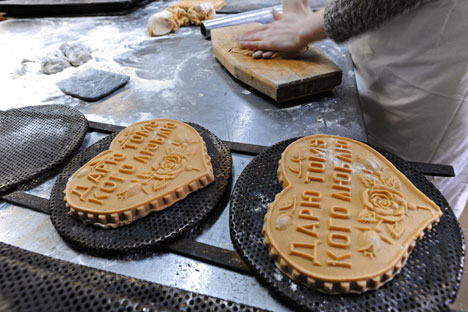 Modern pryaniki. Source: RIA Novosti
Archeologists have discovered carved wooden presses like this that they believed were used to press honey cakes back in the Middle Ages.
City of spice cakes
Russia's "spice cake capital" is the city of Tula, located about 200 km south of Moscow. According to Nadezhda Trachuk, director of the local museum Tulsky Pryanik, which is centered on the history of spice-cake making, there were very specific reasons why the spice cake industry was so well developed in the city, also famous for its gunsmiths and samovar production.
"Tula has always been a place where major arms factories were located," she told RBTH. "And gunsmiths had skills that allowed them to make wooden presses for spice cakes in their spare time."
"Gradually, those presses became more and more elaborate, and, as a result, spice cakes from Tula stood out among all spice cakes made in Russia," Trachuk said, adding that the spice cake eventually became Tula's symbol, alongside the Russian accordion and samovar.
According to a local legend, a Russian prince once tried to get Tula bakers to make spice cakes of the same kind as he had tasted in Tula in his own city, but the results were always unsatisfactory. Even bringing water and flour from Tula did not help, and a wise baker said that the missing ingredient was Tula air – something the prince wouldn't be able to provide.
The changing face of the spice cake
The craft of spice cake making survived the Bolshevik Revolution and the era of industrialization, during which spice cakes, just like any other kinds of bakery, began to be mass-produced at confectionery factories.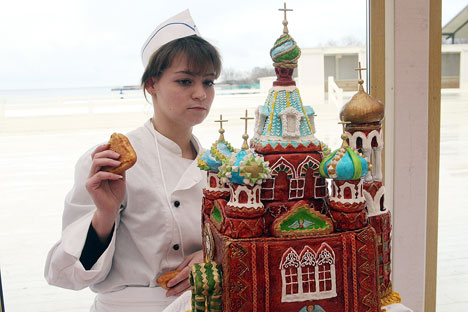 Pryanik in the shape of St. Basil Cathedral. Source: PhotoXpress
Nowadays, most spice cakes contain jam or condensed milk between layers, as opposed to honey in the original recipes. And although Tula-based bakeries claim they use the original recipes and most people who try them are pleasantly surprised at how good they are, contemporary spice cakes could not possibly taste the same as they did a couple of centuries ago.
"Today, a pryanik is not like what it was a century ago anyway," said Trachuk. "Water, honey, and butter are different, and these ingredients are very important."
"Even if we used old recipes, what we get is far from the ancient spice cake. Original spice cakes were all made with honey because sugar in the way we now use it hadn't yet been invented. Contemporary spice cakes use a mixture of sugar and honey."
While spice cake designs are known to be pretty elaborate, sometimes entire spice cakes have quite an unconventional use. In December 2011, a ballot box made of spice cakes was made in Tula on the occasion of elections to the State Duma. The spice-cake ballot box was presented to Vladimir Churov, head of the Central Election Commission, who was monitoring the elections in the city.
All rights reserved by Rossiyskaya Gazeta.