The story of the shop behind this Easter's most extraordinary egg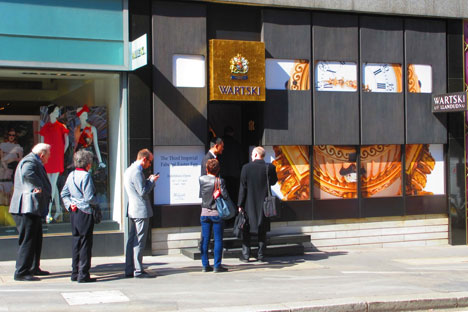 Outside Wartski at Mayfair. Source: Phoebe Taplin
Outside the little Wartski jewelers' shop in Mayfair, there is a queue. For four days only, in the run up to Easter, this venerable antique dealers just off Bond Street is exhibiting a priceless Fabergé egg. In the first two and a half days, 1500 visitors saw the egg, which had been lost for nearly a hundred years before turning up at an American flea market.
Amazing moment
The last public chance to see this eight-centimeter high gold egg, decorated with blue sapphires and rose diamonds, was at a 1902 exhibition of Imperial Fabergé in St Petersburg. Sold by the Bolsheviks in the 1920s, there were fears it had been melted down until an amateur antiques dealer bought the egg with a watch inside at a bric-a-brac market in the American Midwest for the equivalent of about £8000, hoping simply to sell the gold for its scrap value.
In his disappointment at finding that the metal was worth less than he paid for it, he tried to find out more about his purchase. He came across an article in which Kieran McCarthy, Fabergé expert and director of Wartski, speculated about a missing egg with a watch inside, a present from Tsar Alexander III to his wife Maria Feodorovna in Easter 1887.
When he walked into our shop, it was an amazing moment," McCarthy told RBTH. "It was like an out of body experience where you're left afterwards feeling 'did that really happen?' There isn't a more beautiful story surrounding a work of art that I know of. There's such an electric field that surrounds lost treasure."
One visitor to Wartski, Jennifer Bloy, herself a fellow of the Royal Society of Goldsmiths, said: "I came because I am a jewellery designer… this is one of those rare privileges we don't get very often."
Wartski of Llandudno
The shop behind the rediscovery has a history as unusual as the egg. In the mid 19th century, Morris Wartski fled from the early anti-Jewish pogroms in the Russian empire and settled in North Wales.
In 1865 he opened a little shop on the High Street in coastal Bangor, one of Britain's smallest cities. The family went on to open two branches in the then-fashionable Welsh seaside resort of Llandudno and, in 1911, a shop in London. The current premises, on Grafton Street, still have "Wartski of Llandudno" on the sign.
Russian aristocrats, fleeing the Revolution, often sold their family jewels in Europe and Wartski's son Harry would buy them for their shop. Wartski's daughter married Emmanuel Snowman, who began to visit Russia from the 1920s onwards and bought hundreds of treasures that the Soviet government were selling in their attempt to turn "treasures into tractors."
McCarthy explains that Snowman, whom he describes as "a wonderfully dynamic character", was also from a family of Russian-speaking émigrés, who had anglicised their Jewish surname. Snowman bought a gold chalice of Catherine the Great's, now in the Hillwood Museum in Washington DC, and several Fabergé eggs, including the rock crystal "Winter Egg", with its 3000 diamonds and platinum basket of precious flowers.
Snowman and spy
Emmanuel Snowman became mayor of Hampstead. His son Abraham Kenneth Snowman was born in 1919, one of three children, and grew up playing with real Fabergé eggs.
Kenneth Snowman became a friend of the writer Ian Fleming and he features in the James Bond story that forms part of the film, "Octopussy". In the book, the famous fictional spy visits the Wartski shop and he and Kenneth go together to an auction at Sotheby's.
When M first hands him an egg in the film, Bond (Roger Moore) summarises for the cinema audience: "Looks like a Fabergé egg, Sir, one of the jewelled eggs made by Carl Fabergé as an Easter gift for the Russian royal family. They're priceless and very rare."
The greatest jeweller
The Snowman family still own Wartski and McCarthy describes them as "very benign employers." The business has also become an academic center, with an extensive Fabergé archive of original photographs, letters, catalogues and designs.
Geoffrey Munn, managing director of Wartski, has worked there since he was 19 and is currently writing a book about the history of the business. He is well known for his appearances in the BBC's Antiques Roadshow and describes Fabergé as "the greatest jeweller of the 20th century." He unearthed a genuine Fabergé brooch at a Roadshow in Derbyshire amongst a bagful bought at auction for £30.
"More than one hundred years on and these eggs are still coming to Wartski," says McCarthy. "The respect that surrounds them is as potent as it was in 1902 in St Petersburg." There is a sense of some stories coming full circle as treasures begin to return to Russia. Some of the eggs that passed through Wartski are now in the Fabergé museum, which opened last year at the Shuvalovsky Palace in St Petersburg. McCarthy is a member of the museum's board.
Of the anonymous Mid-western dealer who found the missing egg, he says: "He really derives the most pleasure from his participation in the life of the egg, rather than the cash. It's something that always makes him smile."
For more information about UK-Russia Year of Culture visit The Kompass, special RBTH section for all UK-Russian cultural events
All rights reserved by Rossiyskaya Gazeta.