The last few years have been marked by a boom in both small and medium scale Russian fashion business. Various manufacturing giants are being closely followed by conceptual brands and tiny companies specializing in soft feminine dresses. Industry experts such as, for example, Fashion Consulting Group, highlight this as one of the key trends in the clothing market.
Historical aspects
If we look into history, we will see that under the Russian Empire, people either made their clothes themselves or had them made by private studios. Even in the last quarter of the 19th century there weren't many large factories which manufactured ready-to-wear clothing and they were all situated in the major industrial cities, for example, in Moscow.
The most famous companies were Mandl, Thiel, Rosenzweig and the Petukhov Brothers Company. But they can all be attributed to medium-sized businesses.
Ironically, it was during the Soviet regime, in the 1920s, that the garment industry grew to a truly imperial scale, as giant factories opened all over the country.
Things changed in the 1990s, as consumers forsook Soviet-era goods and began purchasing Turkish-made clothes instead.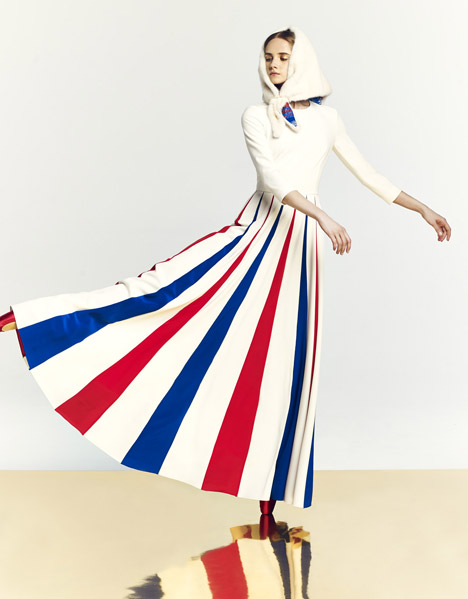 Fall/Winter 2014-2015 A la russe collection. Source: A la russe
However, in recent years, small companies that specialize in designing, sewing and selling clothes, have once again begun to gradually emerge.
We seem to have become ready for this
During the two decades that a market economy has existed in Russia, a whole generation of young designers has emerged. The narrow circle of experienced designers who started their career in the USSR has been enlarged by an impressive list of names and styles.
Practically everyone who is interested in this topic is well aware of the graphic dresses made by Victoria Gazinskaya, the perfect female tuxedos made by Dmitry Loginov and the aristocratic maxi dresses of Anastasia Romantsova.
A smoking jacket by Dmitry Loginov. Source: Press Photo
But the fact that Kristina Tops sews beautiful skirts made out of heavy natural fabric, that Yanina Vekhteva makes concise and at the same time feminine dresses and that Ruzanna Gukasyan designs glamorous blouses with high collars and impressive puffed sleeves - this is known to just a few.
For example, it will be interesting for visitors to Moscow who are interested in fashion design to look into the Backstage Showroom, where they will be able to see many items by young designers, who are also friends of the storeowners.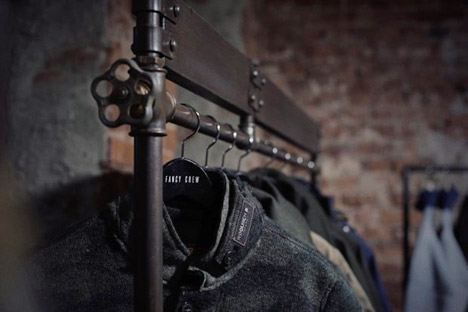 Interior of the Fancy Crew showroom. Source: Press Photo

Here you have the chance to see puffy skirts, jackets with complex tailoring and minimalist pencil dresses. Besides this, many events are held here - regarding the brands on display and also lectures on the history of fashion and costume.
The founders of the Fancy Crew store adhere to a more conceptual format. They have gathered several brands of casual men's clothing under one roof. Being guided by their own taste in everything, they have created an authentic space where old brick walls have hangers with plaid shirts and beige slacks.
"Since the brands are unknown to a wide range of buyers, we always try to give every person who visits us a little introductory tour. Especially because some brands are unknown not only in Russia, but also in Europe and Asia," says the co-owner of the showroom Alexander Uryupichev.
We do not have random things that we have obtained accidentally – they all have their own distinctive details. To some extent, we even deal with public awareness, by telling people that there is another product, which is not widely known, and has its own unique character."
Help via the internet
Interest in clothing and a multi-million internet audience gave rise to the rapid development of online promotion. Unable to find initial capital, designers have been successfully creating and promoting their brands on the internet.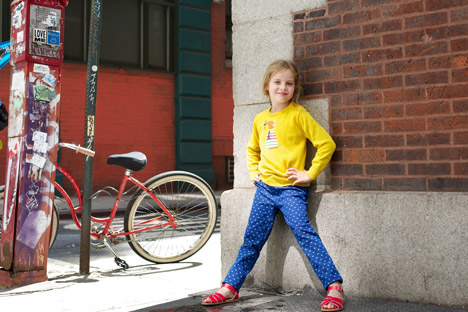 Summer 2014 Tootsamacginty collection. The picture taken from the Babyswag.ru blog. Source: Press Photo
For example, in just two and a half years online, fashion store Oh, my has made a decent (for a small business) profit. The main gist of their concept, which is innovative for Russia, is that they only sell simple models of dresses, T-shirts, hoodies and long-sleeved shirts made of soft jersey, and the colors are strictly white, gray or black.
Here is another successful example - St. Petersburg brand Bat Norton, which specializes in selling classic men's and women's sweatshirts with bright prints of their own design, and solely from their own website.
With the birth rate gradually rising among young people, designer clothing for children has become very popular.
Various websites such as Babyswag or FunForMum offer Russian and foreign niche products, which are all made in accordance with an ecology and natural concept, clad with a light Scandinavian accent.
All rights reserved by Rossiyskaya Gazeta.