Born in Los Angeles but now based in Barcelona, David Arthur Brown of the indie pop band Brazzaville loves Russia, and the feeling is mutual – his group enjoys a cult status among indie fans here. David took some time out to talk to RBTH about his impressions of Russia, as well as a new music business venture he's starting in the country.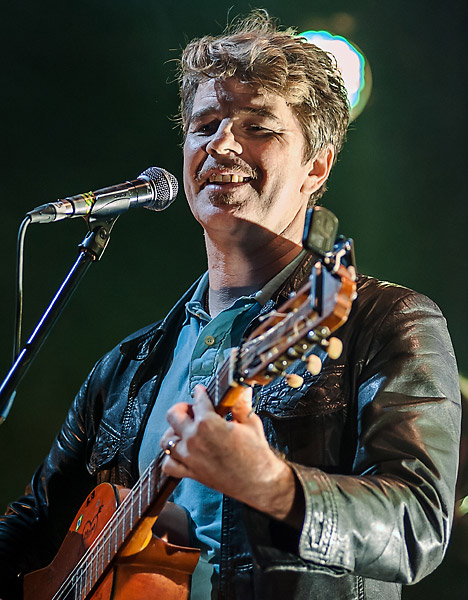 David Arthur Brown. Source: ITAR-TASS
Rocking across Russia
Every six months or so, Brazzaville plays in Russia to packed houses, despite the fact that the band seems to have emerged here in Russia out of nowhere.
In Russia, Brown and his band, which is named after the capital of Congo, enjoyed swift recognition: The first Brazzaville albums won critical acclaim, from the hipster magazine Afisha in particular, and promoters quickly organized gigs in Moscow.
"Honestly, I had no idea what to expect," Brown says, recalling his first visit to the Russian capital. "I had never planned to come to Russia. Growing up in the U.S. during the Cold War, me and my friends kind of imagined Russia as being entirely in black and white, not color!"
"I must say, at first I was shocked at how serious and joyless people looked on the streets. It took me a while to get used to that aspect of Slavic culture. But I also met some really amazing people on that first trip, like Artemy Troitsky (world renowned music critic and author of the bestseller Rock in the Soviet Union) and Maxim Semelyak (music critic, formerly of Afisha magazine). It changed my life forever!"
"I have an odd relationship with the country," Brown confesses. "My great-great-grandfather fought with Turkey against Russia... Both my grandmother and grandfather were Jews from Belarus. My grandmother had a very thick accent; she was a first-wave émigrée. And my other grandfather comes from Galychina (Ukraine)."
Official video for the Boeing song was filmed in Russia in 2013. Source: YouTube
David speaks neither Russian nor Ukranian, but while touring and partying across the former USSR, he got to know many local bands. His breakthrough hit here was a cover of the cult rock song "A Star Called Sun", originally penned back in the 80s by the iconic Victor Tsoi of the band Kino.
David used Tsoi's music, but wrote new lyrics, dedicated to his late mother. The Russian audience warmly welcomed Brown's reworking of the song, which turned a 80s protest anthem into gentle, dreamy folk.
Brazzaville also covered Mikhail Boyarsky's Soviet pop hit "Zelenoglazoye Taxi" (Green-Eyed Taxi) and an obscene urban folk song called "Maloletniye Shalavy" (literally "Slutty Teens", but turned by Brown into the elegant "Teenage Summer Days").
David believes that many Russian singer-songwriters belong to the world's best, Victor Tsoi and Ufa-born female singer Zemfira among them. With Zemfira, a major Russian rock star of the 2000s, he even recorded the recent iTunes hit "Mistress".
Inspiration cuts the red tape
Apart from music, Brown now has business interests in Russia. The bold American headed here to produce a hi-tech quality product that every musician needs on a daily basis – world-class analogue tube microphones.
"The great thing about Russia is that there are some truly great people here, including amazing technicians that use inventions of the incredible scientists of the Soviet era," says Brown.
Each and every detail of Brown's complicated gadget is of Russian origin: The metalwork, electronics, and machining are all done in Russia. Even the posh streamlined boxes are made of Siberian wood. Apparently Brown is proud to create workplaces for skilled workers as well as to give inspiration to the people.
"In Russia, there is an omnipresent sentiment – 'what's the point, who cares?'," Brown sighs. "It comes from the Soviet times, when all inventions were assigned to state officials, and the inventor eventually got nothing. But today, we are able to change it. For example, if some young man in Tula, whose grandma assembles the mics, realized that famous singers in the West use these mics – that would give him a sense of pride. That kind of thing is very powerful."
And what about the notorious red tape? Yes, bureaucracy complicates everything. "In Russia, the bureaucrats are absolutely obsessed with blocking anything. It makes it difficult for entrepreneurs and innovators to do their thing. But it's not only Russia," admits Brown, "you can find it in many places. It's like bureaucracy gone crazy!"
Still, Brown and his partners did manage to bring together Russian technology and Western consumers. "I took the mics to a professional exhibition in Los Angeles, and everybody was blown away! The quality surpasses German and American mics, and these are made completely in Russia by Russian people! So I can feel a change and hope here, too."
All rights reserved by Rossiyskaya Gazeta.