The film Stalingrad looks like a major Hollywood production, with spectacular explosions, a soaring score and a love story between a German officer and a Soviet civilian.
But the Second World War epic was made 6,000 miles from Los Angeles by Russian director Fyodor Bondarchuk. It earned Russia's biggest domestic box office since the fall of the Soviet Union, 1.67bn roubles (£31m) after its release last October.
The numbers:
111 million pounds was the amount of state funding provided for the national film industry in Russia in 2013.
31 million pounds was taken at the box office by the most successful Russian blockbuster, Stalingrad. The movie's budget was $30m (£18m).
18  was the percentage share achieved by domestic films from total box-office receipts at Russian cinemas in 2013.
Though Russia's economy has faltered since 2008, its film industry has been shooting big movies like never before. An unprecedented three of the top 10 movies at the Russian box office last year were domestic.
Stalingrad was followed by Yolki 3, the third film in a popular Christmas comedy series with domestic earnings of $38m (£22.7m), and Legend No. 17 a hit about Soviet hockey star Valery Kharlamov that catapulted its star, Danila Kozlovsky, to fame and earned more than $29.5m.
The collapse of the Soviet Union left Russia's state-supported film industry struggling for survival and led to an invasion of popular Hollywood films. Meanwhile, the habit of going to the movies was in decline as Russians began watching DVDs or downloading films.
In the early 2000s, Russian blockbusters floundered; in 2000, the action movie Brother 2 earned only $1m at the box office, and was the only Russian movie in the top 10 for national ticket sales. The top movie that year in Russia, Gone in 60 Seconds, fared little better, at $1.4m.
But the past several years have seen Russians going to the movies again in record numbers. From 2004 to 2012, the number of cinemas in the country more than tripled; since 2009, Russia has had the fourth-biggest box office sales in Europe.
The percentage of Russian films on the national market is still relatively small: last year, they gained 18 per cent of total box office earnings, or £132m out of £728m, up from 12 per cent in 2012.
But in a country where budgets are many times smaller than their Hollywood counterparts, the figures are impressive. Stalingrad was made for $30m, one of Russia's most expensive films. In contrast, the recent US spectacular The Lone Ranger cost at least $250m.
Rather than hampering the film industry's growth, the poor economy has boosted it, says producer and film critic Anton Mazurov. "Among viewers there's a desire for escape. Cinema provides a distraction from real life," he says.
In the vanguard of the new Russian blockbusters was Night Watch, a 2004 vampire fantasy set in contemporary Moscow that grossed more than $16m in Russia and almost $34m worldwide.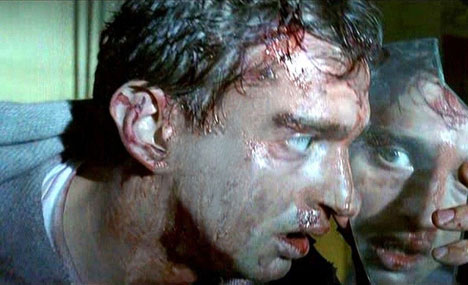 Screenshot from 'Night Watch'. The actor Konstantin Khabensky starring the main character Anton Gorodetsky. Source: kinopoisk.ru
In 2008 came Hipsters, which followed Moscow's jazz-loving youth counterculture of the early Fifties. The popular Vysotsky: Thank You for Being Alive was a biopic about the rebellious Soviet singer-poet Vladimir Vysotsky, while a surprise hit last year was Gorko, a sharply observed wedding comedy. Made for $1.5m and filmed on hand-held cameras, it grossed more than $25.5m at the box office.
Many recent Russian hits have in common "special effects with an individual twist," says Ekaterina Mtsitouridze, head of Roskino, which promotes Russian films abroad.
While Hollywood spectacles such as The Lone Ranger can be weighed down by their size, she says, smaller-scale Russian films flourish under strong figures such as Bondarchuk, and producers Anatoly Maksimov and Konstantin Ernst, who worked on Night Watch and Vysotsky.
"I know how scrupulously they worked on the screenplays as a whole and each individual scene, down to minute details," Mtsitouridze says.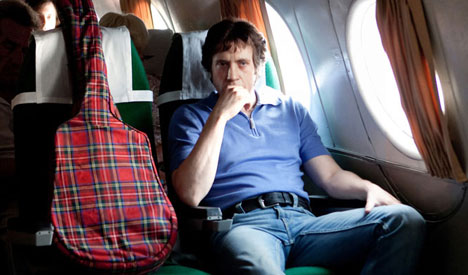 A screenshot from 'Vysotsky'. There was a mystery for a long time who is playing Vladimir Vysotsky. Source: kinopoisk.ru
Unlike Hollywood, the Russian film industry is again heavily dependent on state funding, which totalled 6.7bn roubles (£112m) in 2013. Around half of all Russian movies officially receive government money, up from 19 per cent in 2010. In reality, Mazurov says, the percentage could be as high as 90 per cent, as many films receive state money indirectly.
Films that cover the Ministry of Culture's favourite themes, such as the Second World War, tend to get the biggest prizes. Almost half of the budget for Stalingrad came from the ministry's cinema fund.
Despite noteworthy hits, the Russian film industry is in "crisis," lacking the training, organisation and funding to grab a bigger share of the market, says Ilya Bachurin, who runs the studio Glavkino with Bondarchuk and Ernst. The solution, he says, is more blockbusters.
"The government should focus their efforts on supporting big films," he says. "If we're making dozens, even hundreds of small films each year, we can't get the audience's attention."
Others say dependence on state-backed projects is the problem. "It's an absurd model that spawns mutations, like atomic radiation," says Mazurov. "At a certain point, we'll just be making Yolki 3,Yolki 7 and Yolki 10 and cinematography as an art form will cease to exist."
The Ministry of Culture is developing new cultural guidelines that include measures to protect the film industry, such as quotas for the percentage of Russian films shown in theatres and tariffs on foreign movies.
The proposals have met with opposition in the industry. "This will do nothing but hurt the Russian film market," says Mtsitouridze. It would make the industry more insular when Russian films offer more appeal to western audiences than ever.
Read more about movies in Russia
All rights reserved by Rossiyskaya Gazeta.