What was the aroma of the USSR? The smell of cigarette smoke, alcohol and dust was all-pervasive, but in this mix there was always the strident, unmistakable note of Soviet perfume, acerbic, intense, detectable a mile away. RBTH turns back time...
"The charm of Soviet perfumery lies in the integrity of its aromas," says Andrei Yevdokimov, deputy general director of the New Dawn perfume factory. "For today's taste, the 'hits' of bygone days are, to put it mildly, fairly pungent. But amongst the range produced, there were some undoubted queens of fragrance: Red Moscow, Scythian Gold, Kuznetsky Bridge."
The New Dawn factory has been operating in Russia for more than 100 years. It was there that the most famous Soviet fragrances were blended and produced. As well as the famous Red Moscow, the factory produced scores of other scents, which were available in the shops at very low prices. In 1927, for instance, in honour of the tenth anniversary of the October Revolution, the Red Poppy fragrance was released, going on to captivate several generations with its spicy eastern aroma.
If Red Moscow was considered an expensive perfume for special occasions, then Silver Lily-of-the-Valley was a scent for every day. The aroma of 'Lily-of-the-Valley' was fairly neutral – sweet, fresh and reliable. It had a high alcohol content, which allowed ordinary DIY enthusiasts to mix their own 'cocktails' with it.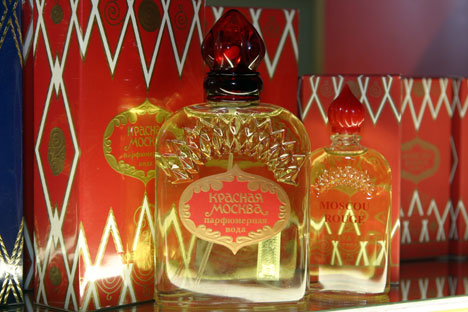 Red Moscow. Source: RIA Novosti
"I remember the Red Moscow fragrance so well. I usually gave it to my mother as a present for the International Woman's Day holiday on March 8," recalls Vladimir, 46. "I don't remember where I got it – it wasn't always possible to get everything in the shops. That's why presents were given from the heart and really appreciated by the recipient - they were so difficult to get hold of."
Another legendary Soviet perfume was Troinoi (Triple), an eau-de-cologne for men. It was Stalin's favorite fragrance. Ordinary consumers, though, used it for a variety of purposes – as perfume, to treat cuts, for drinking, and as an aftershave. Troinoi came in a large bottle and was fairly cheap. The forerunner of Troinoi was introduced to Russia by Emperor Napoleon Bonaparte. Later, oils of neroli and bergamot were added to the aroma, resulting in the eau-de-cologne recognized by everyone today.
"Yes, it was my favorite type of eau-de-cologne – nothing superfluous added, nothing sophisticated, not much more than pure medicinal spirit," Alexander, 50, reminisces. "Of course, Troinoi wasn't highly scented. But if I went out wearing Chypre, lots of people would say, 'He's used Chypre again.' The eau-de-cologne was excellent!"
They say that women in the USSR used to smell the same because there was no variety. "That's not quite true," insists Andrei Yevdokimov. "Soviet women did have a choice. And a huge one. As well as the New Dawn factory, there was Dzintars, Northern Lights and others, each with its own selection of perfumes. And prices also ranged widely, to suit every pocket."
Apart from those mentioned above, there were also many other perfumes with unpretentious names to be found in Soviet department stores. The selection usually consisted of the following: White Lilac, Winter Evening, Lavender, Fires of Moscow, Tamara, Silver Lily-of-the-Valley, Queen of Spades, Rondo, Manon, Enchantment, Favorite Melodies, Cinderella and Tête-á-tête.
Strange as it may seem, Soviet perfume is still being produced and still has its own customer base. "We still produce Red Moscow and Silver Lily-of-the-Valley," says Yevdokimov. "These perfumes are sold in our own-brand shops and also in those of our commercial partners, and they can be freely bought over the internet."
Historical note
At the beginning of the 20th century, several large perfume houses existed in Russia, having originated in France. The largest of them was Вrocard and Co., founded at the end of the 19th century by the famous French parfumier Henri Brocard, and still in existence to this day.
In 1863, Brocard discovered a new method of producing concentrated scents, and used the money from the sale of this invention to open his own factory in Moscow. Brocard became so enamored with Russian history and culture that he adopted Russian Orthodoxy and changed his name to Andrei Afanasievich.
His business was continued by another talented Frenchman, Auguste Michel. Michel had a hand in the creation of a fragrance named The Empress's Favourite Bouquet, released for the 300th anniversary of the Romanov Dynasty. After the revolution of 1917, the Brocard factory was nationalised.
Michel remained in Russia and when it was decided to rename the factory in the spirit of the new age, he suggested calling it New Dawn. The name was accepted. And in 1925, at his suggestion, the perfume The Empress's Favourite Bouquet was renamed Red Moscow. Under this name it enjoyed success not only in Russia but abroad.
All rights reserved by Rossiyskaya Gazeta.