The story of the USSR in song: Alexandra Pakhmutova's biggest hits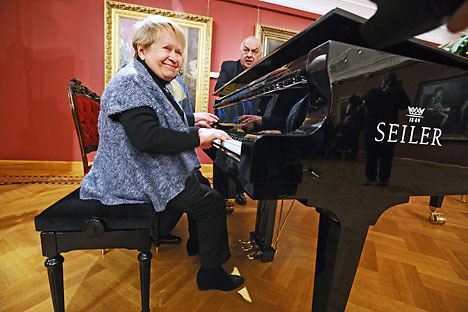 Pakhmutova has written (and in her 84th year continues to write) more than 400 songs, which never seem to grow old. Source: Press photo
The songs of composer Alexandra Pakhmutova tell the story of the USSR. Along with her husband, the poet Nikolai Dobronravov, she wrote about Komsomol construction projects, the conquest of outer space, aircraft manufacturing and agriculture, as well as love and tenderness.
The history of the Soviet Union can be studied through the songs of composer Alexandra Pakhmutova. Along with her husband, the poet Nikolai Dobronravov, she wrote about Komsomol construction projects, the conquest of outer space, aircraft manufacturing and agriculture, as well as love and tenderness. Pakhmutova has written (and in her 84th year continues to write) more than 400 songs, which never seem to grow old.
You Know, What a Guy He Was!
"He said 'let's go' and waved his hand…" — these words open the refrain of a song about Yuri Gagarin, the first cosmonaut. Pakhmutova and Dobronravov wrote a whole song cycle about Gagarin on the 10th anniversary of his flight, but only one of them really took off. But did it ever! People have been listening to this song for many years, reliving the joy of Gagarin's flight.
Source: YouTube
Nadezhda
One of Pakhmutova's best songs is based on the work of Polish singer Anna German. The song was written in 1971, but continues to appear on the airwaves to this day. This year, a film about Anna German will be shown on television and "Nadezhda" will once again ring out from the screen.
Source: YouTube
Until the Train Leaves
Two in one: a song for teenagers in the hip 1970s vocal-instrumental ensemble style, and an ode to the epochal construction of the Baikal-Amur Railway (an immense undertaking that was realized in the harshest climatic conditions). Young people from all over the country were called to construct the railway. Komsomol members were sent there on special travel permits, as well as young specialists just out of university. Songs played a key role in maintaining their enthusiasm and sense of romantic adventure.
Source: YouTube
Goodbye, Moscow
The 1980 Olympics was one of the biggest events of its time. The whole country sat in front of their televisions as balloons bearing the image of a teddy bear, the symbol of the Olympics, flew off into the distance. Pakhmutova's sad song accompanied their flight. Those who saw the closing of the Olympics will never forget this image. To this day, many find tears welling up in their eyes on hearing the first chords of this song.
Source: YouTube
Thirty-four years later, at the 2014 Winter Olympics in Sochi, Pakhmutova's song rang out again. In addition to "Goodbye, Moscow," which was quoted at the closing ceremony, a collective choir of thousands led by Valery Gergiev performed the "Soviet Sportsman's Hymn", written by Pakhmutova in 1975.
Source: YouTube
Shooting Star
This song is about wishing on shooting stars. Beginning in 1960, an amateur song movement took hold in the Soviet Union. These were simple songs sung to guitar accompaniment, which could be performed around a campfire. After such songs became popular, many professional composers started to imitate the amateur style. Pakhmutova wrote down-to-earth songs like this, which students fell in love with and began singing while playing their guitars.
Source: YouTube
Small World
The airlifting of troops into the Novorossiysk region in 1943 was one moment in WWII history that would not have garnered much attention save for brief mentions in textbooks were it not for the role that Soviet leader Leonid Brezhnev played in it. He served there during the war and wrote about it in his memoirs. Thus, the meaning of that episode of the war was overstated in mass culture. Pakhmutova, who carefully followed political trends, wrote the song Small World, which is popular with veterans and frequently played at official concerts.
Source: YouTube
Belovezhskaya Forest
Pakhmutova turned out to be not only a successful composer, but also a prophet. In 1975, she wrote the delicate lyrical song "Belovezhskaya Forest". A year beforehand, she had visited this nature reserve in Belarus with her husband, Nikolai Dobronravov, who wrote the text. The reserve is unique in that it has been protected since 1409. To this day, many fossilized trees are preserved there, and bison and other endangered animals roam free.
The song enjoyed staggering success, firstly in a version performed by a boys' choir, and then by the popular folk rock group Pesnyary. Symbolically, the leaders of three states - Russia, Ukraine, and Belarus - signed the agreement on the dissolution of the USSR in the Belovezhskaya Forest in 1991.
Source: YouTube
All rights reserved by Rossiyskaya Gazeta.