Vareniki offer something for everyone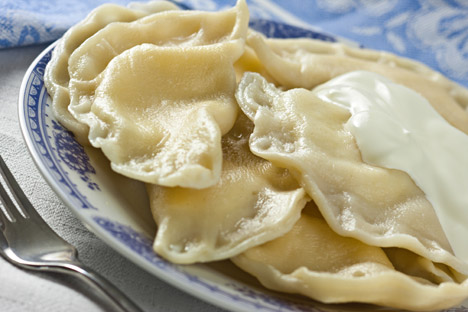 Vareniki with potato filling are usually served as with sour cream. Source: Lori / Legion Media
These traditional dumplings can be stuffed with a variety of sweet and savory fillings and can be eaten any time of day.
Vareniki are a dessert/breakfast/lunch food every Russian grows up with. Hot, easy to quantify ("I'll have 3/6/15...") and served with everyone's favorite sour cream, they also give kids the option of getting rid of the filling and leaving just the dough, or vice versa.
The most popular variety is cherry, and they are usually served as a dessert with sour cream and some powdered sugar. Not too sweet, very filling and hearty, they make for a perfect breakfast too.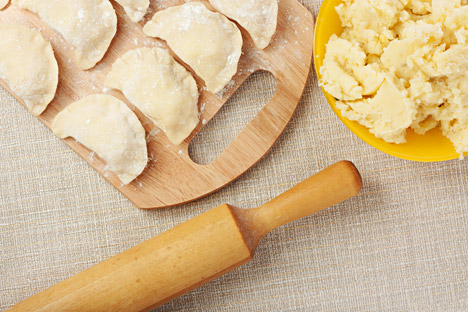 Roll out the dough till it's thin enough, then put just the right amount of filling into each varenik. Source: Lori / Legion Media
These days most people will buy them pre-made and frozen, but traditionally the women of a family would get together on a long winter's night and make a whole batch of vareniki for the whole family.
It takes a while - you need to roll out the dough till it's thin enough, then put just the right amount of filling into each varenik - but it's a great way to spend a dark, frozen evening: chatting, laughing, bonding.
I do think it's a really fun thing to do – get a few girlfriends together, put some music on and get rolling. And if you make a lot and freeze some of them, they will be very handy to have as they only take 10-15 minutes to boil.
And to be honest, even though we now have almost any cuisine available to us in Moscow, after all the chicken tikkas, laksas, spring rolls, beef bourguignons etc. (all of which I love dearly!) I still long for the simple, hearty and somehow seemingly "honest" vareniki.
Vareniki
Dough (for each filling)
1 egg; ½ teaspoon salt
1/5-2 glasses wheat flour (depending on what liquid you use)
½ glass water or sour milk or kefir
1. Mix sour milk, egg and salt, add flour gradually to make tight dough. Form a ball, put it into a plastic bag and leave for 15-30 minutes.
2. Flatten the dough and cut circles out of it with a glass (about 7-8 cm in diameter).
3. Put a desert spoon of filling in the middle of the circle and seal the edges to form varenik.
4. Boil vareniki in a large saucepan for 10-15 minutes. Then put one varenik out of the water and try it. If necessary let vareniki boil a couple of minutes more.
Potato filling
1. Boil and peel potatoes. Mash them and mix with melted butter (about 50 g).
4 big potatoes; 2 medium onions
50 gr butter; salt
black pepper; 2-3 garlic cloves
fresh dill and/or parsley for serving
2. Chop one of the two onions and fry till golden brown. Mix with mashed potatoes. Add salt and black pepper.
3. Fill a large saucepan with water, take to a boil and add 2-3 crushed garlic cloves. Boil vareniki, take them out of the water and place them on a large dish. Add some butter.
4. Cut the other onion in thin rings or half rings. Fry onion rings and put them on top of the boiled vareniki.
5. Serve with fresh dill and parsley.
300 g cottage cheese; 1 egg
1 bunch of fresh dill
1 bunch of fresh parsley
salt; butter; sour cream
Cottage cheese filling
1. Mix cottage cheese, egg, salt and chopped herbs.
2. Make vareniki and boil them.
3. Serve with butter, sour-cream and dill.
Cherry filling
350-400 g pitted cherries (fresh or canned)
sugar; sour-cream
1. Put a couple of berries in the middle of the circles cut out of the dough. Add some sugar if the cherries are too sour, add some flour to absorb any liquid. Seal vareniki and boil them.
2. Serve with sour-cream and sugar.
3. Enjoy!
All rights reserved by Rossiyskaya Gazeta.