Roman Shchadrin told RBTH where he finds Russian ingredients in the U.S. and gave his perspective on the hatred of foreigners for that Russian staple, dill.
How long have you lived in the U.S.?
I first came to the States in the very beginning of the fall of 2008. It was a week before the ambassador's arrival actually, so I was able to give him a warm and cozy bread-and-salt welcome. I have stayed in the position since.
Where in Russia did you grow up?
I was born and raised in the southern working-class suburbs of Moscow in a usual Russian family. My parents always had to work hard, and they taught me that it is the only way to get what and where you want.
How did you get your position as the embassy's chef?
Well, to make a long story short, I worked as a sous-chef in the famous "Praga" restaurant in Moscow, where I was spotted by the soon-to-be Russian ambassador to Argentina.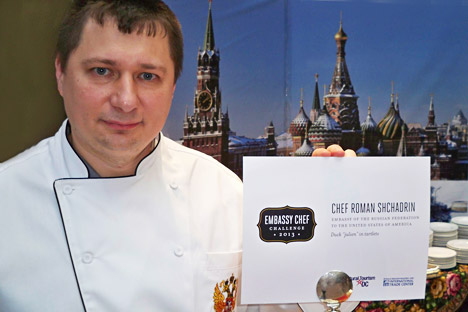 Roman Shchadrin: 'I always try to replace some of the key ingredients with products that can be associated with Russia.' Source: Press Photo
He offered me a contract with the embassy in Buenos Aires, I decided to give it a shot and I liked it. After a while, he recommended me to this embassy, which was "shopping" for a new chef. As simple as that.
What is your average workday like?
My daily routine usually starts at the shops, where I pick up fresh produce for the menu I have in mind for the day. Then I go to the ambassador's residence and do my job. My everyday clientele are the ambassador, his family and his guests. I always challenge myself to make something different every day.
You also prepare the food for special events and receptions in the embassy. How often do they happen and who helps you?
A part of my work for the ambassador is cooking for his guests. If we are talking about an event for up to two dozen people, it is only myself in charge of the kitchen.
Sure, we have staff members who assist me, but the cooking – no.
I should be the only one responsible if, God forbid, anything is not good enough. And it is a big challenge, especially when we have a whole week packed with events, sometimes twice a day.
Fortunately, it does not get that busy often. Big receptions are different; we have other cooks and work as a team in preparation for the "action."
Do you mostly prepare Russian dishes, or do you also cook French, Italian or American meals?
My style is fusion with a Russian accent - it gives more room for creativity than strictly sticking to one national cuisine. I can do American and most of the European cuisines. Give me a recipe and I will cook it for you, although there is no way I can not tell if it is any good if I have never tried it before. That is exactly the case of my relationship with Asian cuisine.
What is this Russian accent you are giving to the food?
You know, when looking up for new recipes I always try to replace some of the key ingredients with products that can be associated with Russia. That is how I ended up with such creations as herring rolls, sturgeon burrito, spaghetti with black caviar, gazpacho soup with vodka, borsch jelly, sturgeon ice cream and many others. Anyone can try doing something like this. It is a lot of fun!
Where do you get your ingredients, particularly items that are typically Russian?
Do you want me to advertise some of the retailers? Seriously, there is no secret here - most of the produce comes from Whole Foods Market; specific Russian stuff - from Russian Gourmet.
I think everyone who ever cooks Slavic dishes goes there. Of course we go to wholesale retailers when shopping for big receptions. This is just common sense.
Are there some American foods you like?
I could give a whole lot for a good steak.
In your opinion, why do so many foreigners dislike dill? Do you avoid it in the recipes you cook in the U.S.?
No, not at all. I love using it; it is irreplaceable in some recipes. My idea is that it is unpopular for its distinctive and unusual taste, though I am certain that it is the combination of dill and other ingredients that may make it perform well or poorly. In a good cook's hands, any ingredient regardless of its taste and smell should contribute to the masterpiece he or she is creating.
What Russian dishes should Americans know besides blini, borsch and caviar?
You forgot pirozhki! Russian cuisine may be not as sophisticated, but it is very diverse.
Just to name a few cornerstones: beef stroganoff, solyanka soup, draniki (potato croquettes), all kinds of baked dishes originating from the traditional Russian stove, pelmeni dumplings, golubtsy (ground meat with rice and spices wrapped in cabbage leaf) and many many others.
Our ancestry comes from a cold land. Good and rich food is what made them survive against these climatic odds.
Do you go to Russian restaurants in D.C.?
No, to be honest. My excuse is that the best Russian food in the area is served at Russian ambassador's.
What do you like and dislike about D.C.?
D.C. is a very interesting place to live; it has a lot of fascinating places, although in six years you get so used to being a Washingtonian that it gets much harder to tell interesting from mundane and you just go with it, start loving the city like home – just the way it is.
What do you do in your spare time?
I read a lot, primarily not about cooking. I often find myself looking for new recipes or ideas that I could use for my own creations. Also I enjoy fishing at the Dacha [the recreation facility owned by the Russian Federation in Centreville, MD] - a very popular hobby among embassy staff.
Have you traveled much in the US? What are your favorite places?
I need to be in while the ambassador is in, which is almost all year long, so it is a bit hard to find time for travel. Nevertheless, I have been to some fabulous places in the U.S. I guess, the brightest impression I have is from Las Vegas. It is beautiful, dazzling and very unusual.
Top it off with the fact that it is located literally in the middle of nowhere, and you have got yourself a wonder. Plus, I am a bit of a gambler, I enjoy reasonable risk. Same with the Embassy Chef Challenge (May 15th) this year.
Some may say that going in with this ice cream of mine is risky. Maybe they are right, but I believe it has the potential to be my lucky number.
All rights reserved by Rossiyskaya Gazeta.