Champion swimmer Yulia Yefimova disqualified for doping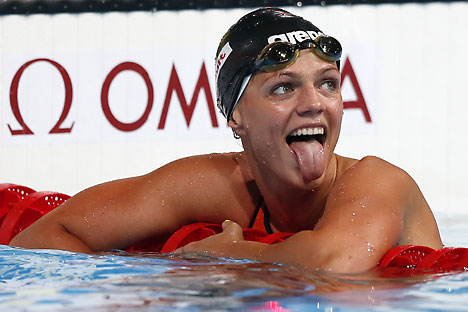 Yefimova was a bronze medalist in 200 m breaststroke at the Olympic Games in London. Source: Photoshot / Vostock Photo
The International Swimming Federation disqualified the Russian swimmer but the three-time world champion will be able to compete in the 2015 FINA World Championship in Kazan and in the 2016 Olympic Games.
In mid-January, the swimming world was rocked by shocking news: Drug tests revealed traces of a banned substance in a test sample provided by three-time Olympic champion Yulia Yefimova.
Investigations and hearings regarding the case lasted almost five months. On May 13, the International Swimming Federation (FINA) announced its verdict: The leading Russian swimmer has been disqualified for 16 months for the use of dehydroepiandrosterone (DHEA).
All swimming times posted by Yefimova since October 31, 2013 will be annulled, including two world records – one for short-course 200m breaststroke (2:14.39), posted on December 13, 2013 at the European Swimming Championships in Herning (Denmark), and one for short-course 50m breaststroke (28.71), achieved at the FINA World Cup in Tokyo.
Doping by mistake
Usually, athletes are disqualified for two years in such cases, but FINA took into account the fact that Yefimova was not taking the drug deliberately and systematically. The banned substance accidentally entered her system through a drug prescribed for stomach pain.
"The circumstances in Ms. Yefimova's case are such that she should not be penalized for the entire 24 months that would be required to be served by someone that was intentionally cheating, which she clearly was not," the organization's press release reads.
This means the athlete will be able to participate in official competitions starting in March 2015, which will allow her to compete in the 2015 FINA World Championship in Kazan and in the 2016 Olympic Games in Rio de Janeiro.
The testing sample was collected from the 21-year-old Russian athlete on October 13, 2013 in Los Angeles during an out-of-competition period.
The analysis revealed traces of a substance called dehydroepiandrosterone (DHEA), classified as an anabolic steroid, in Yefimova's system.
Yefimova's doctor, Homayun Gharavi, said that the results of the analysis could be trusted, but specified that it should be understood why the problem occurred before making accusations against Yefimova.
"Yulia called me in confusion right after the fact and now we have to figure out together what caused this to happen," the specialist said.
According to media reports, Yefimova wrote a letter of explanation in which she admitted to taking a food supplement that contained the banned substance after the results were disclosed.
Russian authorities deem the verdict objective
"The International Swimming Federation (FINA) announced an objective verdict regarding the disqualification of the athlete for using a banned substance," Russian Deputy Minister of Sports Pavel Kolobkov announced to the agency R-Sport. "Of course, we provided Yefimova with assistance and consulting. At the end of April, the Commission talked the issue over at a meeting, taking all facts into consideration, and I think the decision that was made was sufficiently objective."
"Of course, it's great that Yulia Yefimova can now start training properly and prepare for her races at the 2015 FINA World Championship in Kazan," Kolobkov added. "Of course, this is terrific news for us!"
Yefimova was a bronze medalist in 200m breaststroke at the Olympic Games in London. The Russian athlete is also a three-time long course world champion, three-time long course European champion, and seven-time short course European champion. Yefimova holds the world records in short course 50m and 200m breaststroke.
Based on material published by R-Sport, RBC and Gazeta.ru

All rights reserved by Rossiyskaya Gazeta.