Russia, once again, ice hockey world champions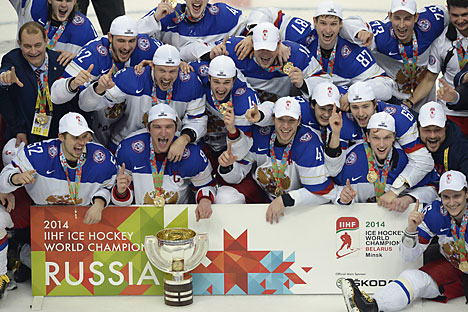 Ovechkin and Malkin to the rescue as team comes from behind to win 5-2 in Minsk. Source: AFP/East News
In a lop-sided final in Minsk, the Russian team beat Finland 5-2 to win its second world championship in three years.
Russia is the new world ice hockey champion after defeating neighbor Finland 5-2 (1:1, 2:1, 2:0) in the final of the Ice Hockey World Championship in Minsk, Belarus, on Sunday.
The Russian squad opened the scoring with Sergei Shirokov's shot, only to fall behind as the Finns scored twice (Iiro Pakarinen and Olli Palola). The Russians then regained the initiative with goals by Alexander Ovechkin and Yevgeny Malkin, then extended their advantage in the final period with a goal from from Danis Zaripov, before Viktor Tikhonov notched the final strike.
The win was Russia's second in three years and sees the team recapture the title from 2013 winner Sweden. The Russian national squad has now won its fifth world championship in total, or the 27th, if victories during the Soviet period are taken into account. At the tournament in Minsk, the Russian team won all 10 of its games, scoring 42 goals and conceding just 10.
The Russians played the final without their coach Oleg Znarok, who had been suspended for one game for making what looked like a throat-slashing gesture toward Swedish coach Rikard Gronborg during Russia's 3-1 win over Sweden in Saturday's semi-final. When asked about the incident after the match, Znarok gave Sportbox.ru the unconvincing explanation that he "had a sore throat."
The coach's disqualification did not affect the team's mood. "Oleg Valeryevich [Znarok] is a very emotional man, responsible for his words and his team. He has been the captain of a ship that has been following the right course. And our leader, our man has been suspended," Russian captain Alexander Ovechkin told Gazeta.ru. "We fought for him, for our families, for children, for our nearest and dearest, for the whole of Russia. I think our people should be proud of us," Ovechkin added.
After the game, President Vladimir Putin, who too had been at the stadium, went down to the team's changing room to congratulate them on the victory.
"Thank you very much for a great, wonderful game. We can take pride in having such a talented and spirited team that delivers results. It's great. <...> You have given joy to millions of people. Thank you very much," Putin said.
Finland has won its seventh world championship silver medal, while the bronze went to Sweden, which beat the Czech Republic (3:0) in the third-place play-off.
Based on material published at Lenta.ru, Gazeta.ru.

All rights reserved by Rossiyskaya Gazeta.