Andrei Makine's magically evocative masterpiece, "Dreams of My Russian Summers" inspired the editors of the Washington Post edition of RBTH to talk to longtime expatriates about their own personal memories of the sumptuous time between May and August, when perfumed lilacs burst through city concrete and blue Iris grows wild in the Siberian grass.
Russia's summer is hot and the country is a languid place where business deals and negotiations are put off till September. The nights are long and evocative. The deep light of the evening moon exists in a sky that still offers the daylight of sun.
5 hot tips for making the best of your summer in Russia
1. Expats agree that the best way to explore Russia is with Russian friends. Even a little Russian will help you speak to locals, who usually can recommend hidden gems. Ask friends of friends or just register at couchsurfing.com, where natives offer fun and sometimes humorous advice.
2. Make some attempt to learn the Cyrillic alphabet; it's not as hard as you imagine. Most people can get a good sense of the sound of most letters in less than a week.
3. Take a metro tour and get familiar with at least the stops on the circle line around central Moscow. Don't be afraid to ask for help. Even locals frequently ask strangers for directions.
4. If the metro isn't exciting enough, try the emerging cab system. Smartphone apps have made getting a ride a lot easier.
5. Don't be afraid to tell tour guides just what you want to see. Russian tour guides tend to wield exhaustive knowledge but are not easily offended if you want the "Cliff Notes" version.
It's a time when children take 24-hour-long train rides to the seaside, where they pick raspberries and get to know the loves and secrets of their grandparents.
It is in this milieu that foreigners fall in love with an intimate, quiet, warm place; a place that seems to be their own private Russia.Here are a few of our stories.
Kevin Kerr is a native New Yorker. He grew up in the projects on the Upper West Side of Manhattan. "My parents are of West Indian heritage… and I grew up in a culturally rich family," Kerr said. As a kid, he became interested in computers which led to his career as a software developer at the Fire Department of New York City, where he began working in 1979.
"In 1989, I joined the Soviet-American-Sail and traveled to Moscow that July. After touring for about 12 days in Moscow and Leningrad we set sail from Leningrad for New York City. The crew of 40 was evenly split between Russians and Americans, men and women," Kerr said. For him, that trip to the Soviet Union was a life-changing experience.
"I consider all the people who crossed the ocean with me part of my extended family. I stayed with two families, one in Moscow and the other in Leningrad. While I was with them, they treated me the same way we would treat someone who came to stay with us. If you came to stay with us, our house was your house and it was important that you were comfortable, happy and enjoyed the food."
One Sunday morning, Kerr remembered, the mother of his Moscow host came to meet "The American" and fixed breakfast for him. "She watched me eat, and the most important question on her mind was if I enjoyed the breakfast."
In Leningrad (now St. Petersburg), Kerr's host family moved into the living room and insisted that he take the bedroom. "My host took me to one of the bridges over the Neva River. While there, he introduced my to one of the police officers that was on duty. This was the first, but not the last time that I heard the question: 'Did you know that Pushkin's grandfather was Black?'"
"We sailed out on July 18 and began the task of getting to know each other. I now have an emotional connection with Russia and Russians that will never go away, even if it fades a little."
Ajay Kamalakaran is the deputy editor of Russia & India Report, RBTH's Indian edition. Before joining RBTH, he was the editor of the Sakhalin Times in Yuzhno-Sakhalinsk, Russia from 2003 to 2007.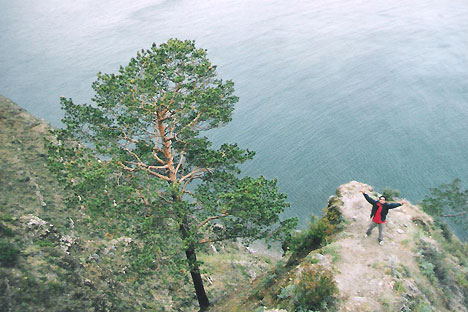 Ajay Kamalakaran's trip across Siberia was monumental. Source: Ajay Kamalakaran
Born in India, raised in New York and now fully immersed in Russian life, Kamalakaran has had the rare opportunity to be a part of three different cultures and dreams of a borderless world.
"In the summer of 2003, I traveled along with two Russian friends from Sakhalin Island to Voronezh in an epic two-month journey across the breadth of Russia," Kamalakaran said.
"We took a ferry from Sakhalin to a little-known town in the Khabarovsk Region called Vanino and then explored the region's small towns and moved on to Khabarovsk, before heading to Irkutsk and Lake Baikal. We then traveled to Novosibirsk and then onwards to Moscow and finally Voronezh. We traveled on the Russian mainland only by train. Being Indian, I received curious and friendly stares throughout the journey and was invited for parties in different rooms almost every night. We also came across many interesting travelers from other countries and met a lot of Siberian folk. It was a transforming experience."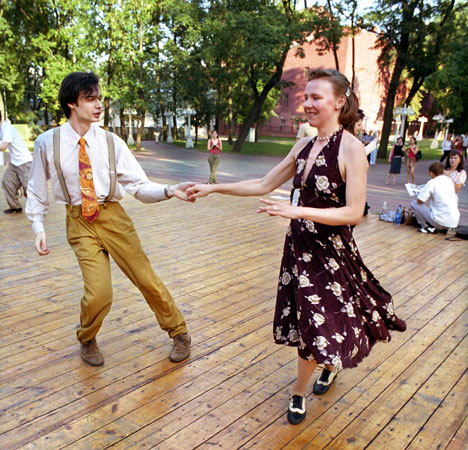 Photographer Alexandra Kocho-Williams has fond memories of being an expat in her 20s, when she took this picture of swing dancers in Moscow's Hermitage Garden. Source: Alexandra Kocho-Williams
Alexandra Kocho-Williams grew up in New York in a family with an entertainingly complex background. Each of her grandparents was from a different country – Switzerland, Norway, Serbia and Belarus (though the Belarusian grandmother considered herself Russian).
Kocho-Williams graduated from the School of Visual Arts in New York in 2001 with a photography degree, and set off for Moscow to improve her Russian.
"I worked as a photo editor at a daily newspaper, and as a photojournalist, taking assignments for international press and doing my own reportage. For The Moscow Times, I travelled around Russia covering the 2004 presidential campaign and elections. I left Russia in 2004, and through twists and turns of fate, have mostly left photography behind and now live in rural Wales with my family," Kocho-Williams said. But her time in Russia has never left her.
"When I think back to my Russian summers, what strikes me most is the light. Literally, the day is so long in summer – a blessing for a photographer especially in those bygone days of shooting real film. But also figuratively. It was exciting to be an expat in my early 20s... We had parties under the crumbling metro bridge, diving under the water and dodging freight barges, clinging to a buoy in the middle of the Moscow River in the fading light. Light was everywhere – in the long daylight hours, the neon casinos, the sparkling, pristine, chandelier-lit metro. We went out to the countryside in the early autumn as the nights began to draw in, and the surreal experience of observing light pollution of one of the world's greatest cities, from a village with no electricity. Summers went by in a blur, so many experiences of wild elation, terrible culture-shock loneliness, and every point in between."
All rights reserved by Rossiyskaya Gazeta.