New York celebrates 12th annual Russian Heritage Month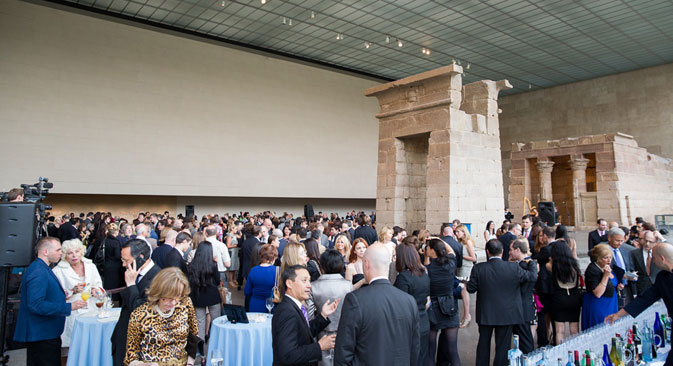 Opening the 12th annual Russian Heritage month. Source: Diana Bruk
Mayor Bill de Blasio gave the keynote address at an event opening the annual, month-long celebration of the influence of Russian-Americans in New York.
On June 11, the Metropolitan Museum of Art's Sackler Wing was invaded by Russians in the best possible way. Some of New York's most illustrious Russian-Americans were on hand to open the 12th annual Russian Heritage month, which celebrates the contributions of Russian-Americans to New York City.
The honorees this year included H.E. Dr. Kairat Umarov, Ambassador of Kazakhstan to the United States;Alexander Levin, President of the World Forum of Russian-Speaking Jewry;David Hallberg, Principal Dancer of the Bolshoi Ballet and the American Ballet Theater; Boaz Vaadia, internationally acclaimed sculptor; and theRussian American Officers Association.
Marina Kovalyov, the co-founder of the Russian-American Foundation and organizer of the event, hosted the evening, and the keynote speaker was Mayor Bill de Blasio, who was addressing the Russian-American community for the first time since he took office in January.
De Blasio began his speech by warmly saying good evening in Russian, a gesture that was greeted with wild applause. He thanked the Russian-American community for its influence on New York culture, which he said was "stronger every day," and toasted not only to the past, but also to the future.
Mayor Bill de Blasio thanked the Russian-American community for its influence on New York culture. Source: Diana Bruk
De Blasio ran his campaign largely on the promise of bridging the city's enormous wealth divide, and he approached the event with that unifying platform in mind: "This community needs to know that the city government is focused on it, and that hasn't always been the case in the past… We're focusing on making sure that the people of the Russian-speaking community have full opportunities and part of that is translating everything into Russian, which helps a lot. So you'll be seeing a lot more of that as we go forward."
De Blasio may have inadvertently touched upon the wealth divide within the community itself when he said: " A little bit of time in Brighton Beach will convince you of the vibrancy of [the Russian-American] community."
This was perhaps the only part of his speech that was met with complete silence. While Brighton Beach is inherently Russian in the minds of New Yorkers, well-established Russian-Americans often view it as more of a relatively poor, Soviet-throwback respite for recently arrived immigrants, and many subsequently disassociate from it entirely.
De Blasio commended the Russian-American Foundation for choosing the MET's Sackler Wing for the event as it is "one of the most magnificent sites in all of New York City," but while it was indeed beautiful, the setting also further highlighted that this was a V.I.P., invitation-only event for Russian-Americans who have "made it" in their adopted homeland, as opposed to those just starting out in their quest.
De Blasio also commented on the nature of being an immigrant in New York City. "You know that for any immigrant community, there's a bittersweet reality. There's something extraordinary about all the possibilities created in the immigrant experience and there's something difficult, something that pulls at you when you're away from the place that was your home," di Blasio said.
He then quoted Lara Vapnyar, the Russian-American author who moved from Moscow to Brooklyn in 1994, who wrote "Every person is given one life, but immigration gives you an opportunity to live a second life. There's a challenge and a pain that can go with that. You lose touch with your country, with your language, with the people you grow up with, with your childhood."
This last subject was particularly noteworthy, because even though the Russian diaspora is one of the largest in New York City, the Russian-American community is not quite as solidly unified as some of the city's other ethnic communities.
The two largest Russian-American organizations, The Russian American Foundation (RAF) and the Russian American Cultural Heritage Center (RACH-C) are not affiliated with one another, there are no Russian-American author awards, grants or fellowships, and there's no Russian Day Parade.
This last point seems like a particularly glaring omission since a parade exists for virtually every other major diaspora in the city. Kovalyov said, however, that there are no plans to establish a parade and that the heritage month "was enough."
Its absence is perhaps telling of the complicated nature of Russian-American identity, since many Russian-Americans are proud of Russian culture but not of necessarily of Russian nationality (which is a much more politically loaded term), and the heritage month celebrates the former whereas a parade traditionally celebrates the latter. However, a parade also gives an opportunity for a marginalized community to proclaim "We are here" to its city's citizens, and it's this assertion that many believe is lacking in New York City's Russian-American community.
All rights reserved by Rossiyskaya Gazeta.