Lobiani – the great Georgian party food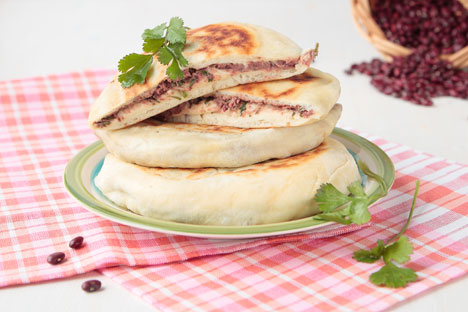 The word "Lobiani" comes from the Georgian word for beans which is "Lobio". Source: Lori / Legion Media
In Georgia, it's easy to have so much food on a table that there's nowhere to set anything down. Enter Lobiani – the hand-held filled pastry that combines the best of two of the country's best dishes.
I recently took a trip to Georgia, and completely fell in love with the country. The scenery is beautiful – in parts, similar to Tuscany; the atmosphere is vibrant and relaxed at the same time; the people are among the friendliest I've ever met and the food is to die for. The produce is fresh and beautiful and the cooking style is simple, but so flavorsome.
Given this, it's no surprise that when in Georgia, you spend more than half your time at a dinner table. Georgians won't let you sneak away until you've tried everything (and that means eating so much you can't move). When at a friend's house in Georgia, however, you don't actually want to sneak away, since when you sit down, you feel like you're home.
When out at a restaurant, you order a bunch of dishes and share them all. Usually the amount of food involved means there is no room on the table even to put your wine glass down – which is not a bad thing, since you can eat plenty using just one hand!
Ingredients
200 mL (slightly less than 1 cup) Matsoni (Caspian Sea Yogurt) or kefir or watered-down sour cream;
1 egg; 3 teaspoons salt;
1 teaspoon sugar;
500 grams (2 cups) Flour;
30 grams (1 pkg) Yeast;
1 onion, chopped;
2-3 cloves Garlic, chopped;
2 teaspoons Chili paste;
Fresh coriander to taste;
500 grams (2 cups) beans – red or white
A typical Georgian feast can include chashushuli (beef or veal stew with spices); pork, beef, chicken or fish kebabs; eggplant rolls with walnuts; tomato-&-cucumber salad with coriander and walnuts; pkhali (beetroot or spinach balls) and two obligatory dishes – khachapuri, the cheese-filled pastry also known as the food most likely to ruin your diet; and lobio, beans slow-cooked with herbs and spices. Then there is lobiani, which is a combination of the two.
In Georgia, the food is fresh, the spices are full of flavor and the conversations just keep flowing. Even after you get home, you want to keep the party going. Lobiani is one of the easiest Georgian dishes to make – and also to eat – which makes it a great party food.
Ideally, each piece of lobiani should be round, but I find it easier to make them more moon-shaped. I also add chili, paprika and dried basil just give the filling a bit of a kick. You can fry or bake lobiani, but I think baking is better since you don't use the extra oil required to fry them. I also love how baking lobiani gives the pastry "spots."
The only thing to keep in mind is that because the dough is yeast-based, you will need to start making the pastries a couple of hours ahead when you plan to eat then. Also, although traditionally you're supposed to boil the beans, I cheat and buy canned beans so I can eat the lobiani sooner! And canned beans work just as well.
Lobiani
1. If you're cooking beans, soak them overnight and then boil for 2 hours or until soft
2. For the dough, warm the yogurt (or kefir or sour cream), add the yeast, sugar and salt. Leave for 10 minutes to let the yeast activate, then add the egg and mix well.
3. Pour into a bowl and add the flour until the dough is quite thick – then put in on a floured surface and keep adding flour and kneading until you have smooth dough. Cover with a kitchen towel and leave in a warm place for about an hour to rise.
4. For the filling, put some oil in a pan and add the onion. Sprinkle with salt, pepper, basil and paprika. Then add garlic and chili paste. Fry until the onion is soft, then add the beans. Mix well and mash the beans. Add the fresh coriander.
5. When the dough has risen, knead it again, then set it aside for about 30 minutes to let it rise a second time.
6. Once the dough rises for the second time, knead it and separate into 8 parts.
7. Roll out each part and put about 2 teaspoons filling, close and roll a little but make sure the filling doesn't come out.
8. Bake for about 10 minutes at 220 celsius (430 farenheit) or until golden brown.
All rights reserved by Rossiyskaya Gazeta.