Foreign markets opening up for Russian television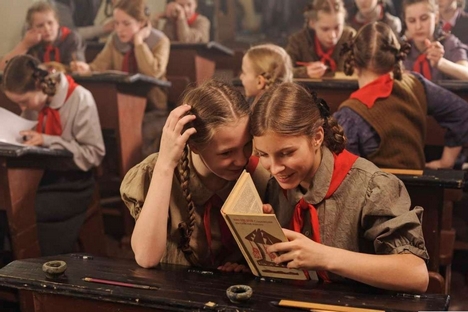 A screenshot from Pepel series. Source: kinopoisk.ru
Although animations have been successful for many years, the newfound popularity of sitcoms, historical films and adaptations of literary classics testifies to the growing ability of Russian TV companies to produce quality content.
Up until 2012, "series" (сериал, or "serial" in Russian) was considered a dirty word in Russia. Actors were embarrassed to admit that they appeared in TV series, and directors were loath to admit to working on them. With rare exceptions, TV channels preferred to purchase both program formats and films abroad.
Nonetheless, Russian television featured domestically produced crime series such as Tainy Sledstviya and Ulitsy Razbitykh Fonarei, both of which totaled over ten seasons. Some melodramas – Obruchalnoye Koltso and Yefrosinya, for example – are also worth mentioning, as around 200 episodes were made of each. These days, the diverse Russian audience, which used to adore Brazilian and Mexican shows, along with the popular U.S. soap opera Santa Barbara (everybody watched it in the 1990s), prefers domestic products, even if the quality is slightly worse.
The situation has undergone a fundamental change over the past two years. Russians have started to learn how to produce popular television content. Even back in 2012, the original STS sitcom Daddy's Daughters was an exception. The show was sold to Germany, where it was successfully adapted for the German audience. Since then, a growing number of foreign television channels and distribution companies have become interested in Russian TV series.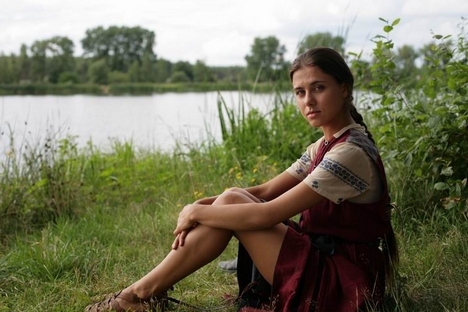 A screenshot from Yefrosinya. Source: kinopoisk.ru

Stalingrad, NKVD, classics
The history and classic genres are the most popular among foreign audiences. It was for this reason that the largest European TV and entertainment market, MIPCOM, used advertising for the TV series Life and Fate, based on the once-censored novel by Vasily Grossman about WWII, to draw viewers to the VGTRK (the All-Russia State Television and Radio Broadcasting Company) stand in 2013.
This year, MIPCOM advertised the series Demons, based on the novel by Dostoyevsky. Historical content, especially content related to WWI and WWII, is in high demand among buyers. This is why the producers and filmmakers of Stalingrad were so successful. Stalingrad - the first Russian film released in the IMAX format, and partially based on Grossman's novel Life and Fate – fared particularly well in China (7,000 copies in distribution), in the U.S., and in Central and Eastern Europe.
Vlad Ryashin is the CEO of Star Media Group, one of the largest Russian producers of TV series:
"Our documentary drama The Romanovs sold in France with dubbing rights. We look forward to finding out what channel it will be released on. The History Channel in Great Britain has also purchased The Romanovs. They had already purchased Velikaya Voina from us, which they named World War 2: TheSovietStorm."
The mini-series Pepel, which tells the story of a thief and an NKVD (Soviet secret service) agent who trade places, sold well in 2013-2014 at markets such as ATF in Singapore, Filmat in Hong Kong, and MIP TV in Cannes. The Romanovs and Rasputin did well at the resale stage at the same markets, and at U.S. and Canadian markets as well. The latter was released as both a separate film and a film series.
All international TV markets feature the Russian series The Three Musketeers, produced by Sergei Zhigunov, as well as Sherlock Holmes and Dr. Watson, directed by Andrei Kavun. The Russian take on Western classics is interesting for foreign viewers. Russian classics fare even better. During one of the more recent TV markets, the American VOD platform Digitalia, which specializes in video libraries for universities like Stanford and Harvard, was considering purchasing a 100-hour package of documentaries and TV adaptations of Russian classics.
Sitcoms: Laughing in Russian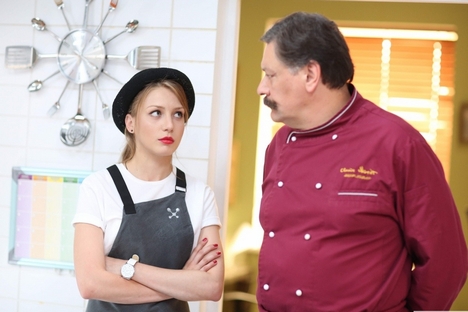 The TV show Kitchen. Source: kinopoisk.ru
Foreign audiences are also drawn to Russian comedies and sitcoms. The TV show Kitchen, which explores the behind-the-scenes operations of a fine dining restaurant and became one of the most expensive sitcoms in the history of Russian TV, has been a hit at all recent television markets. The end of the TV series resulted in a "sequel" movie called Kitchen in Paris (usually, TV shows follow successful movies), which is a comedy intended for Central and Eastern European audiences.
Foreign audiences are most interested in Russian animations, including animated sitcoms. Viewers are drawn to the Soviet-made Nu Pogodi! and the contemporary Smeshariki, Fixiki, and Masha and the Bear alike. Asian markets are particularly interested in Russian animation. Russian companies that sell animated content for film and television are expanding on all major international markets. Almost all major Russian TV channels have sales departments aimed at international sales.
Vyacheslav Murugov, CTC Media
Vyacheslav Murugov, the general producer at CTC Media and general director at CTC: "It isn't the least bit surprising that foreign companies, including companies in the U.S., have started purchasing Russian series. Domestic television is developing rapidly, and we can offer our clients high quality products across all genres, from comedy to mysticism. Competition between channels is getting tougher, and we have to work at surprising the audience. The audience develops with us, it doesn't stagnate. We want to release projects that meet high quality standards in every aspect: screenplay work, camera work, directing.
Therefore, it is only natural that American TV companies paid attention to a show like Kitchen. Series adaptation is a two-way street. American TV channels not only sell us their formats, but also purchase interesting shows that they turn into hits. This is what happened with the series called Rodina, which was originally created in Israel, and then purchased by the TV channel Showtime [as hit series Homeland]."
All rights reserved by Rossiyskaya Gazeta.