Svetoslav Roerich: A bridge between Russia and India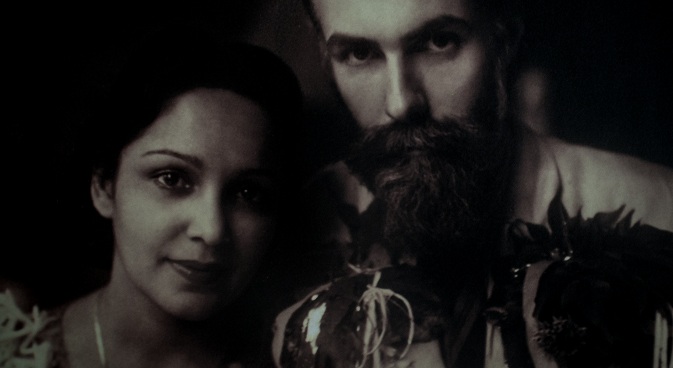 Svetoslav Roerich with his wife, Devika Rani. Source: Press Photo
Nicholas Roerich's younger son spent half of his life in Kullu and Bangalore, married an Indian film star and obtained Indian citizenship. He devoted his life to preserving the heritage and legacy of the mystical family.
A unique exhibition devoted to Svetoslav Roerich is being held at the Institute of the Roerichs of the St Petersburg State Museum. Marking the 110th birth anniversary of the younger son of Nicholas and Helen Roerich, the exhibition showcases Svetoslav's life in Europe and India, unique documents and photographs from family archives and his great works portraying India and Indians.
Indian soul
Surprisingly, till today the legacy of Roerich family is known mostly through work of Nicolas and Helen Roerich both in Russia and in India. The life of Svetoslav often remains obscure for non-academic audiences.
Source: Alexandra Katz
Victoria Shurshina, curator at Institute of the Roerichs recalls that during the 1960 and 70s hundreds of thousands people visited Svetoslav Roerich's exhibitions in Moscow and Leningrad (as St Petersburg was then called). "What attracted so many people that time? First of all, the exoticism of India… its colours, its nature, its people. This year, although it's an anniversary year, there are no other exhibitions devoted to him," she adds.
Svetoslav Roerich was born in 1904 in St Petersburg where he lived and studied till 1916 when the Roerich family moved to Ladoga due to Nicolas Roerich being ill. In 1918, the area became Finnish territory, and the family soon moved to London from where they were planning to travel to India.
From 1919, Svetoslav studied architecture at the Royal Academy of Arts in London and later continued his education in at Columbia University and then at Harvard. In 1923, he visited India for the first time and learned about ancient architecture and contemporary art of India, laying the foundations of his famous collection of Oriental arts.
Source: Alexandra Katz
After a year, Svetoslav returned to the U.S. while his parents and brother George started the most important journey of their lives, the Altai-Himalaya expedition from 1925 to 1928. In America, Svetoslav engaged in managing cultural and research institutions related to Nicolas Roerich, keeping his family in touch with the rest of the world at the time of expedition.
Young painter Svetoslav continued improving his drawing skills and soon received the highest award during his first large exhibition in Philadelphia. Being a master of portrait he painted more than 30 portraits of his father and many portraits of his mother.
After settling down in India he painted several portraits of Jawaharlal Nehru and Indira Gandhi. The famous official portrait of India's first prime minster by Roerich adorns the walls of the Indian Parliament till date.
After moving to India in 1931, Svetoslav headed the Urusvati Institute of Himalayan Studies founded by Helen Roerich after the family returned from the Central Asian expedition. The Kullu Valley in the Western Himalayas became a new home for Roerich family.
In 1945 Svetoslav married Devika Rani, a well-known Hindi film actress and widow of film director Himanshu Rai. The Indian media used to compare this union with that of Pablo Picasso and actress Greta Garbo.
Source: Alexandra Katz
"I recollect how my father used to tell me about Devika Rani, because, you know, she was from my father's generation. But only today I came to know about Svetoslav Roerich and their relations," A. K. Dan, the Consul of India in St Petersburg told RIR. "But from the painting which is still there in the Parliament and from the post stamp with the same portrait released by Indian Government we can relate to the great artist. Of course, in cultural circles he was very famous."
After the death of his father in December 1947, Svetoslav devoted time and efforts to the Roerich Pact, a project for the protection of cultural values in times of warfare and civil strife that was developed by Nicolas Roerich in the 1930s. India signed this document in 1948. Svetoslav was actively involved in preservation and protection of the ancient Indian cultural monuments till the end of his life, and was awarded the prestigious Padma Bhushan.
Clearing the hurdles
In 1989, quite weak and unhealthy, Svetoslav travelled to Moscow to initiate the Soviet Roerich Foundation which was later renamed as International Centre of the Roerichs. In 1990, following his parents' will, Svetoslav passed the priceless heritage of his family – more than 7000 paintings, objects of fine and applied arts, letters and notes, a library, and some personal items to the foundation.
However, the Nicholas Roerich Museum in Moscow managed by International Centre of the Roerichs with help of public donations and Maecenas aid, has been struggling with financial and bureaucratic hurdles since mid-90s.
Source: Alexandra Katz
Svetoslav and Devika Rani's estate in Bangalore was also a point of controversy for almost a decade after they died in 1993 -1994. The 450-acre Tataguni estate in south Bangalore was locked with almost hundreds of painting and other priceless works and collections inside until 2011. The Supreme Court of India stopped the Karnataka Government from taking over the complete estate. According to the latest media reports, the Roerich and Devika Rani Roerich Estate Board received around $500,000 from the Kannada and Culture Department to create an international level art museum at Tataguni. The estate will be restored and turned into a cultural centre celebrating the legacy of the family.
All rights reserved by Rossiyskaya Gazeta.