There's no doubt that New York is a whiskey-charmed city. Bourbons, scotches, and ryes top the town's hippest cocktail lists.
But vodka isn't giving up its market share so easily.
New York, meet the craft vodka bar.
Earlier this year, Russian-American recording artist Ariana Grinblat launched the SoHo restaurant and craft vodka bar Ariana.
At Ariana, Texas-born and Moscow-raised Grinblat, who won several Russian Grammys before entering the restaurant industry, skips the kitsch prescribed by most Russian eateries stateside.
Instead, she enlisted St. Petersburg chef Vitalii Kovalev (Mari Vanna) and reputed New York mixologist Orson Salicetti (Apothéke) to produce a menu of contemporary Russian cuisine and evocative vodka cocktails. The fare is reminiscent of the haute culinary and cocktail scene in Russian cities, and aims to challenge whiskey's reign over New York City bars.
"I understood that the brown spirits were a lot more popular, and I got in touch with Orson, and he took it on as a challenge," said Grinblat. "I've heard vodka has a bit of a stigma. But vodka is part of our culture. [Orson] decided to kind of elevate what people know and understand about vodka by doing barrel-aged vodkas and in-house infusions, whether they're herbal, sweet, savory, etc…"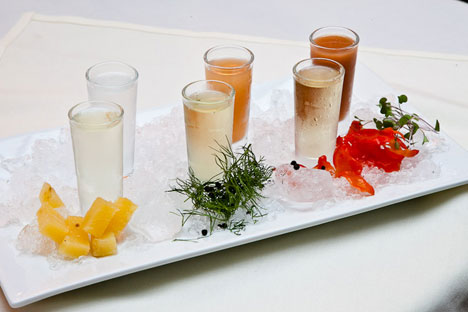 Short drinks. Source: Press photo / Ariana
Salicetti's plan is not to have vodka go head to head with whiskey. "I'm not trying to replace the experience of other spirits for vodka drinkers. I want them to have a place where they can have the full experience of [vodka]," Salicetti said.
"Most Americans drink vodka because they want something with few calories and not much flavor, but…in other countries, people drink vodka while they eat, so they always have a chaser. It's very important the way you combine it."
At Ariana, distinctly Russian combinations line the cocktail list, like the House Dirty Martini with homemade pickle brine ($15), a dill and peppercorn infused vodka shot ($14), and the Caviar Martini, with a frozen black caviar lollipop and Beluga Gold Vodka ($56).
And while Salicetti says he's not competing with or replacing other spirits, he doesn't shy away from experimenting with their finishing techniques. The dill and peppercorn vodka comes with a pickleback, and Salicetti even ages some of the vodkas (derived from quinoa) in American oak barrels for eight weeks.
"Right now there's a big demand for whiskeys. So it's very interesting how you can also use those techniques with vodka. The whole concept here was to respect the process, to respect the spirit, find different or the smartest ways to introduce vodka in a haute way," said Salicetti.
And the initiative is a smart one, considering the growing global interest in whiskey. According to the Distilled Spirits Council (DISCUS), in 2013, all categories of whiskey saw growth in the United States, and for the first time, premium bourbon and Tennessee whiskey exports exceeded the $1 billion mark.
Consumption of whiskey increased 6.2 percent domestically, and supplier sales jumped 10.1 percent. Meanwhile, vodka, despite still besting whiskey in overall consumption nationwide, saw only a 1.1 percent increase in volume and a 2.2 percent spike in supplier sales.
"[There's a] global whiskey renaissance," said Lisa Hawkins, vice president of the Distilled Spirits Council. Hawkins attributes the shift in part to industry innovation, market-opening trade agreements and "a genuine affection for 'Brand America.'"
"Consumers are fascinated by the strong heritage backstory of American whiskey brands dating back to George Washington, who was the most successful whiskey distiller in the years after his presidency," Hawkins said.
According to the Global Trade Atlas, in 2013, $74 million out of $83 million in U.S. spirits imported to Russia were American whiskeys. Many trendy Russian bars are boosting their offerings of whiskey and bourbon while expanding their vodka offerings to include innovative mixes and clever infusions.
In Moscow, those looking for a more unique vodka experience can find pinecone vodka at Delicatessen, or fried bacon-infused vodka at speakeasy Darling, I'll Call You Later. In St. Petersburg, bars like 22.13 serve concoctions such as the Crème de la Crème, mixing vodka with aloe vera, lemon and caramel syrup.
Industry City Distillery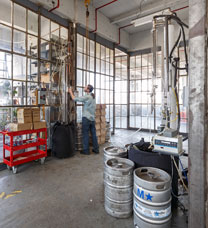 Industry City Distillery. Source: ICD
New York vodka lovers who prefer to buy locally can check out Industry Standard, produced by the Industry City Distillery in Brooklyn.
This month, the distillery opened its doors for factory tours that take visitors past the glass-and-stainless-steel stills the company uses to produce beet sugar vodka.
The distillery offers two tours, a standard hour-and-a-half tour ($10) that includes a Q&A with distillers and, of course, a tasting; or a "hard hat" tour ($15), which also invites guests to the area where the equipment is developed and built and involves a demonstration of their fractional blending process.
Industry City builds all of its own equipment on-site.
Industry City Distillery, (917) 727-5309, 33 35th Street, 6th Floor, Brooklyn, NY,
Sign up for tours at the official website.
All rights reserved by Rossiyskaya Gazeta.