Lasers, referees not real cause of Russia's World Cup flop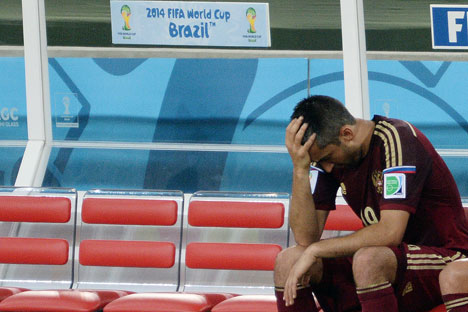 Alexander Samedov of Russia after the match against Algeria. Source: Alexei Filipov / RIA Novosti
Russia's problems started long before any Algerian fan started wielding equipment better suited to accompanying a PowerPoint presentation.
As Russia crashed out of the World Cup on Thursday, coach Fabio Capello was sure about who was to blame.
"I don't want to talk about the referee, but always against Russia! Always!" he ranted for the cameras.
The Italian had a point. The enduring image of the game that ended Russia's campaign, a 1-1 tie with Algeria, is the light of a green laser pointer flickering across Russian goalkeeper Igor Akinfeev's face seconds before the Algerians scored the equalizing goal. The referee did nothing.
That meant Belgium and Algeria qualifying from Group H, while Russia went out along with South Korea, failing to escape one of the easiest groups at the tournament.
Now, I have no sympathy with any idiot who uses a laser at a game (those things can blind) or the referee's lack of a response, but Capello's conspiracy theory doesn't tell the whole story. As German goalkeeping legend Oliver Kahn explained later, lasers are a distraction but that should not excuse Akinfeev's headlong berserker charge off his line at the free-kick, allowing Islam Slimani to head in the goal that sank Russia.
In truth, Russia's problems started long before any Algerian fan started wielding equipment better suited to accompanying a PowerPoint presentation.
Akinfeev was in the spotlight after the first a game, a 1-1 tie with a deeply flawed South Korean team who both the Belgians and Algerians later managed to beat. The Koreans presented no real threat until the normally reliable Akinfeev inexplicably fumbled a long-range shot over his shoulder and into the net. In the next game against a strong Belgian team (which now goes on to face the U.S.), Russia held on well for 88 minutes before a loss of concentration allowed Belgian youngster Divock Origi to score the only goal of the game.
As Russia exited the tournament, the two immediate scapegoats for Russian fans were the anonymous laser-wielder and the blundering Akinfeev. Many fans and journalists seem in two minds over whether to criticize Capello – yes, he failed to reach his target of the quarter-final, but he has a career of success behind him. Meanwhile, his $12 million-a-year contract, by far the biggest of any coach at the World Cup, runs through 2018, when Russia host the World Cup, so in the unlikely event he gets fired, it will be expensive.
Still, the man the Russians call "Don Fabio" made mistakes in Brazil. Deprived of his key central midfielder, Roman Shirokov, due to injury before the World Cup, he never really changed his tactics to compensate, refusing to give any other player the sort of creative freedom Shirokov had. Indeed, the coach didn't seem to trust his creative players to be on the field, mostly leaving twinkle-toed midfielder Alan Dzagoev on the substitutes' bench along with attacking wide men Yuri Zhirkov and Andrei Yeshchenko.
The result was a well organised but rigid Russian team that seemed designed to spend 90 minutes under siege. That was probably the right way to deal with Belgium's talented attackers, but completely wrong for Algeria and South Korea, two teams the Russians had been favorites to beat. When there were moments of Russian creativity, like Dmitry Kombarov's superb cross for Alexander Kokorin to score against Algeria, it was a taste of what might have been.
Worse, Capello didn't learn from his mistakes, making no major changes to the tactics during the tournament. Afterwards, he simply complained about the referees in the Algeria and Belgium games without a hint of self-criticism. This World Cup, he said in January, would be Russia's "rehearsal" for hosting the tournament in four years' time. In that case, is he the right director for the show?
Capello's vast contract means that the worst the 67-year-old Italian can expect is a multimillion-dollar payoff and more time to manage his acclaimed art collection. Whether he stays or another coach is brought in, whoever is in charge will have some tough decisions to make before 2018 comes along.
Russia's squad was among the oldest at this World Cup and key players like center-back Sergei Ignashevich and striker Alexander Kerzhakov are unlikely to be around – they'll be 38 and 35 respectively. Some younger players like Dzagoev and Kokorin displayed flashes of quality in Brazil and should be at their peak in 2018, but others, like midfielder Oleg Shatov, who started all three of Russia's group games, failed to impress.
The pressure of performing in 2018 could even lead to a previously unthinkable solution – bringing in foreign players. As early as April, Sports Minister Vitaly Mutko said as many as four foreigners could be naturalized to shore up Russia's weaker positions on the field. Why not? A similar strategy worked well at the Sochi Winter Olympics, when foreign-born athletes helped to win seven gold medals for Russia.
Whether it's a new coach, youngsters or foreign players, the Russian soccer team needs a transfusion of new blood after the failure in Brazil. Lasers and refereeing mistakes can happen to anyone – the simple truth is that Russia wasn't good enough.
All rights reserved by Rossiyskaya Gazeta.