Russian choreographer livens up Indian reality TV show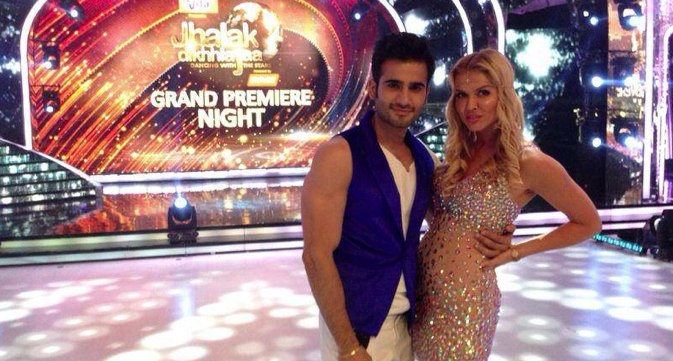 Elena Samodanova and Karan Tacker. Source: Personal archive
Elena Samodanova, the first ever international choreographer on popular Indian celebrity dance reality TV show 'Jhalak Dikhhla Jaa,' is becoming a household name in India.
The latest import on Indian reality television is from Russia. Elena Samodanova, who has been a regular on Australian editions of 'Dancing with the Stars' and 'So You Think You Can Dance,' has been roped in for the ongoing season of 'Jhalak Dikhhla Jaa.' This popular reality show has celebrities battling for the title of the best dancer.
Samodanova has been paired with TV star Karan Tacker and assigned the task to groom the amateur dancer into a dancing sensation as the show progresses. After giving award-winning performances the world over in Latin American and Ballroom genres, Samodanova now faces a new challenge—to fuse technical expertise with Bollywood style moves.
"This show is different from the overseas dance shows," Samodanova tells RIR. "Over there we need to focus only on the dance form. Here we've to include the flavour of Indian films and elements of drama. It is important to find the right combination of expressions and dance according to the lyrics. It's not just about following the beat." The Russian dancing star is using online translation applications and help from her colleagues to understand the Hindi lyrics. While observing that Indian audiences want a theatrical experience and not just a show of dancing prowess, she says that Russians have similar tastes, "Dancing with the Stars is popular in Russia and there also people like a bit of drama, although not as much as in India."
Singing and dancing in Indian films is a part of the storytelling so Samodanova is required to act to the lyrics while dancing to express the story of the song. The biggest test of this challenge was to dance on 'Ganpati Bappa Morya.' This song is an ode to the elephant god and an inherent part of Marathi culture. She carried it off with a charged performance resonating with the religious passion associated with this song. "It was a tough job," she confesses, "Karan (Tacker) explained the nature of this dance to me and also its significance to people's faith. I also got help from an Indian choreographer who is an expert of folk dances." Samodanova now wishes to visit the famous Sidhivinayak Ganesha temple in Mumbai.
Source: Personal archive
Taj Mahal is on the list too, provided that her busy schedule will permit. "I haven't seen much yet as there are no off days for us. We are practicing and shooting every day," Samodanova says. "This place is like a megalopolis. There are people everywhere. Traffic here is certainly not a good part. A lot of time is wasted in commuting." She is none-the-less fascinated with India's largest city. "It's a very unique place. Maybe someday I would love to just walk all around the city amongst all the different people that live here. Mumbai is like a mix of various Indian spices. You can't separate one flavour from another."
Samodanova found India to be different from what she had in seen in photographs but the biggest surprise yet is the grand production scale of the show. "The set over here is much bigger than any I've seen oversees," she says. "Clearly they've put in a lot of money to create a bigger and better setup. The production team, camerapersons, and the rest of the technical staff are all very talented. America is said to have the best professional standards however it is difficult to compare the quality of the output. The only difference is that over there the shows are usually live and here it's recorded over several hours. In a live show the only time available for any changes on the stage is during commercials, while here the set is completely changed for every performance."
The glamour factor of the show is raised further by the presence of Hindi film stars. "It is an honour to be performing before Madhuri Dixit," the Russian star says. "She is so graceful. She often complements me that I look good In Indian outfits. Karan Johar and Remo D'Souza are both amazing judges." Samodanova, however was never a stranger to the charm of Bollywood. "I grew up in Russia where the first international movies that were showcased were from India. So honestly it's not an entirely new experience for me. I am glad that I've finally got a chance to work closely with Bollywood." She is open to take this association forward, "I would love to work in Hindi movies. There is a lot of dancing in Indian films and that is my passion. Besides I am getting experience of acting as well while preparing medleys of dance and drama for this show."
Samodanova who begun her dance training with ballet expresses her appreciation of Indian classical dances, "If I were to learn a classical form then it would be Kathak. It's a very graceful genre with strong hand movements and a focus on expressions." By her own admission she thinks that she is a having the perfect East-meets-West kind of experience and thoroughly enjoying working with the Indian crew. "The whole team of choreographers and contestants works together for 6-10 hours daily. Afterwards we all hang-out together. We are like a big family here and there is no competition among us. These people amaze me. In India people have such open hearts. Everyone is really nice, warm, and friendly. I am just glad that I've made so many new friends."
All rights reserved by Rossiyskaya Gazeta.