Many people say that Russian women are some of the most beautiful in the world. The same could be said of the country's female boxers too: Russia's current leading contender in professional women's boxing is Svetlana Kulakova, a striking blonde who has been known to wear lace lingerie even for weigh-ins. However, this is as far as the frivolity goes - Kulakova has no intention of capitalizing on her looks.
"There are many stereotypes about women's boxing. Some see it as cruelty, others see it as sexuality," says Kulakova, who is married to her coach, has a five-year-old daughter, Katya, and "lives, literally breathes," boxing. "But it is a serious sport, just as men's boxing is. Natalya Ragozina [better known internationally as Natascha Ragosina] was the trailblazer here. She showed to the whole world that Russian women can box.
"After all, women's boxing has become an Olympic sport, what else is there to say? The only difference between women's and men's boxing is that the former is more emotional."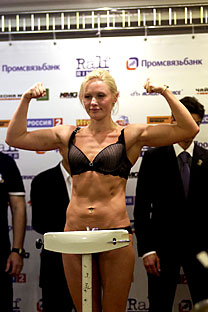 Svetlana Kulakova
already
has nine wins under her belt. Source: PhotoXpress
But that is only in the boxing ring. Outside it, Kulakova has everything clearly planned and thought through. In kickboxing, the Russian has reached her ambition: She is a world and European champion, and winner of many world cups. Her ambition in boxing is to win four titles of different professional boxing organizations, like Ukrainian Wladimir Klitschko, who – with his classical schooling – is her favorite boxer. She also plans to lose three kilos (bringing her down to 60 kg) and switch to amateur sport so as to win an Olympic gold. "Believe me, that would be the pinnacle for me," Kulakova says dreamily.
There has, however, been a glitch in this plan. On June 1, Kulakova, 31, WBA Light Welterweight interim champion, failed to beat the regular champion in the same weight category, Argentina's Ana Laura Esteche, 23. The fight, which Kulakova had described in advance as the most difficult in her career, ended in a draw.
Yet Kulakova still has nine wins under her belt. And this result will only spur her on. After all, in order to win in boxing, she points out, you don't have to be a bitch, just a determined person with spirit: "When somebody is starting to beat me, defense mechanisms kick in. Each and every one of my cells is working towards survival," she says.
Even Ali backs down
At the start of her boxing career, in 2007-2008, Kulakova really did not like it when she was compared to Natalya Ragozina: "I don't want to become a second Ragozina, I want to become the first Kulakova," she says. And she did. Although the name of Natalya "Miss Sledgehammer" Ragozina, who has now retired from boxing, continues to instil fear and trepidation in her followers.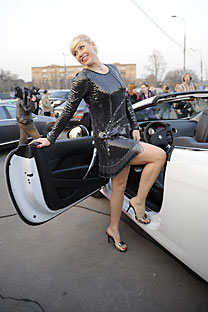 A dream to beat the daughter of Muhammad Ali brought Ragozina to professional boxing. Source: ITAR-TASS
Ragozina is the world's most titled female boxer: twice world champion, World Cup holder, twice European champion among amateurs; twice world champion and Asia champion in kickboxing; undefeated super middleweight (under 72.575 kg) champion in all the main professional boxing organizations: WIBA, GBU, WBA, WIBF, and WBC. In her boxing career, Natalya Ragozina had 22 fights and 22 wins, with thirteen of her bouts ending in knockouts. Ragozina's 23rd fight, which was set for June 18, 2011, was canceled since all the contenders had withdrawn.
Even the daughter of the famous Muhammad Ali, female boxer Laila Ali, also a beauty, and also undefeated, did not risk doing damage to her face and her record. "I had a dream that had brought me to professional boxing: To meet Laila Ali and beat her," recalls Ragozina. "But she never agreed to a fight. Even for a fee of $800,000 that we guaranteed her. Ali is a star in the U.S. Indeed, who would want to lose everything because of a single hit?"
Ragozina's other dream did come true, however. As a child, she wanted to become a model. She has done photo sessions for men's magazines on more than one occasion. "I think I looked quite decent in them," says Ragozina, "although I later received calls from the Boxing Federation scolding me: 'Natasha, how could you? You are a world champion!'"
"I told them plainly: 'You know what, when you look at other girls in these magazines, that is fine with you, but the moment you see me, that becomes unacceptable. There is nothing vulgar in these pictures.'" Ragozina can hold her ground both in and outside the ring.
Golden gloves
Kulakova wants to win the highest title in amateur sport, an Olympic gold medal. However, the Russian national team has several other hopeful female boxers too.
At the 2012 London Olympics, for the first time ever, women competed for Olympic boxing medals, in three weight categories. Russia's Sofya Ochigava (in the light category of under 60 kg) and Nadezhda Torlopova (middleweight category, under 75 kg) both won silver medals.
At the recent European championship in Romania, Russia got two new European champions: Zinaida Dobrynina (in the 57 kg weight category) and Anastasia Beliakova (in the 64 kg weight category). Viktor Lisitsyn, main coach of the Russian national women's boxing team, is also counting on these newcomers ahead of the world championship, which will be held in November in South Korea: "I was very glad to see young athletes become leaders straight away. I have people I can work with," he said.
All rights reserved by Rossiyskaya Gazeta.