Viraf Sarkari keen to bring IIFA Awards to Russia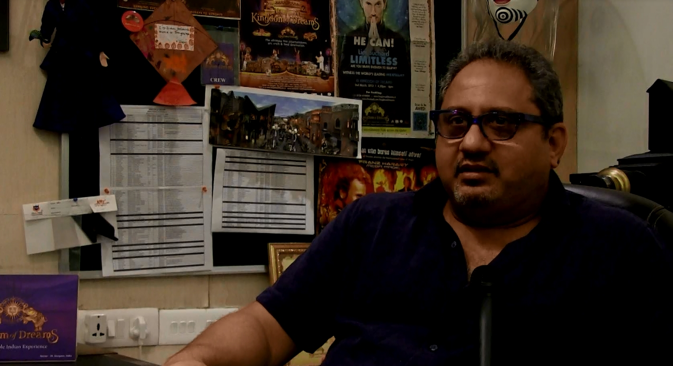 Viraf Sarkari: "We know that the Russian people love to watch Bollywood movies, listen to Bollywood music and dance to Bollywood music." Source: Alessandro Belli
The owner of the International Indian Film Academy and director of Kingdom of Dreams, talks to RIR about the Hindi film industry's Russia connection.
Several countries try and court the International Indian Film Academy (IIFA) in order to host its annual awards. The program attracts lovers of Hindi cinema in the host country, as well as Indian film fans who combine the occasion with a holiday.
There was a time when Indian films were extremely popular across the USSR. Viraf Sarkari, co-founder of Wizcraft and director of IIFA is looking at Russia as a potential venue. In this candid interview, he talks to Alessandro Belli about a potential comeback of Hindi films in the country that cherished Raj Kapoor.
You are a unique specialist in the entertainment industry. India and USSR shared great partnership in this area? Do you see any possibility to refresh such partnership nowadays?
I would love to travel to Russia. Actually, I have always wanted to travel. Russia is also culturally very strong and I would love to work on a production in Russia or probably work on a production and then bring it to Kingdom of Dreams in India if something great is there. In fact, the 2018 FIFA World Cup will happen in Russia. I am also a specialist in doing opening and closing ceremonies for large sporting events. So I would love to do the opening ceremony that time also.
Have you seen the opening ceremony of the Sochi Olympic Games?
Yes. It was nice.
One more Indo-Russian question, if you don`t mind? Hindi films were very popular during the Soviet times. Do you see any possibility of a comeback to Russia?
The Russian market connects with Bollywood. We know that the Russian people love to watch Bollywood movies, listen to Bollywood music and dance to Bollywood music. But they still connect with very old movies and stars like Raj Kapoor a lot. He is very popular. There are newer movies and the people from Russia should watch our new movies and connect with them and they will enjoy it equally.
No, I mean another thing. There are no more promotions done by Bollywood actors in Russia. What`s wrong?
At the International Indian Film Academy (IIFA), we do a Bollywood award show and we travel around the world and when we bring that show, we open markets for Indian films in different territories around the world. So I hope that one day, we are able to bring IIFA to Russia and then probably all the channels and doors will open because that is what IIFA exactly does for bringing films and starting distribution of films in that territory. So yes, we would be very keen to make that happen.
You are creator of Kingdom of Dreams? How did you get the idea to build and stage all of this?
I am mainly interested in entertaining people and as part of that process, it was a dream to have a place like this in India. We have a lot of music, Bollywood and a lot of culture with lot of tradition and lot of different kind of cuisines and arts and crafts in India and we are culturally very rich country. We have 5000 years of rich heritage and idea was to showcase that through a place and because there is no such place in India and idea was to build something unique and different so that we are able to entertain people from around the world. When people are coming to India and want to watch something, they want to watch a musical or they want to do something, they can come here.
Do you have any statistics about the number of visitors to the Kingdom of Dreams since it was opened in 2010?
Approximately 2 million visitors we are anticipating in the year 2014.
Are there any plans to add new performances in Kingdom of Dreams`s programme?
We are doing more shows. First of all, we are planning some musical shows for kids. We are launching a show within a smaller theatre called Showshaa Theatre. So we are planning to launch a show there called WizWits. We are also in talks with another brand and we are going to probably do another big production for children that will be announced shortly.
(This interview has been edited and condensed for clarity)
All rights reserved by Rossiyskaya Gazeta.