Himachal Pradesh government to restore Roerich estate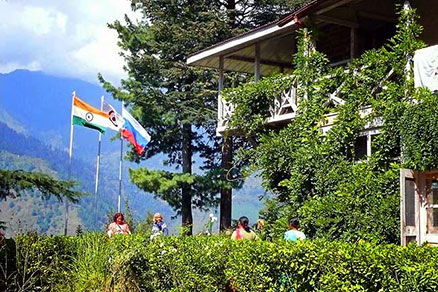 The Roerich family estate in the Kullu Valley. Source: Russian Embassy in New Delhi
Chief Minister Virbhadra Singh also wants to display some of Nicholas Roerich's paintings in the state's museums.
The Himachal Pradesh government plans to restore the Roerich family estate in the Kullu Valley in order to better preserve the paintings of Nicholas Roerich, the state's chief minister Virbhadra Singh told Itar-Tass. The sprawling estate in the Himalayas has a long history and attracts tourists from all corners of the world.
"We are proud of the Roerich heritage that Himachal Pradesh and Russia share, Singh said. "During my first term as chief minister, we couldn't manage to translate those plans into reality. Now we are ready to get things started." He also promised to make "everything possible" to preserve Roerich's paintings. "We want to display the paintings in the state's museums, including the ones in the city of Shimla, state's capital," he said.
Nicholas Roerich and his wife Helen moved to Kullu valley in Western Himalayas in 1928. After completing their Central Asian expedition, they bought a house in a village called Naggar.
In July 1992, the International Roerich Memorial Trust (IRMT) was set up. The trust was founded under the leadership of Virbhadra Singh and Russia's current ambassador to India Alexander Kadakin, who is also the IRMT's vice president.
During the Second World War, when India was still a colony, the estate played host to Jawaharlal Nehru and Indira Gandhi, who visited the Roerich family and planned the creation of an Indo-Russian friendship association.
The main house in the estate is now a small museum with a collection of over 40 original paintings. Nicholas Roerich painted most of the masterpieces on display during his famous expedition from the Himalayas through Altai to Mongolia and Tibet.
The Roerich family also had a collection of folk art, which is on display at the Urusvati Museum, which is on a hilltop near the main gallery. In keeping with the family's desire to propagate culture and learning, the trust that looks after the Roerich estate is actively pursuing educational activities. The Helen Roerich Art College offers courses for children in Indian classical music and dance, theatre art, folk drama and painting. Being the only art college in the locality, over 130 children come to the college every week for courses in activities as diverse as sitar and harmonium lessons to kathak dances.
The estate also has samadhis (memorial and final resting place) to Nicholas Roerich and his son Svetoslav, who was also a great artist and lived in India until his death in 1993.
Materials from an article by Itar-Tass was used in this report.
All rights reserved by Rossiyskaya Gazeta.