Renowned scholar Dr Madan Lal Madhu passes away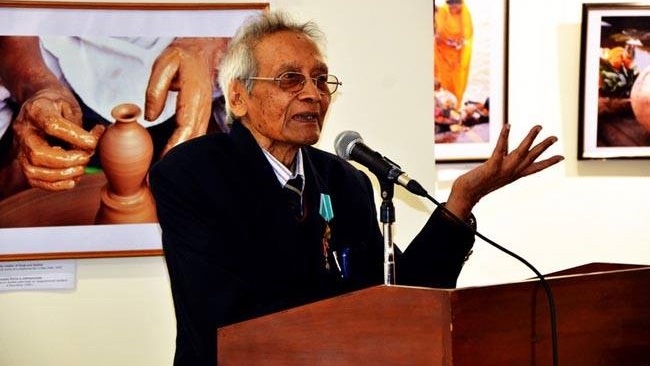 Dr Madan Lal Madhu translated more than 100 works of Russian literature into Hindi. Source: Arti Soni
The Padma Shri and Pushkin Medal awardee, who translated several classical works of Russian literature into Hindi, passed away in the Russian capital on July 7.
Dr Madan Lal Madhu, a renowned translator of Russian classical literature into Hindi, and reputed journalist passed away in Moscow on Monday, July 7. He was 88.
In a career that spanned six decades, Madhu also worked as a journalist writing analytical articles about life in the USSR for several publications including The Tribune and The Times of India. In India he was awarded the Padma Shri for distinguished services in literature and education and the Russian Government awarded him the Friendship Order and the Pushkin Gold Medal. He was also a poet and playwright and one of the founders of Hindustani Samaj, the Indian community association in Moscow
The scholar first came to the Soviet Union in 1957 on the invitation of the country's foreign ministry. At that time, he had already been teaching for 10 years, and had published two volumes of poems, plays and literary articles. He translated more than 100 works of Russian literature into Hindi. Among them were War and Peace and Anna Karenina by Leo Tolstoy, works of Alexander Pushkin, Anton Chekhov, Fyodor Dostoyevsky and Vladimir Mayakovsky.
"It's quite hard to translate poetry," he told RIR in an interview in 2011. "Because working on a poem a translator's task is not just reflecting its sense but also making the translated version sound like a poem as well."
Madhu also authored two books of memoirs. The first one is dedicated to his life in India, his MA studies and work as a teacher. In the second book, he wrote about his life in the Soviet Union, meeting a host of Soviet and Indian state leaders – Leonid Brezhnev, Alexei Kosygin, Rajeev Gandhi and Indira Gandhi.
When Indian high-profile personalities visited the USSR, Madhu, as the chairman of the Hindustani Samaj, represented the Indian community and participated in all the events and activities. They arranged events at the Pushkin Museum where the poems of Pushkin, Lermontov and Mayakovski were read to give a feeling of how they sound to Indians.
"It was with great shock that we all learnt of the passing away of Dr. Madan Lal Madhu," Indian Ambassador to Russia, P.S. Raghavan said. "Besides his literary contribution, Dr. Madhu was a pillar of the Indian community in Russia and a pioneer in organizing the community to channelize its social and cultural activities. He was a source of sage and advice to the newer and younger Indian immigrants into this country."
All rights reserved by Rossiyskaya Gazeta.