We are proud of the Roerich legacy – Himachal CM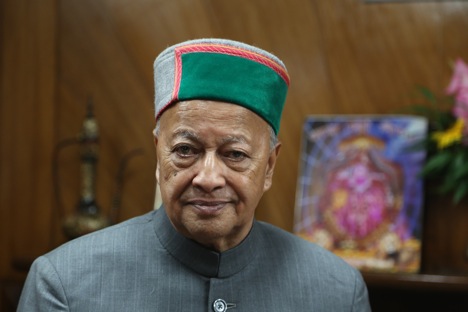 Virbhadra Singh: "We are proud of the Roerich legacy and it belongs as much to Himachal as to Russia." Source: Alessandro Belli
Himachal Pradesh Chief Minister Virbhadra Singh talks to RIR about tourism development in the state and preserving Roerichs legacy in the Kullu Valley.
Last month, the Great Himalayan National Park was added to the UNESCO list of World Heritage Sites. What does it mean for the region?
We are very happy that the Great Himalayan National Park has been declared as a heritage park by UNESCO and this will not only highlight this park throughout the world but will also lead to more and more people coming to see this park for themselves. In due course of time, we will bring to the notice of the UNESCO authorities, more such natural places and conservation parks that could be provided heritage status.
Could you please mention some of them?
The tribal Spiti area, which is home to snow leopards and blue sheep, could be considered to be brought under the ambit of heritage sites so as to keep it well preserved.
Do you support the idea of visa on arrival being provided to Russian tourists?
I think this is a very good policy done by the Congress Government. I hope the present government in India will continue that. We have had very cordial relations with Russia for decades and we will like this sort of arrangement to continue.
According to official announcements, Himachal Pradesh will become a major tourist destination by 2029. Which steps are going to be taken for this?
To develop Himachal Pradesh as a major tourist destination by 2029, the government would firstly strengthen its road network including national and state highways, besides link roads, so as to provide better connectivity to the visitors. It would also develop ski resorts for sports lovers and tourists.
We want to develop Chanshal in Rohru as a major Ski Resort, besides developing meadows and pastures of Bashal Kanda (Sarahan) adjoining Shimla and Kinnaur districts, for which the Department of Tourism has been asked to conduct a survey for possibility of a ropeway. Apart from these areas, there was enough scope for adventure and religious tourism in Chamba, Sirmaur, Kinnaur, Lahaul-Spiti Buddhist circuit and other areas of the state. The government, besides making paragliding in Bir-Billing an annual sport event, was promoting water sports, heritage and religious tourism in a big way.
Naggar in Kullu Valley is also very famous for its Nicholas Roerich legacy. How do you personally feel about Roerichs` art?
We are proud of the Roerich legacy and it belongs as much to Himachal as to Russia. Nicholas Roerich came to India, made some parts of our country his home, worked here and gave us some of his paintings, and we today also have a museum of his son, Svetoslav Roerich in Karnataka. In Himachal Pradesh, at Naggar, we have a museum that contains the paintings and artefacts made by Roerichs and we are preserving it. There is International Roerich Memorial Trust (IRMT) in Himachal Pradesh was set up to look after this. I am its President, ex-officio. The Chief Minister is the President and the Russian Ambassador is a Vice-President.
Are there any plans for renovation work in Nicholas Roerich`s estate in Naggar?
Well, during my earlier tenure as Chief Minister, we had made very big plans to open an art school there, further expand the activities and renovate the ancient Russian legacy but unfortunately, this was held up by the previous regime. Now we are very keen to pick up this work where it was left it and see that the museum is also more comprehensive, more representative of not only Roerich's paintings but also prints or paintings from the famous artists of Russia. Maybe we will exchange actual paintings for some time for exhibition in museums in Shimla and other museums in Himachal Pradesh. I am going to make it sure that the paintings and artefacts are properly maintained.
(This interview was edited and condensed for clarity)
All rights reserved by Rossiyskaya Gazeta.