The woman who gave Gorky Park a second life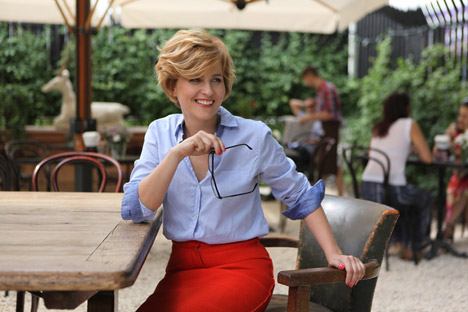 Olga Zakharova: "It is really difficult to break the stereotypes of Muscovites, because everyone here already knows everything". Source: Gorky park
When in 2011 Olga Zakharova took over as director of Gorky Park, it was seedy place. Today, the park attracts 15 million guests annually. RIR's Louise Dickson spoke to Olga about how the park became a city within a city.
RIR: What was Gorky Park like three years ago?
Olga Zakharova: The park used to be a destination for drunken debauchery, a place where people drank beer, listened to old Soviet chansons, ate shwarma [also known as doner kebab, wrap sandwiches with shaved meat] and went home. It was called "relaxing." Before there weren't any rentals or activities, but just terrible food and amusement park rides.
The first time I came to the park, I was invited by friends to some sort of party. And I remember a big, bright monstrous white Ferris wheel. It was like the entrance to hell. Nowhere to go, no one to ask.
The second time, I didn't even realize that I had come to Gorky Park – I didn't process that this was the park I had been to before.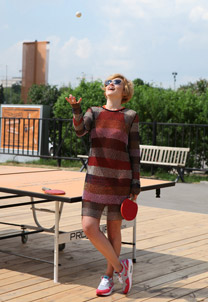 Now Gorky Park is a city within in a city, says Olga Zakharova. Source: Gorky park
The territory of the park was partially an abandoned zone, and Neskuchny Sad [a separate part of the park] was a sad and lifeless forest. It was dirty – just an abandoned forest. There the only thing you could do there was take your dog for a walk.
Now Gorky Park is a city within in a city. We have our own transport system, electricians, and cleaners, janitors, landscapers, and communal places to eat. If we were to close the gates of the park, we would live excellently here.
RIR: So if Gorky Park was such a terrible place with a bad reputation, how did you change people's minds, get them to come?
O.Z.: It is really difficult to break the stereotypes of Muscovites, because everyone here already knows everything. There is little we can impress them with. When we sent out a survey on what people wanted to see in Gorky Park- almost 99 percent responded "return the rides!" Because people didn't have an understanding of communal space.
RIR: The city's project to re-vamp public spaces, especially Gorky Park, obviously worked. In the first year, visitors almost doubled. Now there are almost 15 million visitors per year, more than the entire population of Moscow. Which was the first demographic to come?
O.Z.: Young people and hipsters were the first to come; they wanted to know "What is Gorky Park?" They try everything new; they fear nothing. They understood it was a cool place to hang out. The second wave was parents. And then the older generation started to ask "Where are you going?"
RIR: In what ways is Gorky Park categorically Russian? Which ways is it not?
O.Z.: It's important for us to have international opinion. We just look at other parks and how they work, but all the same we need to come up with our own ideas.
We would like to use international experiences – from Avignon, Venice, and Edinburgh for theater for example – and involve groups in outdoor music festivals.
Our management has visited parks from around the world – Millennium, High Line, Central Park – and we have taken the best aspects of each and adapted them to Gorky. We don't have an agency that suggests ideas to us, we do everything ourselves.
RIR: Do you have any partners in design?
O.Z.: LDA design, the same people who did the Olympic Park in London, helped with our concept. For them, it was a new experience because it was their first time doing work in Russia. They didn't have an understanding of what a Russian park was. We are always experimenting with our park's design. People understand immediately what is good and what is bad, and we formulate our strategy around this.
RIR: And finally, what about the ice cream? I've heard that you produce and sell your own brand.
O.Z.: Our ice cream is our own. It has its own trademark taste, and is made in a factory outside of Moscow.
All rights reserved by Rossiyskaya Gazeta.