Tolpar gains popularity in India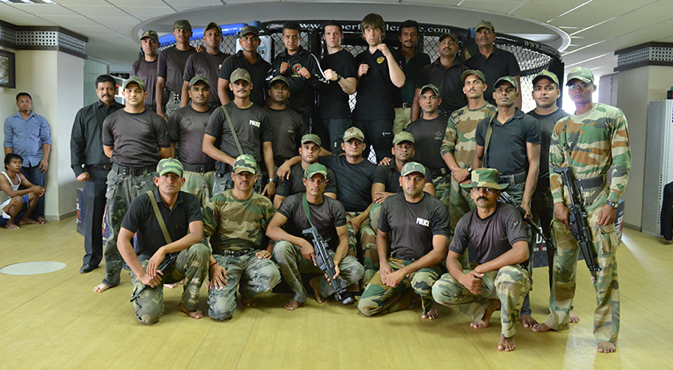 Nashik Police commandos with Daniel Issac, Petrov Maxim, and Kirill Lyubin (starting with fifth from the left in the last row). Source: Tolpar knife fighting school
A technique of knife fighting with origins in the Soviet Special Forces, is gaining recognition among martial art enthusiasts and policemen of Mumbai. Master instructor Kirill Lyubin and his Indian associates explain the applications of Tolpar for self-defence, armed combat and sports.
In April this year a Russian martial art system of knife fighting, known as Tolpar, was introduced in Mumbai. The chief instructor of the school, Kirill Lyubin, and his team conducted a series of training sessions for martial art practitioners and police personnel. These events included a star-studded demonstration at Naigaon police headquarters for women constables and volunteers of the NGO Mukti. In attendance at the event was the Hindi film superstar Akshay Kumar who is himself a martial arts expert. "I realized he was a VIP guest at the grand event," Lyubin recalls, "He arrived early and I taught him some of the technical elements of knife fighting so he could use them in his movies." Speaking at the event, Akshay Kumar had pointed at the usefulness of Tolpar for self-defence, saying that, "I think for knife fighting you do not need power but you need to be intelligent to tackle the situation. I am sure this technique will be helpful for those undergoing training."
Kirill Lyubin trains at the Maharashtra Police Academy. Source: Tigers Gym
Given such high-profile recommendations and the enthusiastic response to the initial sessions, Tolpar was set to get popular in the country. Recently the school announced the launch of its first branch in association with the Zen Kickboxing Academy at Chembur, Mumbai. Multi-format martial art expert, Mayur Bansode, will lead this branch. "A lot of people are interested in Tolpar. The training sessions will start soon. I've myself learnt from Lyubin and I'll also visit them in Russia to train further," Bansode says. Lyubin also plans to tour the country more often. "We were received very warmly. People here are very friendly and most of all I respect their spirit for learning new things. I hope to come to India twice every year," he says and goes on to confess his love for Indian cuisine, "I love the hot and spicy food. I start my mornings with masala tea and chyawanprash!"
The practical application of knife-fighting for self-defence, however, depends on whether or not a person has the opportunity to draw a knife in the first place. Lyubin's answer to this is to build a mindset for guarding one's personal space, "Self-defence is more than just mastering technical skills. It begins much before the moment of immediate physical contact with the aggressor. We call it 'fencing without fencing' to control one's vital space." Lyubin says that Tolpar technique covers all grounds from 'power of the weapon' to the 'power over the weapon,' that is a well defined set of safety guidelines.
Lyubin's team had also conducted training sessions for the Maharashtra Police Academy and commandos of Nashik Police. This effort was supported by Daniel Issac who has extensive experience of training defence personnel in martial arts. "There were close to 100 participants at the police academy and they were all excited and asked a lot of questions," Issac informs, "Later, during the training for commandos we taught a lot of advanced techniques." As a result of these sessions, the Nashik police have shown keen interest to include knife fighting in their commando training program.
Mayur Bansode (third from left in the last row) and Tolpar instructors at the Zen Kickboxing Academy. Source: Tolpar knife fighting school
The Tolpar system is especially relevant for armed combat as it has evolved from short blade knife techniques that were used by the Soviet Special Forces in the 80's. "It comes in handy in the situation where a soldier or officer loses his firearm," Lyubin explains. The school claims that their approach is the quickest way to learn to wield a knife because they have simplified the various international versions of knife fighting into one integrated system. "We have created a synthesis of various Eastern and Western approaches. Unlike in the West, there is no binding to some specific type of knife. At the same time we don't stress over the various types of holds like they do in the East. We've minimum basic movements which allows for combinations of offensive and defensive actions," Lyubin elaborates.
Issac observes another feature that distinguishes Tolpar from other popular knife fighting techniques, "Typically when a person attacks with a knife there is a large gap between their shoulder and knife. This covers a wide range of motion. Tolpar is unique because they employ a very short range of motion. This proves to be more effective as within a couple of seconds an expert can impart three to four blows with the knife."
Tolpar demonstration for Indian media. Source: Tigers Gym
The proponents of Tolpar see the potential in knife fighting to evolve into a competitive sport at least as popular as fencing. "This sport is very similar to fencing, only less expensive. Points are scored in a similar manner and the focus on safety gear is the same," explains Issac. "It is a relatively new format in the category of martial arts that involve the use of a weapon and it is gaining popularity. Last year several competitions were organized in Russia, Italy, Germany, Estonia, Ukraine and Latvia," Lyubin says.
Knife fighting could be a desirable skill for professional mixed martial arts athletes. Issac was, until recently, the CEO of the India based Super Fight League and he explains the relevance of this form, "There are so many forms of martial arts. Judo and Karate are very popular. But they all ultimately get outdated, in the sense that if you have learned a technique then chances are that your opponent has learnt it too. We are always on the lookout for new styles." Both Issac and Bansode say they've already initiated the needful efforts to begin training athletes. Knives and safety gear have been ordered from Russia but, realistically speaking, it'll take consistent effort for a couple of years for knife fighting to be recognized as a sport. In the meantime, Lyubin is a busy man with a single-point agenda, "I've a lot of work set out for me, seminars and workshops. I've a new sport to be established."
All rights reserved by Rossiyskaya Gazeta.