Stylists agree that there should be many bags in a woman's wardrobe: at least 5 or 6 models of different form and color. However, many Russians wonder: "Why so many? Two are plenty!" In the minds of most Russian women from the older generation, and in the minds of many men, a bag is not a fashionable accessory or an additional expression of character, but just an ordinary container for transporting personal belongings and acquisitions.
Ancient Russian décor
The oldest bags found by archeologists in Russia's most ancient towns, such as Novgorod, Pskov and Moscow, date back to the 15th and 16th centuries. These are not just cases for coins; they are real bags with two compartments, connecting flaps and plenty of decoration.
They were attached to the waist with the carved loops in their upper parts or with an additional strap that could be worn over the shoulder. Every element was created out of several layers of very thin hide sewed together with a coarse thread.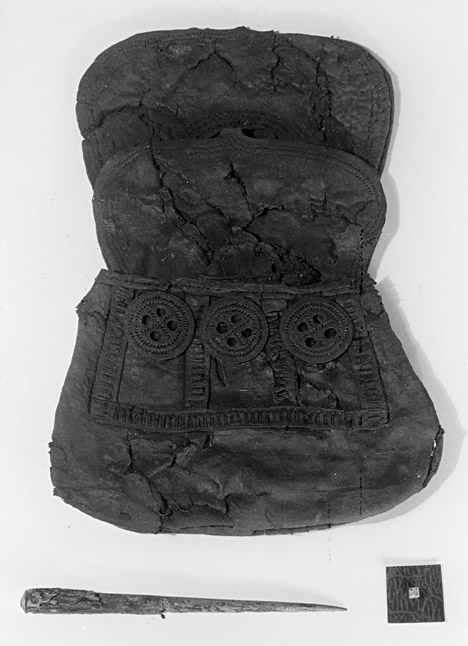 One of the most renowned of these ancient bags was found under the Kutafya Tower drawbridge in the Moscow Kremlin. Researcher Olga Kuzmina writes in her essay "Late 15th and early 16th century waist bags" that this bag consists of seven intricately formed elements and is decorated with perforations and appliqué.
Bags from ancient Novgorod can barely be differentiated from modern women's bags, especially those made in so-called 'ethnic style': they are mostly decorated with copper and bronze buckles, locks and animal and plant figures.
Until the 20th century the women's bag in Russia was considered a sophisticated little accessory, embroidered with gold, beads and stones, and often made in the form of an animal or a fruit. It was the coquettish fancy of high society ladies.
Less affluent women of the empire wore bags made of simple and accessible fabrics, such as linen or fur. All the samples that remain today are elaborately decorated. They all have embroidery and appliqué, beads and lace, which means that Russian fashionistas knew a thing or two about arts and crafts and how to use the most modest of means to create beauty.
24 cells for all occasions
When the Soviet government took charge, it brought with it an austere proletarian minimalism. The bag was transformed into a string bag (avoska in Russian, from the word 'avos', meaning 'what if').
This wonder of Soviet design was made with a thick, sturdy silken net of various colors. Woven in the All-Soviet Blind Society establishments, the classic model had 14 rows with 24 cells each and could bear weight of up to 150 lbs.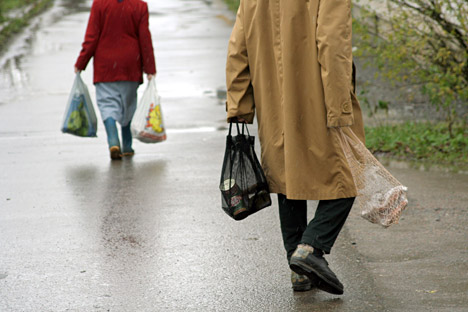 People with avoskas. Source: PhotoXpress
If necessary, it transformed into a compact lump and easily fit into a lady's handbag or pocket. This was actually very useful during shortages, when a coveted sausage could suddenly appear on the counter of a grocery store during a lunch break and one would have to be very prepared: "What if I manage to by something?"
It must honestly be noted, however, that the leather bag never disappeared from Soviet women's wardrobes. A woman is a woman. Yet, no matter how hard designers tried back then, the bag was obliged to observe the laws of austere Soviet functionalism and had little in common with the Hermes or LV models we see today.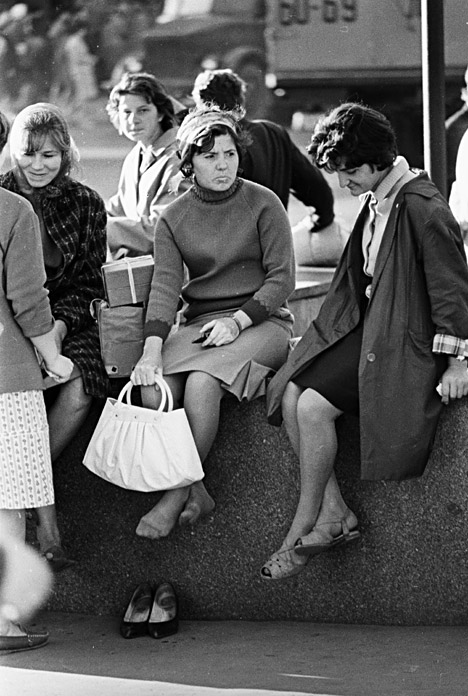 The meaning of the Soviet bag consisted in its capacity to hold as much as possible: the container with the 'just in case' medicine, the purse, the keys, the avoska, pen and paper, the vanity case, handkerchiefs, a couple of sandwich bags, a mini sewing kit, the passport and other documents, as well as the little things - a couple of homemade pies to offer your colleagues and in the evening a bottle of milk and a baguette.
"My whole life is in there!"
Today the tradition of carrying things for all occasions has survived. So the most popular model is a medium- or large-sized bag with ample storage capacity. Small cross-body bags are appreciated only by young carefree people who do not stock up for the evening or in case of an air-raid, and clutch handbags in Russia are extremely rare. These bizarre accessories are worn only by exceptionally refined ladies or by young gals keen on the club scene. The category of a functionally styled bag in Russia practically does not exist.
The ideal Russian lady's set of a professional briefcase, a shopping bag, a bag for walks with friends and a clutch handbag for the evening can easily be substituted by one medium- or large-sized bag with handles that allows all a woman's accessories to be carried over the shoulder (and preferably, it should have eye-catching decoration).
Fashion expert Evelina Khromchenko has some advice in her 'Azbuka Stilya' (Alphabet of Style) on the dressmenu.ru site. The former editor-in-chief of Russian L'Officiel writes: "Women love to wear enormous trunks with a heap of useless stuff. Actually, you just have to understand what it is that you need for the week out of everything you are carrying. Some think that happy women do not need enormous bags."
When one woman, who had almost had her bag stolen by a couple of hoodlums in a passing car, was asked how she managed to keep hold of it, she responded, "But my whole life is in there! All my documents, pieces of jewelry, two full vanity cases, my iPod, my Vertu, my iPhone, two pairs of glasses and lots of little things…and besides, it's a Dior!
Until recently men in Russia were also fond of bags. In Soviet times every respectable gentleman had a Diplomat, a hard medium-sized briefcase with a handle and two clip-straps on the horizontal side, in which documents and a hairbrush could be placed, as well as a couple of bottles of one's favorite liquor.
In the 1990s the barsetka became the new sensation. This was a miniature leather handbag for carrying documents, money and keys. Almost everyone had one and despite its classic style, it was worn with all kinds of outfits. It looked especially outlandish with a jogging suit, sneakers and a leather cap.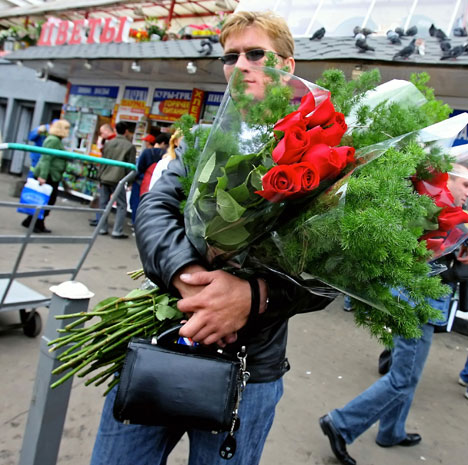 A man with barsetka. Source: Ruslan Krivobok / RIA Novosti
Today most older and middle-aged men prefer less radical types of bags, such as little cross-body bags for the weekend and the more standard professional briefcases. Young men, meanwhile, carry the fashionable "postman's bags," backpacks or laptop bags for work.
All rights reserved by Rossiyskaya Gazeta.