Robin Williams was found dead at his home near San Francisco on Monday, August 11, after apparently committing suicide. The news of the actor's death has shocked fans around the world, including in Russia. RBTH shares some of the reactions and tributes by prominent Russians that have appeared on the internet in the wake of Williams' death.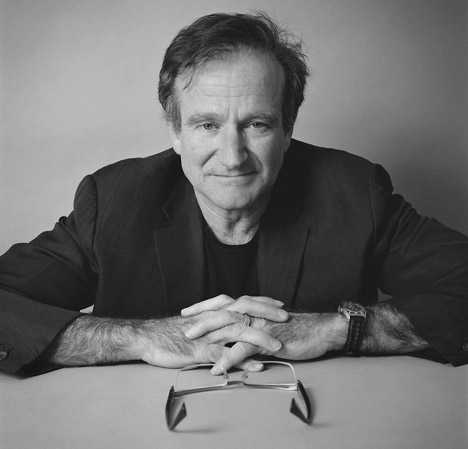 Source: Kinopoisk
The news of Robin Williams' suicide has shocked the Russian internet - news feeds are now filled with his photos, quotes and recollections of favorite films. It seemed that over the past few months Russians had got used to discussing sanctions and the military action in Ukraine, and thus developed an immunity to bad news.
But it turned out that there are things more important than politics. It is difficult to say why Russians have reacted to Williams' death so sharply - the actor had no ties with Russia. Probably the only obvious answer is that they saw in him an endless talent, one which even the cultural divide between the United States and Russia could not obstruct.
RBTH has gathered quotes from prominent Russian artists, critics, writers, politicians and journalists about the death of the actor.
Michael Shufutinsky, singer
"In 1984 I took part in the filming of Paul Mazursky's Moscow on the Hudson, in which Robin Williams starred.
We had a few days of shooting together and we talked a lot. He's very talented and hard-working – a remarkable man. I was always surprised to see how he can work so well for 12-16 hours a day.
In my opinion, the director made no mistake inviting Robin Williams to play the main role of a Russian musician. He managed to get into the role perfectly. For those times (in those times) it was really something. Usually Russians were portrayed as barbarians or monsters, but Robin Williams played a true dissident, a human, a musician, who came to America and began living there because he loved the thing that he could not love in the Soviet Union - jazz."
Source: Izvestia
Moscow on the Hudson (1984). Robin Williams plays a Soviet Russian circus musician who defects while on a visit to the United States. Source: Youtube
Anton Dolin, film critic
"A stupid paradox: the suicide not just of a celebrity, but of a comedian produces a strong shock. It's as if those who make people laugh better than others are jinxed by suffering and death. Though in fact Robin Williams' best roles were dramatic. And his career (even if we don't get into the details of his private life) is more like a drama than a comedy."
Source: Afisha magazine
Nikita Belykh, politician, Kirov Region Governor
"Robin Williams is dead. Good morning, Vietnam! Jumanji, The Fisher King and many other great films that I love. A great actor."
Oleg Lekmanov, Professor of the Philology Faculty, Higher school of Economics
"Actor Robin Williams has committed suicide. Awful. He starred in films of very different quality, but among them there was, for example, Dead Poets Society, which for me - and not only for me - will remain one of the main cinematic events of my life.
And he also did a great job of playing the fool in Friends. And in the brilliant video for genius Bobby McFerrin's "Don't Worry Be Happy". What a pity that the cheerful motto of this song didn't stop him... "
Source: Lekmanov's Facebook page
Sergei Butman, journalist, Ekho Moskvy radio
"Gosh! Did Robin Williams away with himself? Due to depression? How many people he himself took away from depression! With his movies, and just in his life. They said he entertained the paralyzed Christopher Reeve, did an impression of a kind of boisterous nurse…
Now he,
The Fisher King,
Peter Pan,
Bicentennial Man,
Ledsomewhere by his dreams…
To the Dead Poets Society?"
Source: Butman's Facebook page
Alex Exler, writer, blogger
"Robin Williams was a good actor. I'm sorry. RIP. His best role was, to my mind, in The Birdcage. Well, it's my personal view, he had other excellent roles."
Source: Personal blog
Stanislav Sadalsky, actor, blogger
"He was from that Hollywood generation that are not made any longer. A cherished memory. Good Morning, Vietnam."
Source: Personal blog
Alexei Navalny, opposition activist
"He was terribly cool, of course."
All rights reserved by Rossiyskaya Gazeta.